York floods: Hundreds evacuated and swathes of historic city underwater as rivers reach record levels
The council does not expect the River Ouse to peak until Monday lunchtime - at five metres above summer levels
Lizzie Dearden
Sunday 27 December 2015 12:29 Comments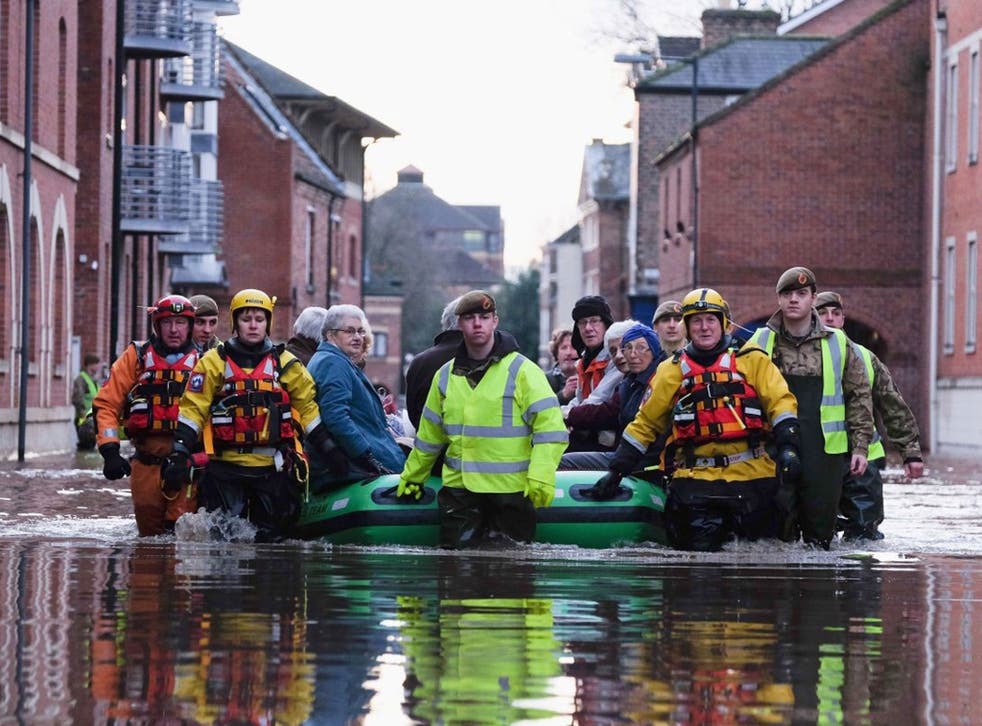 Hundreds of people have been evacuated from their homes in York after the city's two rivers burst their banks, flooding houses, shops, businesses and threatening historical buildings.
The River Ouse is up to four metres above its typical level but will not peak until tomorrow afternoon, while the River Foss is hitting record heights in urban areas.
Photos showed riverside pubs and bars, parks, shops and houses underwater, which was approaching the famous Clifford's tower monument on Sunday morning.
UK floods: North bears brunt
York is accustomed to annual flooding but residents say it is the worst in over a decade, since the devastation in 2000 - the worst since records began in 1625 - sparked a new round of defences.
David Rhodes, who runs a taxi firm, told Sky News: "This time we've actually got flood defences in but they haven't worked.
"It's 15 years since it's been this high. We get it in every year but only up to the door and then it recedes. But this time I don't know it's happened so quick."
The Environment Agency warned that water levels could continue to rise through Sunday after a key flood defence had to be lifted.
A spokesperson said water pouring into the Foss Barrier building put it in danger of failing, meaning that the gate holding back water from the city centre had to be opened in case it became locked in place.
"The immediate area at risk is the city centre and areas of Huntington, Tang Hall, Osbaldwick and Foss Islands," she added.
"People in these areas should start to move valuables to upper floors and be prepared to be evacuated."
After weeks of helping devastated areas of Cumbria, the Army has been drafted into York to help rescue efforts and build defences.
Mountain rescue teams have also been sent to the city, with footage showing them helping residents evacuate their homes in dinghys.
Flooding on railway lines between Knaresborough and York also stopped trains running between the city and Leeds, via Harrogate, on Sunday, National Rail said.
North Yorkshire Police have already advised between 300 and 400 people to evacuate but hundreds more believed to be at risk.
The force has run out of road closure signs because of the widespread flooding across the county and urged people to avoid flooded roads today.
Tim Peake was among those sending well-wishes to everyone affected as he passed over the UK on the International Space Station.
"Thoughts are with all those affected by flooding in northern England," the astronaut wrote on Twitter, sharing a photo of his unique view of Britain.
A spokesperson for City of York Council said the emergency services were working around the clock to tackle "unprecedented levels" of flooding.
"Provisions are in place across multi-agencies following overwhelming river levels for the Foss and Ouse," she added.
"Front line teams from all organisations are working round the clock to protect residents and tourists."
Severe flood warnings remained in place but only light rain was forecast for Sunday and no weather alerts have been issued.
David Cameron is chairing a Cobra emergency meeting via conference call later today as flooding continues across Yorkshire, Lancashire and northern England, leaving thousands without power.
Environment Secretary Liz Truss told BBC Breakfast that levels of rain have been "unprecedented" and said flood defences will be reviewed.
Register for free to continue reading
Registration is a free and easy way to support our truly independent journalism
By registering, you will also enjoy limited access to Premium articles, exclusive newsletters, commenting, and virtual events with our leading journalists
Already have an account? sign in
Join our new commenting forum
Join thought-provoking conversations, follow other Independent readers and see their replies