Yorkshire bird flu outbreak: Don't panic, major cull under way but 'very low' risk to public health
However, the virus is 'highly pathogenic' to birds
Antonia Molloy
Monday 17 November 2014 15:30 Comments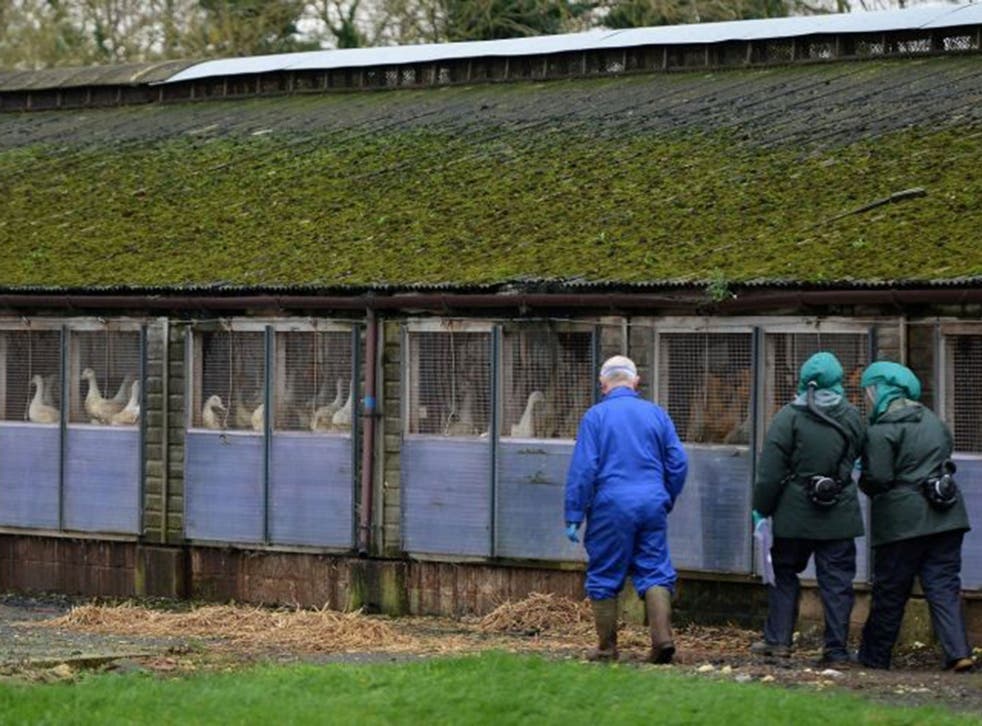 The government has reassured the public that a confirmed outbreak of bird flu on a Yorkshire duck breeding farm is not the deadly H5N1 strain that can infect humans.
A 10km restriction zone has been set up around the site in Nafferton, near Driffield in East Yorkshire, and officials have started culling all 6,000 birds in order to prevent any spread of infection.
The case is the H5 version of the virus, but is not the H5N1 strain which has caused deaths in humans. It is the first serious case of bird flu since 2008, when highly pathogenic H7N7 was found in free-range laying hens near Banbury, Oxfordshire.
Environment Secretary Liz Truss will make a statement to the Commons about the latest situation this afternoon, but the Department for Environment, Food & Rural Affairs (Defra) has insisted that that the risk to public health is "very low" and there is no risk to the food chain.
In pictures: Yorkshire bird flu outbreak

Show all 7
However, Chief Veterinary Officer Nigel Gibbens has said the strain is "highly pathogenic to birds".
He told the BBC that although the farm has "good bio-security in place" there is a risk of the virus being transmitted via wild birds and urged farmers and their vets all over the country to be alert to the possibility of disease.
"When we find this disease we take quick action to remove the birds as a possible source of further infection and we also restrict all the farms with birds in an area around it of 10km to look for possible further spread or possible other infected farms so we can get on top of those early as well," he said.
"In parallel with that we'll be looking for other possible sources of the disease, including any links to the disease that we're seeing in the Netherlands and Germany, and that will include looking at the risk from wild bird spread to our national flock.
"From what we know so far we know this is a strain that is highly pathogenic to birds, so this is a disease of poultry."
Officials believe the latest outbreak may be linked to Germany and the Netherlands. The transport of poultry and eggs throughout the Netherlands was banned yesterday after an outbreak of bird flu was confirmed at a chicken farm in Hekendorp. That particular strain, H5N8, was first reported in Europe, on a German farm, in early November but has never been detected in humans.
Dr Colin Butter, head of avian viral immunology at the Pirbright Institute, said: "It is of note that an outbreak of highly pathogenic (to birds) H5N8 was confirmed in the Netherlands at the weekend, having first been identified in Germany at the beginning of the month.
"Further investigations should confirm shortly if the Yorkshire virus is identical and is the result of transmission from wild birds or a common human factor."
He added: "Whilst it may be possible that this strain of virus could infect people as the result of direct contact with infected birds, this is likely to be a rare event and there is no suggestion that the virus could transfer from person to person.
"The danger to public health is therefore very low and the public should not be concerned that this represents a significant threat."
Prof Andrew Easton, professor of virology at the University of Warwick, said: "Human infections with flu strains that infect birds are not common and have been restricted to only a very small number, so the risk to humans from this incident is likely to be very small or non-existent.
"However, the risk to the poultry industry is high and the current measures require that infected birds are killed as quickly as possible to stop spread to other flocks.
"There is always concern that some strains of flu may be spread by wild birds and surveillance measures are also likely to be introduced in surrounding areas to check for the possibility of spread."
A notice attached to the gate of the farm in Lowthorpe Lane, in the village of Nafferton, read: "Nafferton disease precautions. Strictly no admittance to unauthorised personnel."
Police Community Support Officers stood on guard and a Defra official hung a large yellow plastic bag from the gate before attaching a red and white striped cordon tape across the entrance to the farm.
Farm workers moved around inside the sheds, laying down straw and appearing to move dead birds.
Gary Lavis, chairman of the parish council, said a problem was first noticed around a week ago when egg production began dropping and the number of birds dying increased.
"They noticed symptoms themselves about one week ago: a drop-off in egg production and slightly higher mortality rates. That alerted them to do some testing," he said.
Mr Lavis said he did not think the culling of the ducks would be carried out until tomorrow.
He said he was particularly concerned about the potential effect on the local wild bird population, and that there were also two battery farms in the area and a number of hobby farmers who keep chickens.
"I came up here to see if there's anything as an organisation we can do and if anyone contacts me throughout the day I can reassure the public," he said.
"We're also concerned about the environmental impact. We have a large wildfowl population on the mere, which is a focal point of the village."
Register for free to continue reading
Registration is a free and easy way to support our truly independent journalism
By registering, you will also enjoy limited access to Premium articles, exclusive newsletters, commenting, and virtual events with our leading journalists
Already have an account? sign in
Join our new commenting forum
Join thought-provoking conversations, follow other Independent readers and see their replies