Young women 'neglected' by mental health policy as female suicides soar to highest rate ever, damning report finds
Research finds mental health services for young women 'almost entirely absent' from current Government strategy, despite rise in female suicide and self-harm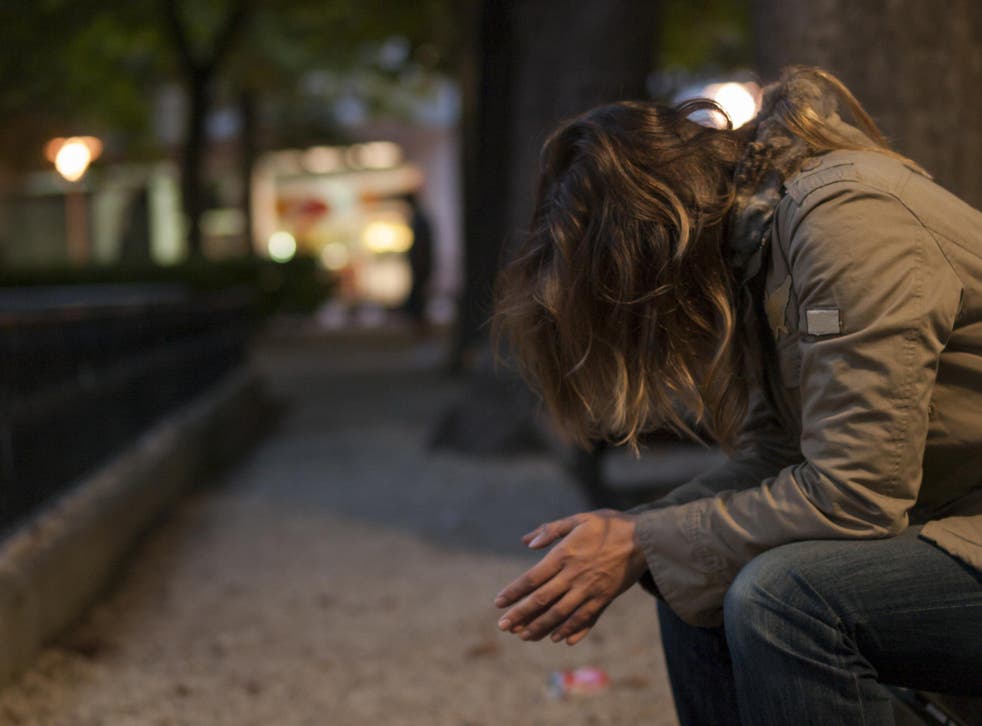 Young women have become "almost invisible" from the Government's mental health policy, despite soaring levels of female suicide and self-harm rates, new research has revealed.
A damning report by the Mental Health Foundation (MHF) found that services targeted to tackle mental health problems among females are "almost entirely absent" from current Government strategy.
The Independent reported earlier this week that suicide rates among young women have nearly doubled in the past decade, while self-harm among this group have tripled since 1993. Research shows women are three times as likely as men to have experienced common mental health problem.
Among teenage girls, self-harm has risen by 68 per cent in three years, according to recent findings by researchers at the University of Manchester, while a separate study found that almost one in four teenage girls now suffers from depression.
Yet the MHF warns that, despite evidence of a "growing crisis", the mental health of young women has "slipped down" the Government's policy agenda, with no financial commitments for this group despite their often "complex and gender specific" needs.
Politicians and campaigners subsequently accused the Government of "complacency", saying ministers had placed "no consideration" on the growing problems facing the young female population.
The report highlights that, although 15 years ago there was a government strategy on women's mental health, major policy announcements in the past year have dealt with women's specific mental health needs "almost exclusively" in relation to perinatal care, with gender largely unmentioned.
The authors accuse the Government of neglecting the mental health of young women and girls in its recent Green Paper, instead folding them within "Children and Young People", without making any new financial commitments to to specifically support young women.
Dr Amy Pollard from the MHF, author of the report, told The Independent the rise in mental health problems among young women were largely due to the rise in social media use, and subsequent "scrutiny" over body image, as well as the impacts of domestic abuse and austerity.
"Online culture is a particular issue for the mental health of women and girls, particularly on things like Instagram – which leads to a lot of scrutiny over their body image," she said.
"Austerity is also an issue that hasn't had enough gender focus, but looking at the research you've got 86 per cent of the burden falling on women's shoulders – it's a completely overlooked area.
"Domestic abuse is more common than people think, and it's something that a huge number of women have experienced. If you think about the housing crisis, the pressure and general level of homelessness at the moment, it means people in abusive relationships have far fewer options."
Ms Pollard added: "The situation is getting worse. Fifteen years ago, there was a government mental health strategy for women and girls. Today, except for care aimed at new mums and mums-to-be, gender is almost entirely neglected.
"At a time when young women are facing a crisis in their mental health, there is a desperate need for targeted policy. We know how important mental health services can be to enable real recovery and prevent recurrence of ill health."
Barbara Keeley MP, Labour's shadow minister for mental health, said: "We know there is a growing crisis in girls' and young women's mental health, yet we see no consideration of the particular problems facing young women developing mental health conditions from this complacent Tory Government.
"Just as troubling are the difficulties that young women are having in accessing appropriate mental health services when problems arise: over a third of clinical commissioning groups spent less than planned on these services in the past year.
"The Tory Government needs to place a greater focus on the specific causes of mental health conditions common to young women, alongside increased spending and ring-fencing of mental health budgets to make sure services are available to them, as Labour has pledged."
Judith Jolly, Liberal Democrat health spokesperson, echoed Ms Keeley's concerns, saying: "Young women are being abandoned by the current government. This is the brutal reality of an NHS struggling with tightening budgets.
"Already neglected groups are being left by the wayside. We need to take the NHS off life support, we need parity for mental health treatment to make sure those suffering are given the treatment they need. Unfortunately this is not the government to deliver it."
Dr Carole Easton, chief executive of the Young Women's Trust, said austerity played an important role in the decline in mental health among young women, with many facing "huge financial challenges" due to unemployment, low pay and insecure work.
"They are telling us that they have little hope for the future. This has an impact on their mental health too. Our research shows that nearly half of young women are concerned about their mental health – which many say has got worse over the past year," she added.
"We need urgent action to improve young women's prospects. Alongside high-quality and timely mental health support, providing stable jobs would benefit young women, the economy and take pressure off mental health services.
UK news in pictures

Show all 50
"The Government must listen to and transform opportunities for young women."
Responding to the MHF report, a Department of Health spokesperson said: "It is vital that all mental health care takes account of gender and clinical guidelines are clear on this.
"Government strategy is absolutely focussed on this, that is why we have ‎set up the Women's Mental Health Taskforce – co-chaired by the minister for care and mental health – which is considering exactly this issue."
Register for free to continue reading
Registration is a free and easy way to support our truly independent journalism
By registering, you will also enjoy limited access to Premium articles, exclusive newsletters, commenting, and virtual events with our leading journalists
Already have an account? sign in
Register for free to continue reading
Registration is a free and easy way to support our truly independent journalism
By registering, you will also enjoy limited access to Premium articles, exclusive newsletters, commenting, and virtual events with our leading journalists
Already have an account? sign in
Join our new commenting forum
Join thought-provoking conversations, follow other Independent readers and see their replies