Zunar: Cartoonist arrives in Britain as he faces 43 years in Malaysian prison for 'sedition'
Malaysia's Sedition Act was introduced by the colonial British government in 1948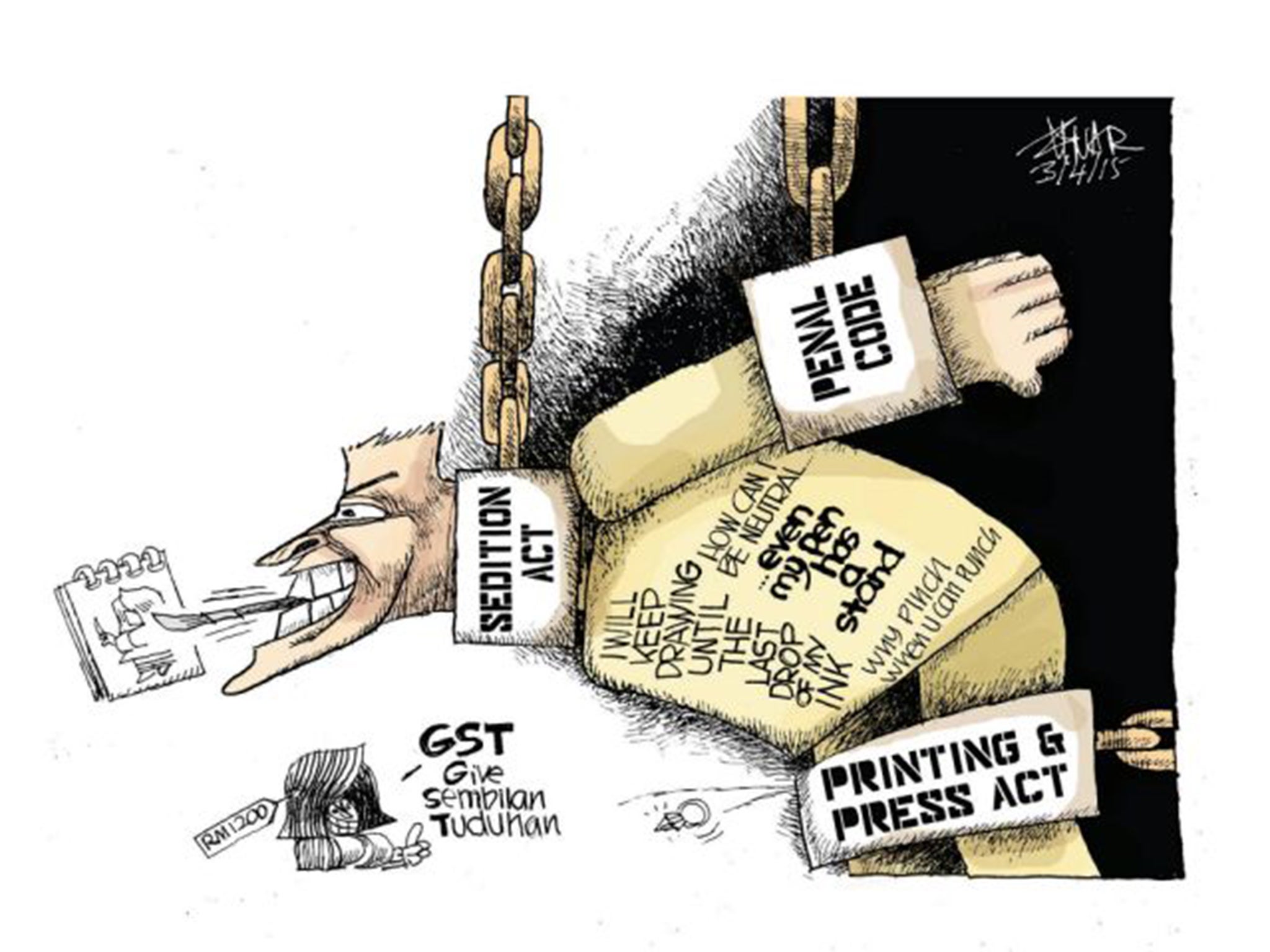 Less than a year after the Charlie Hebdo murders led to worldwide protests for freedom of expression, a cartoonist in Malaysia is facing a possible 43 years in prison after being accused of "sedition".
Zulkiflee Sm Anwar Ulhaque, who draws under the name Zunar, has arrived in Britain to highlight his trial next month, in which he faces nine charges under a Sedition Act introduced to Malaysia by the colonial British government in 1948.
Zunar has angered the Malaysian authorities with cartoons suggesting that the judiciary is controlled by the government and that the country is run not by Prime Minister Najib Razak but by his wife Rosmah Mansor.
Cartoonists and other supporters will join him in a protest on Sunday that begins at Speakers' Corner in London's Hyde Park.
In an interview with The Independent, Zunar described the Charlie Hebdo shootings in January as the "tip of the iceberg" in a backlash against cartoonists worldwide. "Cartoonists all over the world are facing attacks – in the Middle East, Africa and Central America – and we must have a clear position on this."
Zunar's cartoons
Show all 10
Zunar said he was the first Muslim cartoonist "to condemn" the Charlie Hebdo attacks, which were carried out as a reprisal for satirical images of the Prophet Muhammad. "Even though I understood that some Muslims were not happy with the content of the cartoons I said [violence] is not the way to do it. You have a right to not agree but you have to respect the right of the cartoonist."
Zunar's case has been taken up by human rights and freedom of speech organisations. Kate Allen, director of Amnesty UK, which is launching a Write for Rights campaign to highlight threats to freedom of expression around the world, said: "Cartoons can rock establishments and that's why they are so feared by regimes intent on stifling criticism. All over the world cartoonists like Zunar play a vital role in the struggle for freedom – and all too often pay a heavy price for their work." She noted that Syrian cartoonist Ali Farzat had his hands broken after poking fun at President Bashar al-Assad.
A selection of Zunar's drawings will be displayed at the Cartoon Museum in London as part of Gillray's Ghost, an international exhibition in honour of the work and legacy of the great political cartoonist James Gillray.
Zunar's 18 books of cartoons are all banned in the diverse south-east Asian nation, which has been ruled by the same government coalition since independence in 1957. "The job of cartoonists is to criticise the government of the day but in Malaysia we have to do more than that, we have to fight through cartoons," he said. "That is my motivation to carry on because for me my talent is not a gift but a responsibility."
Zunar said he focused his own work on three main subjects: corruption, injustice and lack of freedom of expression.
He said that state control over Malaysian media restricted his work to online outlets. "There's no newspaper which dares to publish my work so I need to publish on the Internet." He relies on the Malaysiakini web portal and Facebook. "On my social media and Facebook page I encourage people to share my work. It's an effective way of protesting and the government can't do anything about sharing a cartoon. Protesting on the street you can be arrested and lose your job."
The charges against Zunar relate to tweets by the cartoonist about the Malaysian judiciary after the opposition leader, Anwar Ibrahim, was jailed for sodomy in February. Zunar also faces charges under Malaysia's Penal Code and its Printing and Publication Act. He said the authorities had raided his home in Kuala Lumpur and three printing firms that had previously published his work.
He has won several international prizes including the Courage in Editorial Cartooning Award from the Cartoonists Rights Network.
Join our commenting forum
Join thought-provoking conversations, follow other Independent readers and see their replies