'It's not going very well, this new friendship': George Osborne turns down duet with soul musician Jeffrey...
The Chancellor has rebuffed advances from his namesake after President Obama's G8 mix-up
Oliver Duggan
Sunday 23 June 2013 19:10 Comments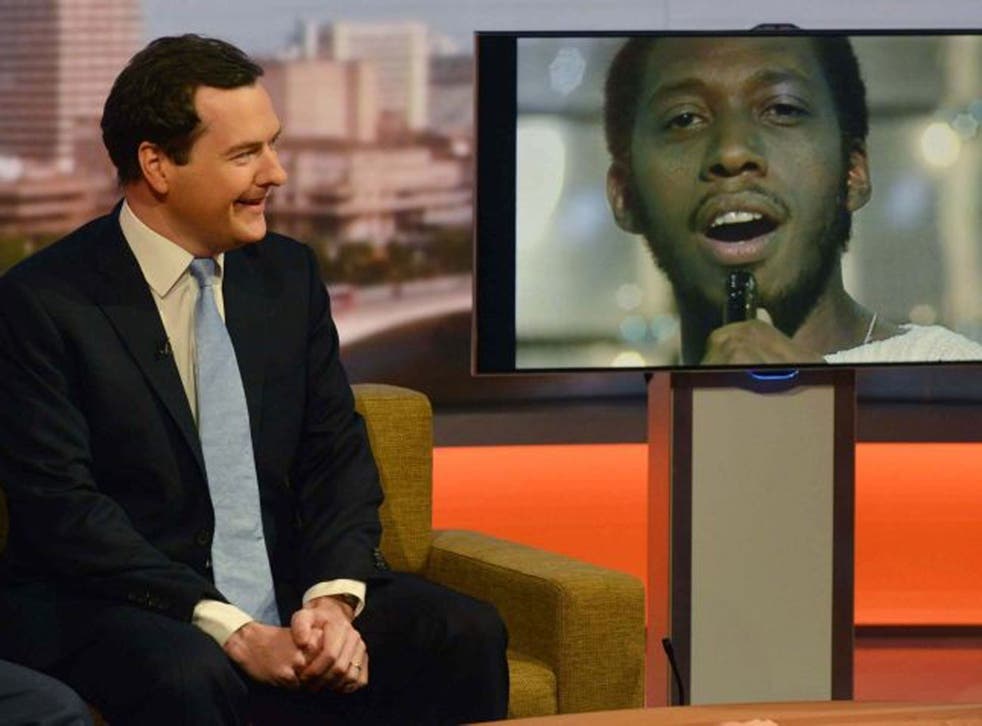 After years of biting austerity and yet another round of deep spending cuts across Whitehall, it is easy to imagine that Chancellor George Osborne isn't exactly surrounded by well-wishers.
It is surprising then that he has reportedly squandered the opportunity to befriend legendary musician Jeffrey Osborne after a political blunder by US President Barack Obama forced them together.
Speaking at the G8 conference Northern Ireland last week, President Obama managed to confuse the pair, repeatedly referring to the Conservative politician as Jeffrey, who is one of the President's favourite musicians.
In response, the Chancellor told BBC One today that the "On the Wings of Love" singer had contacted him in the hope of a sing-song or a round of golf, two activities that George quickly scuppered.
"He's asked me for a duet, and sadly I can't sing," he said. "He's now asked me for a game of golf, but I can't play golf. So it's not going very well, this new friendship."
Laughing off the President's gaffe, he told Andrew Marr: "It's nice to be on first-name terms with the President of the United States - even if he sometimes gets the name wrong. That's the way I look at it."
But the mistake was an obvious knock to the Chancellor, who looked visibly embarrassed when Obama called him Jeffrey three times when he arrived on the second day of the G8 summit.
"It was obvious Osborne didn't like being called "Jeffrey"," a government source reportedly said last week. "Why would he? His name is George."
Upon hearing the news that he had been mentioned by the US President, the soul star told Sky News: "I was really delighted, actually. I was really not aware that he was that much of a fan that he would call the Chancellor Jeffrey Osborne."
"Tell the Chancellor when I come over I will have to hook up with him and we will do a duet of On The Wings Of Love, or something."
Register for free to continue reading
Registration is a free and easy way to support our truly independent journalism
By registering, you will also enjoy limited access to Premium articles, exclusive newsletters, commenting, and virtual events with our leading journalists
Already have an account? sign in
Join our new commenting forum
Join thought-provoking conversations, follow other Independent readers and see their replies