Jeremy Corbyn buys meals for homeless people at Scottish cafe
The Labour leader brought a bagel for himself before paying for two meals through the 'Suspended Coffee and Food' programme
Alexandra Sims
Sunday 04 October 2015 14:30 Comments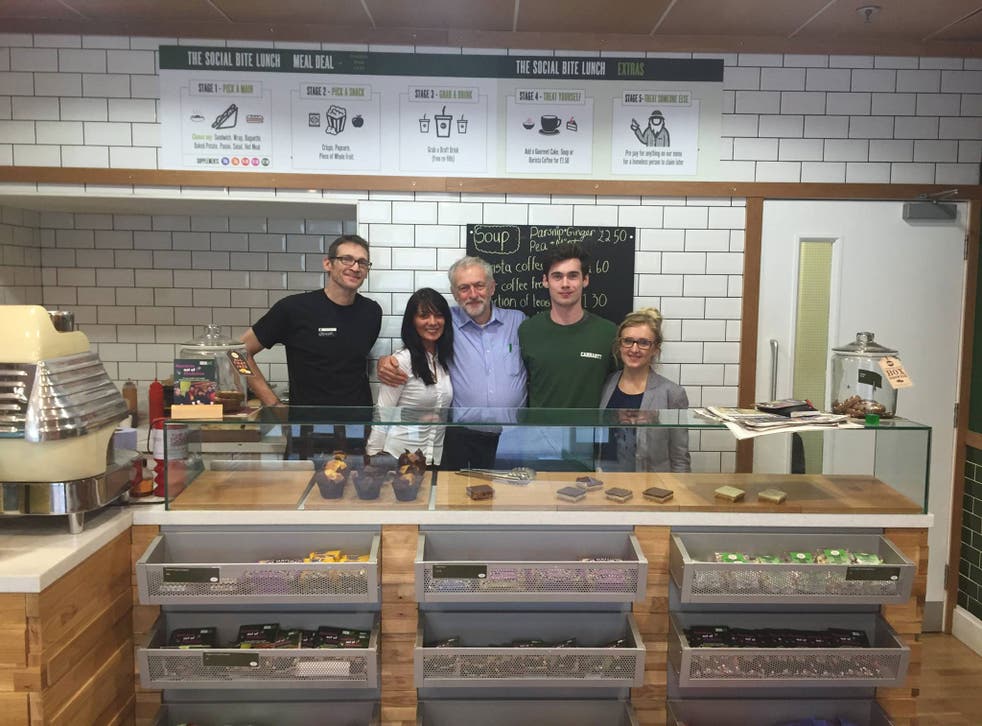 Jeremy Corbyn surprised customers at a Scottish café when he visited the sandwich shop and bought meals for homeless people.
The Labour leader visited Social Bite, a non-profit café in Glasgow, on Friday and pre-paid for meals to be given to two members of the city's homeless community.
The café said: "Jeremy Corbyn came into Social Bite Bothwell Street in Glasgow for his breakfast this morning.
"He bought his own bagel and pre-paid for a few of our 'suspended' meals for the homeless."
Mr Corbyn said over Twitter: "Wonderful breakfast at Social Bite in Glasgow. Great enterprise giving opportunity and hope. Well done!"
A customer told Huffington Post: "At first people weren't sure if it was him because he was just sitting in the shop alone eating a bacon and egg roll.
"But then someone approached him and he was really chatty and friendly. He even got behind the counter and was having a laugh with staff."
Livvy Campbell wrote on Facebook: "I was there at the same time. He was very low key no press or flunkies or even police."
Social Bite has four shops based in Glasgow and Edinburgh and one in four of their team are formally homeless people.
Their programme, "Suspended Coffee and Food", allows customers to pay in advance for a coffee or item of food from their menu for a homeless person to come in and claim. The shop says they currently provide food and hot drinks to over 30 people in each of their shops.
Mr Corbyn has long-urged the government to do more to tackle homelessness in Britain. In 1990, in one of his first televised appearances in PMQs, Mr Corbyn attacked the then-Prime Minister Margaret Thatcher over her government's record on homelessness in Britain.
Homelessness remains a pressing issue, with the number of people sleeping rough in England rising from 1,768 in 2010 to 2,744 last year.
Register for free to continue reading
Registration is a free and easy way to support our truly independent journalism
By registering, you will also enjoy limited access to Premium articles, exclusive newsletters, commenting, and virtual events with our leading journalists
Already have an account? sign in
Join our new commenting forum
Join thought-provoking conversations, follow other Independent readers and see their replies