Decision to not allow press freedom organisation to visit Assange 'shameful'
Next week will mark four years since Assange was taken to HMP Belmarsh from the Ecuadorian Embassy in London.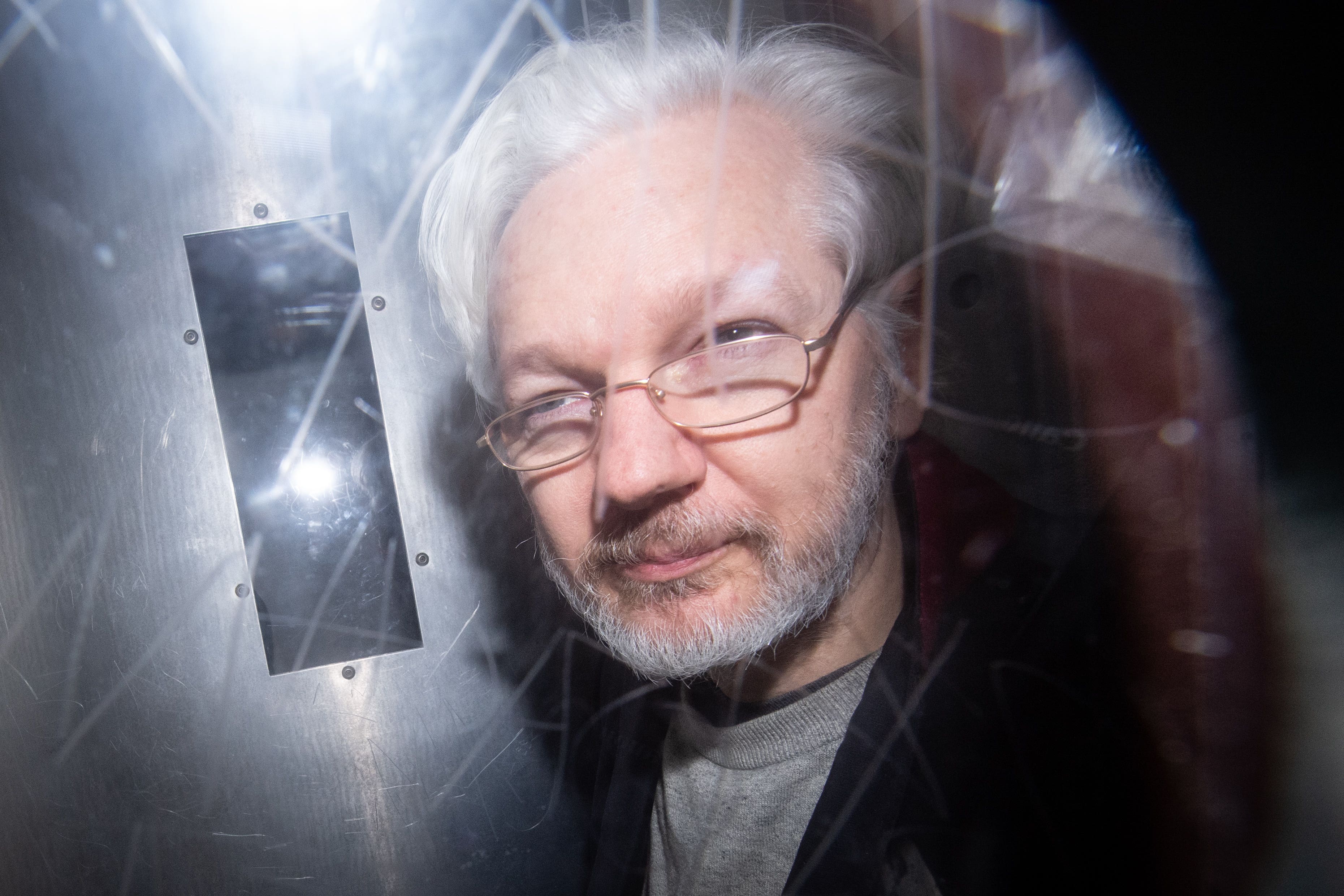 The wife of WikiLeaks founder Julian Assange has said that the decision not to allow her husband to meet with a press freedom organisation is "shameful".
Two representatives from French group Reporters Without Borders had planned to visit Assange at HMP Belmarsh in south-east London on Tuesday, but were prevented from doing so by prison staff.
Assange's wife, Stella, was allowed in to make a visit, and subsequently criticised the "ludicrous" decision to stop the meeting.
Speaking from outside of the prison grounds, she said: "Julian's presence in this prison is a scandal, it is a scandal on every level.
"What has happened this morning is a shameful act and it is actually part of a pattern.
"When Julian and I got married here a year ago we attempted to have our witnesses be two friends of Julian, and they were rejected on the basis that they were journalists.
"This is a political persecution against a publisher who was only doing his job."
Next week will mark four years since Assange was taken to HMP Belmarsh from the Ecuadorian Embassy in London, where he had previously sought asylum for seven years.
Assange is being held on remand as he challenges the High Court's ruling that he should be extradited to the US to face trial after leaking military documents.
Chistophe Deloire, the secretary general of Reporters Without Borders, speaking outside the prison, added: "We got an official authorisation to visit Julian, it was confirmed on March 31. When we came this morning we were told that our names have been removed from the visitors' list.
"We were told that the governor of the prison took the decision to remove our names from the visitors' lists since we are journalists.
"I have been a journalist since 1996, it was easy for the administration to be aware that I have a journalistic background. We came as a non-governmental organisation to visit Julian and not in our capacity as journalists, but two journalists have already visited Julian."
Rebecca Vincent, director of operations and campaigns for Reporters Without Borders, added: "The first official we spoke to said that they had received "intelligence" that we were journalists and we would therefore not be allowed to visit.
"When we do this job it is always as a non-governmental organisation, not as journalists. But I have never worked as a journalist, I have never held a press card.
"In fact the problems we have had in accessing court proceedings related to this case were because I was not a journalist."
Assange and his wife married at HMP Belmarsh in March last year and have two children together. Their relationship began while Assange was still living in the Ecuadorian Embassy.
"Our times together are very precious, we only get two visits or so a week," Mrs Assange added.
"We have time to also talk about mundane things and when the children are here, spend time with the children and just try to have some minutes of normalcy."
A prison service spokesperson said: "Staff prevented two representatives of 'Reporters Without Borders' from entering HMP Belmarsh on the basis that they were journalists – in line with prison rules.
"We will be happy to reconsider future requests to visit the prison, taking into account any additional information that is provided."