Julian Assange: Sex assault claims may never be investigated due to Swedish statute of limitations
The Wikileaks founder has never been charged with the four allegations of sexual assaults he is alleged to have committed in Sweden in 2010
Hardeep Matharu
Wednesday 12 August 2015 08:56 Comments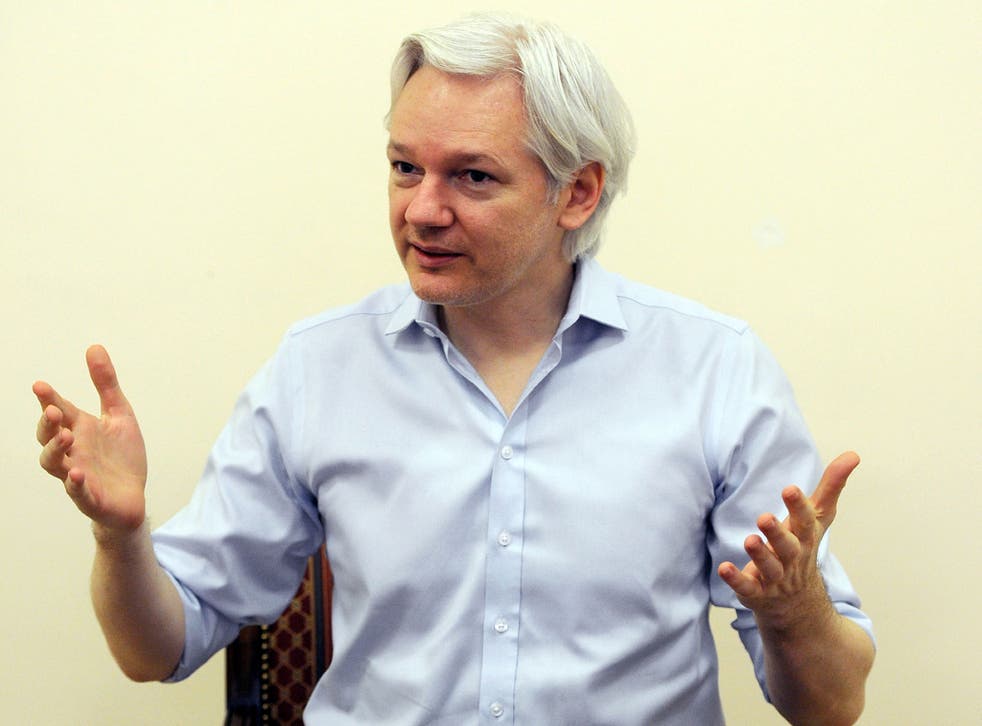 Three of the four allegations of sexual assault against Wikileaks founder Julian Assange may never be investigated as the time limit required to do so will expire in seven days.
Mr Assange, whose Wikileaks website published thousands of US military and diplomatic documents in 2010, has been living in the Ecuadorian embassy in London since 2012.
The 44-year-old was granted political asylum by Ecuador and moved into its embassy in the capital to avoid being extradited to Sweden over allegations of four sexual assaults it is claimed he committed there in 2010.
Mr Assange has never been charged with any offences relating to the claims and denies the allegations.
But the chance for Swedish prosecutors to interview the Wikileaks editor about the claims will run out in a week because of Sweden's statute of limitations relating to the allegations.
This is the time period within which a person must be charged if they are to be prosecuted for an alleged offence.
The statute of limitations for three of the four claims against Mr Assange is five years from when they were alleged to have been committed against the same person – with the dates of the alleged incidents being 13, 14 and 18 August 2010, reports legal blogger Jack of Kent.
Whistleblowing controversies of the last decade

Show all 12
The nature of the fourth sexual assault allegation means it has a ten-year limitation period, according to the blogger.
In March, Swedish prosecutors said that they would be willing to interview Mr Assange at the Ecuadorian Embassy in London – but they were later reportedly not given permission to do so by Ecuador.
"This, of course seems counter-intuitive," Jack of Kent wrote.
"It surely cannot be the case that Assange can rely on his own refusal to go to Sweden to escape answering the allegations."
A spokesperson for the Swedish Prosecution Authority told the blogger: "As long as the prosecutor does not receive permission to interview Assange at the Ecuadorian Embassy, there is nothing else she can do before 13-18 August.
"An interview is necessary for the investigation."
Mr Assange fears that if he goes to Sweden he will be taken to the US for questioning over the Wikileaks disclosures.
Swedish prosecutors confirmed the Australian was due to be cleared on the three allegations, according to The Times, while Foreign and Commonwealth Office minister Hugo Swire said the situation was "deeply unsatisfactory and costly".
Claes Borgström, the alleged victim's lawyer, told the newspaper his client felt a "sense of injustice" - but suggested she was keen to put the case behind her.
"At the time of, of course, she wanted Julian Assange to stand before the court to answer the allegations, then time passed.
"She's leading her own normal life. You do not want to recall [the claims] all over again."
Register for free to continue reading
Registration is a free and easy way to support our truly independent journalism
By registering, you will also enjoy limited access to Premium articles, exclusive newsletters, commenting, and virtual events with our leading journalists
Already have an account? sign in
Join our new commenting forum
Join thought-provoking conversations, follow other Independent readers and see their replies