Liz Truss met by sweeping queues at Tory conference as she calls for tax cuts
The former prime minister rallied the still supportive Tory membership at the fringes of the party conference in Manchester.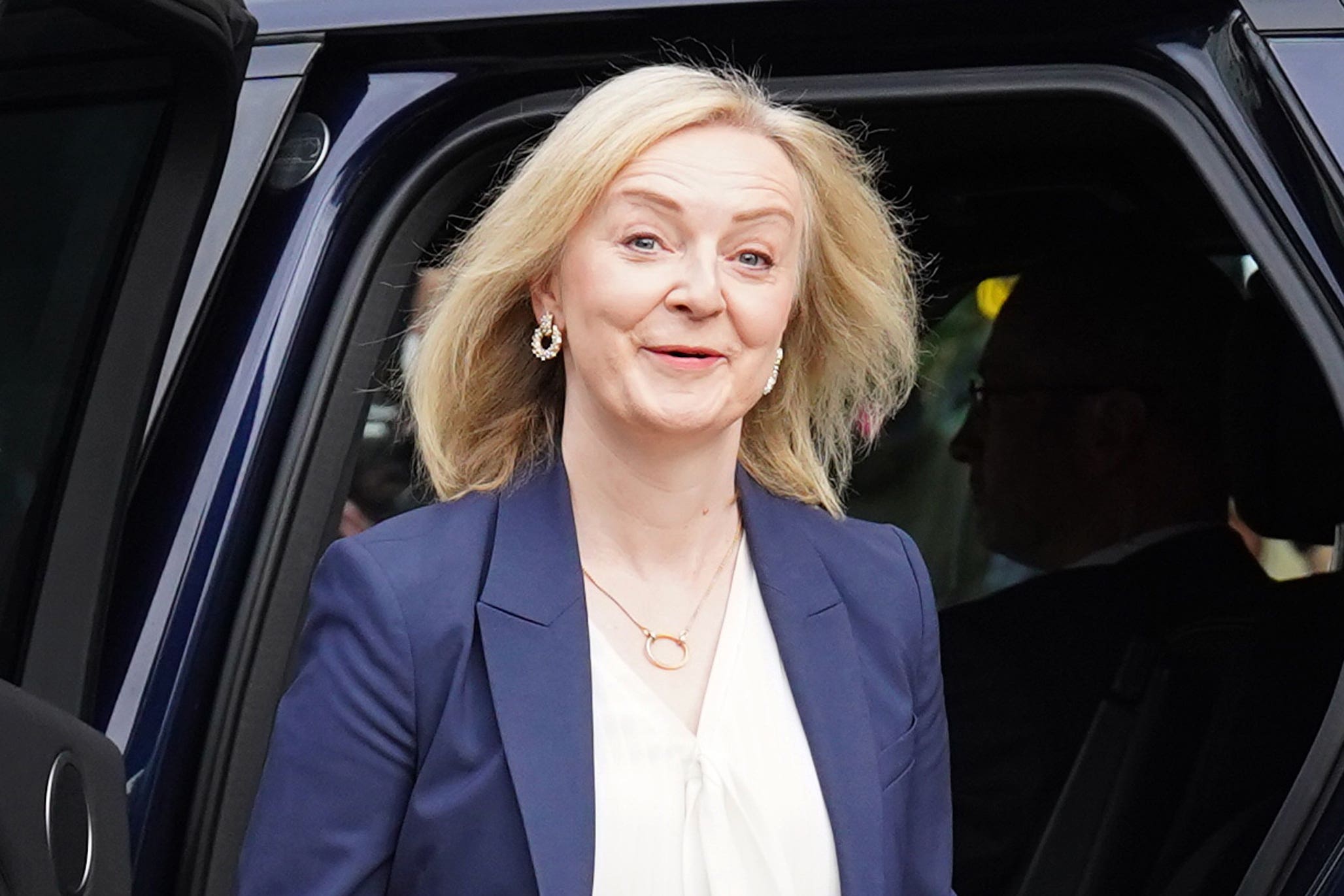 Liz Truss was met by sweeping queues at the Conservative conference as she called for tax cuts to "make Britain grow again" in a challenge to Rishi Sunak's bid to keep the fractious party together.
Nearly a year after she was forced out of office when she lost the support of Conservative MPs during her chaotic 49 days as prime minister, Ms Truss rallied a supportive crowd of members at the fringes of the party conference in Manchester on Monday.
There were cheers from the hundreds who managed to make it into the grand room in the Midland Hotel when they were reminded she was elected by party activists, in contrast to the Prime Minister's victory among MPs.
Ms Truss urged members to "unleash their inner conservative" after calling for Chancellor Jeremy Hunt to cut corporation tax to 19%, at least, and to slash Government spending.
"Let's stop taxing and banning things," she told the packed room.
"Let's instead build things and make things. Let's be prepared to make conservative arguments again, even if it's unpopular, even if it's difficult. I want everybody in this room to unleash their inner conservative.
"And finally, my friends, let's make Britain grow again."
Ms Truss said 500,000 homes a year needed to be built, suggesting environmental protections could be torn up to encourage building, and called for ministers to permit fracking.
She was joined at the Great British Growth Rally by allies and former Cabinet colleagues Dame Priti Patel, Sir Jacob Rees-Mogg and Ranil Jayawardena.
Sir Jacob continued the tax-cutting, deregulating motif, also calling for tariffs and checks to be slashed to boost trade.
"I want hormone-injected beef from Australia," he said, as he called for cheaper food.
"I've eaten beef in Australia, it was absolutely delicious, there's nothing wrong with it and they should be allowed to export it here because we want lower costs."
After the event, Sir Jacob insisted Ms Truss was not being unhelpful to the Prime Minister by drawing such a big crowd to a speech encouraging a very different agenda.
The former business secretary told the PA news agency: "We must support Rishi Sunak, I want him to remain leader, he has my full support.
"You would have to be kamikaze as a Tory to think it would be sensible to have a different leader."
Nigel Farage, the prominent Brexiteer who was also in the audience and making supportive comments about Ms Truss, saw the rally very much as a pitch for her to once again become Conservative leader.
Mr Farage told PA: "She's absolutely right on the big stuff – I'm slightly sceptical on the housing.
"This is a battle for ideas, it's a rejection of her own party's policies, but it's really a battle for what the party becomes after it loses the next election."