London buses to tell you how many people are sat upstairs
Take that, awkward Britishness!
Christopher Hooton
Monday 23 June 2014 14:55 Comments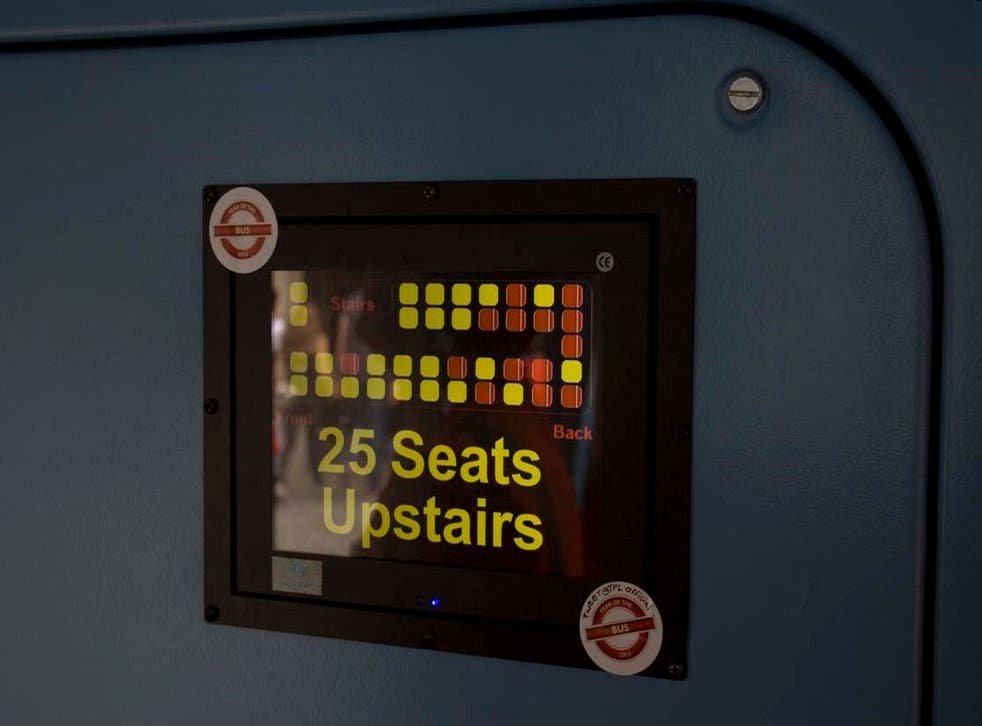 TfL is to introduce screens on London's double decker red buses that tell you how many free seats there are upstairs and where they're located, catering to that peculiarly British need to be very aware of your personal space and whether you'll have to actually sit next to another human being.
Situated in between the driver and the staircase, the screens will display a map of free and taken seats, preventing you from having to awkwardly pop your head upstairs to look for somewhere to sit before sheepishly retreating back downstairs.
They should also put an end to history's greatest monster: that person who puts their bag on the seat next to them as if it's a legitimate passenger.
The technology is currently being tested out and is expected to launch on the number 12 bus route in a week or two, according to blog IanVisits.
The system doesn't work through weight or seat sensors like you might expect, but uses existing CCTV cameras to determine whether or not a seat is occupied.
But before you comment 'positively Orwellian!', the body trackers actually prefer low res images to process the data so the seat counting will be anonymous, and even if the data was stored would not yield anything that couldn't be told from the CCTV footage anyway.
Red buses will also be getting built-in live travel maps that plot the bus's progress on the route and tell passengers the time to the next bus stop.
They will also show various landmarks and map info, saving drivers from being questioned as to which bus stop is best for [insert incomprehensible pop-up bar name here].
TfL travel alerts will be wired into them too, meaning if Bond Street Station is closed or there are delays on the Central Line as you near it, you'll know about it before you've committed to jumping off the bus.
Register for free to continue reading
Registration is a free and easy way to support our truly independent journalism
By registering, you will also enjoy limited access to Premium articles, exclusive newsletters, commenting, and virtual events with our leading journalists
Already have an account? sign in
Join our new commenting forum
Join thought-provoking conversations, follow other Independent readers and see their replies