Marriage certificate signed by Lord Nelson fetches £20,000 at auction
He and his mistress Lady Emma Hamilton signed the document in 1799, at a wedding held on board his ship HMS Foudroyant.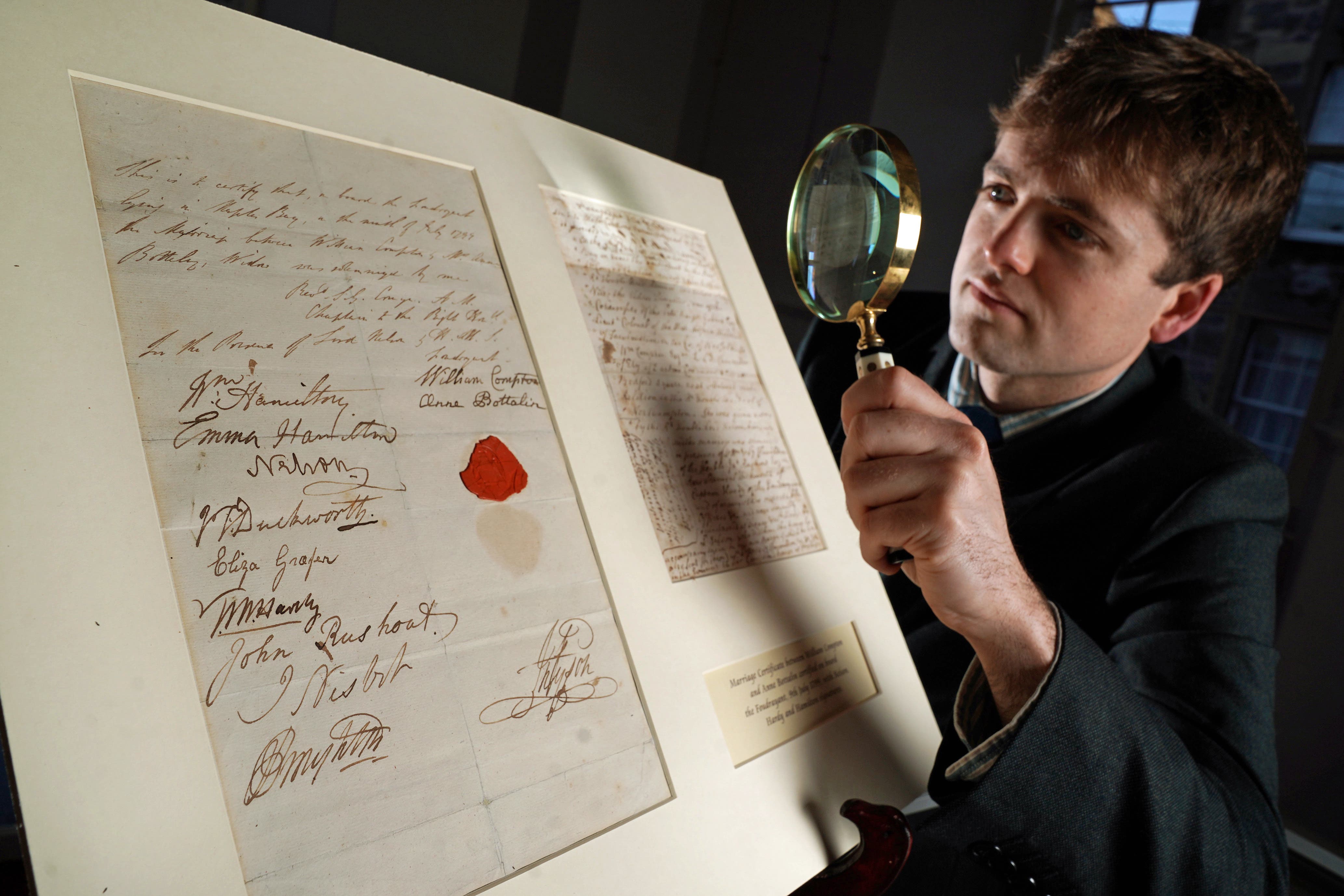 A rare document signed by British naval hero Lord Nelson has sold for £20,160 at auction – double the expected price.
The marriage certificate, which was sold by Lyon & Turnbull in Edinburgh, was signed by Lord Horatio Nelson on the wedding day in July 1799 of Norfolk couple William Compton and Anne Bottalin, who were living in Naples at the time.
The single sheet of heavily autographed paper, which had been in the same family for 222 years, was sold as part of the rare books, manuscripts, maps and photographs sale on Wednesday.
A first edition of JK Rowling's Harry Potter And The Philosopher's Stone and rare copies of JRR Tolkien's The Hobbit and The Lord Of The Rings were also sold after fierce national and international bidding.
The Harry Potter book fetched £20,160.
The illustrated edition of The Hobbit, signed by Tolkien, sold for £17,640, while The Lord Of The Rings first edition fetched £25,200. Both were in original dustwrappers.
A 19th-century edition of the works of Chaucer with designs by William Morris, and a unique copy of Seven Pillars Of Wisdom, A Triumph, by TE Lawrence were among other items in the sale.
The Kelmscott Chaucer is one of 425 known copies and sold for £60,200 at the auction.
The Seven Pillars, described as an "exceptionally rare book" which was privately printed in 1926, sold for £52,700.
Simon Vickers of Lyon & Turnbull said: "The results of this sale demonstrate the current strength of the market for rare and important books.
"Demand was very strong at home and abroad for highlights, such as the Kelmscott Chaucer and the Cranwell edition of Lawrence's Seven Pillars Of Wisdom.
"Important historical documents again attracted fierce competition. The marriage certificate was completely new to market and had been in family of the married couple for over 200 years. We were delighted to see it sell for £20,160."
Prices include buyer's premium.