Devon businessman causes global sensation after buying a council car park and making it free for all
Rob Braddick immediately announced his newly acquired car park in Westward Ho! Devon would be "FREE, yes FREE for the community and the public to use."
Adam Lusher Comments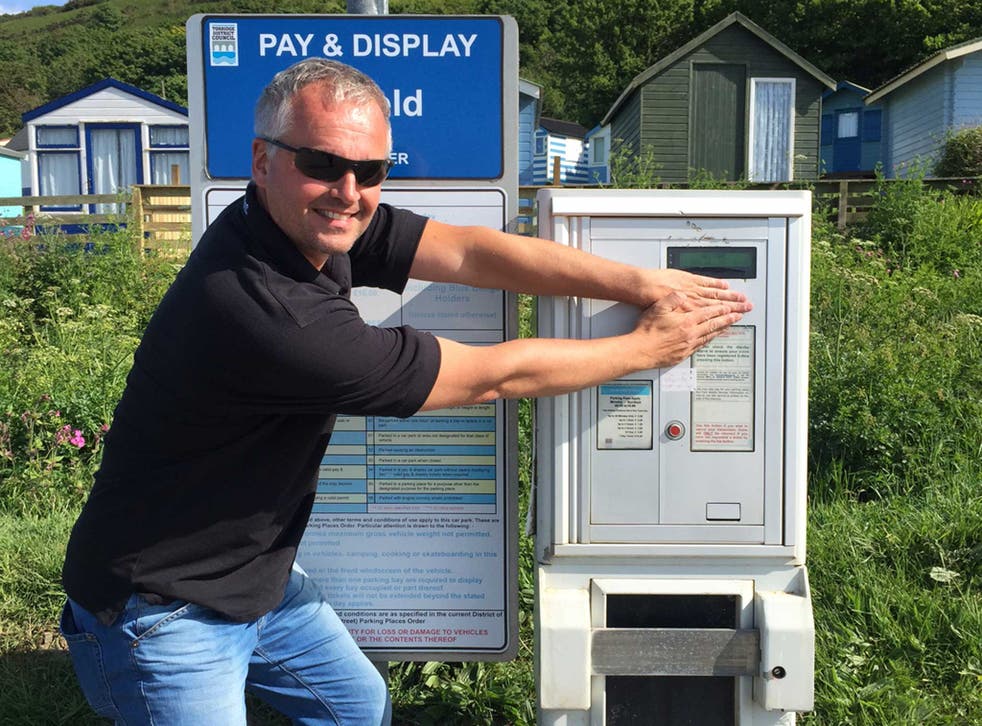 In a move likely to confuse traffic wardens everywhere, a businessman has bought a car park and immediately made it free for anyone to leave their vehicle there.
Rob Braddick's gesture, in the small Devon seaside village of Westward Ho! has won praise the world over, with people from America to Australia posting messages of congratulations on Facebook.
"Bloody awesome as they would say here in Oz," said Lizzie Warrener. "Community spirit at its best."
Closer to home, one Devon woman told Mr Braddick: "Fainted that you used the word 'free' - seriously well done Rob. No one ever does anything like that anymore."
Mr Braddick, who spent thousands of pounds buying a 50-year lease on the car park and announced an hour later that it would be "FREE, yes FREE", told The Independent he had been amazed by the fuss he had caused.
"All I have done is give something for free," he said, "And it's gone nuts."
"I think people are especially excited by the fact it's free car parking," he added, "Because it's not what normally happens in that world. Everywhere you go, people are clamping cars."
Mr Braddick, 44, the director of Braddicks Leisure and the owner of several local bars, restaurants and holiday centres, bought the lease on the Seafield Car Park on the edge of Westward Ho! on Tuesday afternoon.
Previously, the car park, with space for about 20 vehicles, had been a council-run facility charging drivers £3 a day.
The parking race: Clever alternatives to pay-and-display and multi-storeys

Show all 4
But Mr Braddick announced on Facebook that things had changed.
"Hot off the Press," he wrote, "As of 4pm today my company 'Braddicks Leisure Ltd' has acquired a long lease on Seafield Car Park. With immediate effect I'm making it FREE, yes FREE for the community and the public to use."
Mr Braddick, who owns the Pier House bar and restaurant about 400 yards from his newly acquired car park, suggested to Facebook users: "Please do park up and stroll over to The Pier House for a coffee or a cold pint. (not free!)
"Enjoy."
Driver taught a lesson for parking in disabled bay
The day after buying the lease on the car park, Mr Braddick also went to an auction and bought the neighbouring 12-bedroom property, Seafield House, for £414,000.
He insisted, however, that the deals on the car park and the house, which he would like to convert to part-business, part-residential use, were separate.
He told The Independent that "in an ideal world" people would park up and go and spend money in his Pier House bar, but he did not seem unduly bothered that they might do something else.
"If you go out of the car park and turn left," he suggested, "You can go on a lovely coastal walk. And if you want to do that or just stroll into Westward Ho! without going to my place, that's absolutely fine."
Mr Braddick explained his family had been running businesses in Westward Ho! for five generations, ever since his great-great-grandfather Hobart Braddick set up a holiday park in the village in the 1930s.
"Our family has been in business in the village for 80 years," he said. "It's not the end of the world if you give something back, is it?
"Sometimes, it's not about the money."
Refuting the suggestions of some social media users that he might be 'unwell', Mr Braddick suggested: "I'm neither mad nor eccentric. Definitely not."
Mr Braddick's previous community ventures have included trying to erect what would be a contender for the world's largest surfboard on a roundabout near Westward Ho! to attract passing motorists to the village.
"The idea is to make people aware of Westward Ho! and put it on the map," he said in 2013 when announcing his plan to put a 42ft surfboard on a roundabout on the A39. "The roundabout gets a lot of traffic and people just drive straight across it to Bude and on to Cornwall. It would be great to make people realise there's a three-mile beach just down the road."
Mr Braddick told The Independent that the roundabout was currently sponsored by McDonald's, but added: "I might try and resurrect the surfboard plan in January."
Register for free to continue reading
Registration is a free and easy way to support our truly independent journalism
By registering, you will also enjoy limited access to Premium articles, exclusive newsletters, commenting, and virtual events with our leading journalists
Already have an account? sign in
Join our new commenting forum
Join thought-provoking conversations, follow other Independent readers and see their replies