Trans rights campaigners say 'Man Friday' Hampstead Heath protest was 'transphobic'
'It makes fun of those less fortunate as the people taking part are clearly not trans and will not be affected by any changes to the law'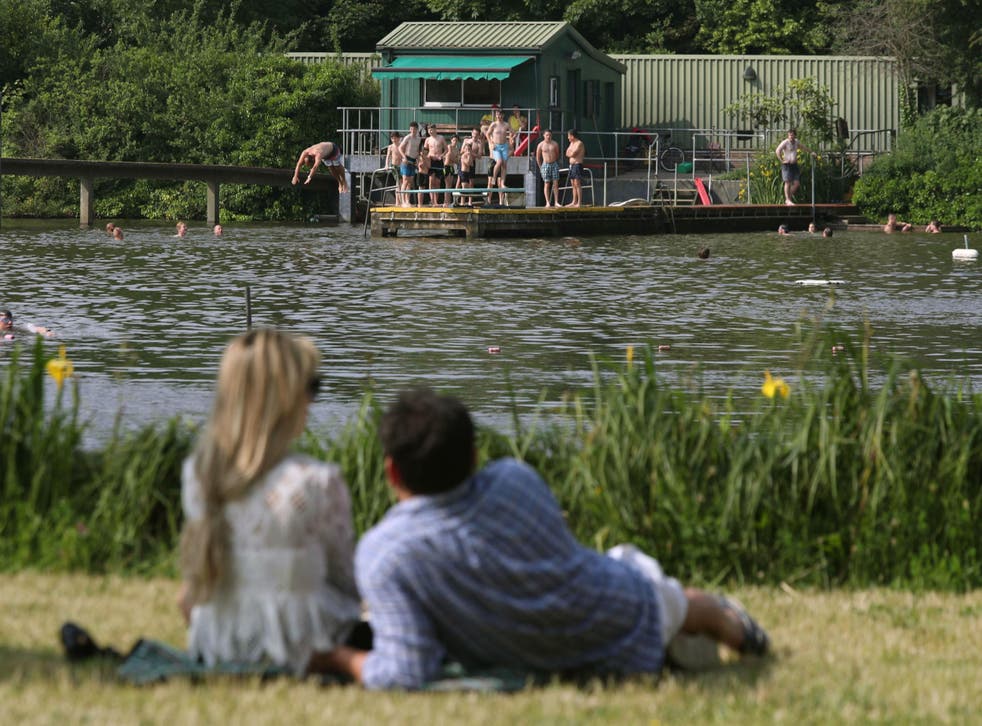 A demonstration where women dressed up as men to protest against proposed changes to the Gender Recognition Act was "transphobic", campaigners have claimed.
Around 20 members of the Man Friday group took to the male-only bathing pool on Hampstead Heath. One woman donned a bushy beard while another swam in a lime mankini to demonstrate that they identified as men
However, equality campaigners claimed the protest "demeaned trans people".
Susie Green, the chief executive of Mermaids, which campaigns for trans equality, said: "Our organisation finds this kind of demonstration worrying as it targets a marginalised and discriminated group of people.
"It makes fun of those less fortunate as the people taking part are clearly not trans and will not be affected by any changes to the law.
"It's clearly transphobic - they're mocking trans people."
Pro-LGBT+ rights advocates also say that groups like Man Friday are conflating the Gender Recognition Act and the Equality Act.
Reform of the former piece of legislation, which is currently proposed, will not affect the existing right of trans people to self-identify, which is already enshrined in legislation.
At the moment, trans people can change all of their day-to-day documents when they begin living permanently in that gender on the basis of self-declaration.
It is more complicated to change a birth certificate - a result of the government's stance that it need not change since it is a historical record.
UK news in pictures

Show all 50
Campaigners are calling for a change to bring it into line with how you would change other such documents.
"The premise that the Gender Recognition Act reforms will affect people's access to single-sex services is simply not correct," James Morton, the manager of the Scottish Trans Alliance, which leads the Equal Recognition campaign for Gender Recognition Act reform in Scotland.
"The provisions by which trans people can use single-sex services are included in the Equality Act. A trans woman can use women-only services without a gender recognition certificate."
He added: "Protests like this show a real insensitivity to the issues trans people face. You wouldn't be able to get a gender recognition certificate for declaring you are a man on Friday. You would have to be a man every day and intend to be so.for the rest of your life and that's where they are fundamentally mistaken."
LGBT+ rights advocates also stress that the proposed self-declaration process in the proposed Gender Recognition Act reforms "isn't a frivolous process and making a false statutory declaration is a serious crime of perjury".
Ugla Stefanía, a non binary trans campaigner, said: "The proposed changes are based on best practice and legal expertise around legal gender recognition, and in countries where a similar process is in place, there have been no cases of people abusing this law.
"These changes will make a massive difference to the well-being of trans people and their access to getting their identity legally recognised.
"It will make it less paper work for everyone, and trans people can continue to live their lives without causing trouble to anyone. Trans people have been using gendered facilities with these people their whole lives without any issues. This law will not change that."
After their swimming pool demonstration the Man Friday group told The Independent that any changes to the law would infringe upon their rights as women.
One of the protesters, Amy Desir, said it "was set up as a response to policies of gender self-identification that are allowing men to come in and take women's spaces, positions, scholarships and awards simply by saying I am a man".
She added: "It was set up to highlight to men that this is an issue which affects them as well and that they also have a say in this. It was quite obvious to everybody that no matter how much we said 'We are men', we were actually women."
Male rights groups weighed in on the debate on social media and said that Mumsnet, where the Man Friday movement was spawned, practices "gender apartheid".
"Isn't it time men 'self-identify' as women and challenge 'female only' spaces?" said Matt O'Connor, founder of Fathers4Justice. "What if separated dads turn up at family courts self-identifying as mothers? The focus on minority rights, whilst denying fathers equal parenting rights, is wrong. F4J are planning #GirlFriday events at female only spaces this summer to challenge the gender apartheid practised by Mumsnet."
Register for free to continue reading
Registration is a free and easy way to support our truly independent journalism
By registering, you will also enjoy limited access to Premium articles, exclusive newsletters, commenting, and virtual events with our leading journalists
Already have an account? sign in
Register for free to continue reading
Registration is a free and easy way to support our truly independent journalism
By registering, you will also enjoy limited access to Premium articles, exclusive newsletters, commenting, and virtual events with our leading journalists
Already have an account? sign in