Manchester bombing: Fundraiser for homeless man who helped arena victims hits £25,000
Thousands of people have donated money to help rough sleeper Chris Parker, who held a dying woman in his arms after being hit by the Manchester attack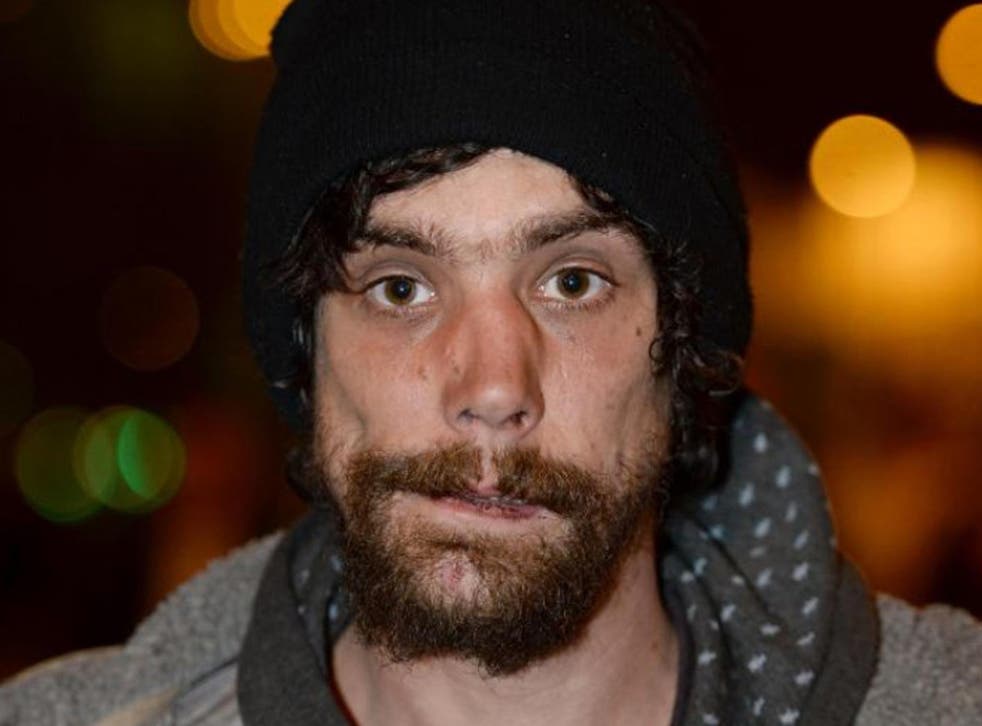 A crowdfunding page set up to raise money for a homeless man who rushed inside Manchester Arena to help terror attack victims has collected more than £25,000 in just hours.
Chris Parker, 33, was hailed a "true hero" after he told of how he held a dying woman in his arms following the suicide bomb explosion on Monday night.
The rough sleeper said he was outside the concert venue waiting to ask people for spare change as they left the Ariana Grande gig.
He was knocked to the floor with the force of the blast, but rushed back inside the building to help victims.
A member of the public, Michael Johns, set up a Gofundme page after hearing Mr Parker speak of his experience of the attack, which hit its initial target of £1,000 within minutes.
Mr Johns said: "Like many others, I have been horrified by the news from Manchester.
"Amongst the sad details one story has stood out for me and compelled me to make an effort to help one of our most vulnerable in society who showed great selflessness and courage."
Around 300 people donated money within the first hour, along with messages of support for the rough sleeper.
Less than 24 hours later, the number of donors had risen to 2,200 – raising a total of more than £25,000.
Manchester explosion in pictures

Show all 37
Posting an update on the page, Mr Johns said he had made contact with a homeless outreach service that is in touch with Mr Parker, and hoped to be able to speak with him in due course.
"I can't ignore that despite a target of [£]1000, you amazing people have sent it storming past 20,000 in little under 12 hours," he said.
"I really hope we manage to make contact with Chris so he can really grasp the level of gratitude we feel towards him as a nation."
The money raised on the crowdfunding site will go towards securing accommodation for Mr Parker, he said, whether permanent or temporary.
Donating to the cause, Shorna Gumbley said: "I speak for the world when I simply thank you for your bravery. You are a hero and you fill my heart with hope for humanity.
Another donor, Jessica Tunley, said: "The horrors you have seen can't be erased. Your bravery and compassion will never be diminished. Thank you, Chris."
Emotional crowd at Manchester vigil roused by Tony Walsh's stirring poem
Speaking to the media, Mr Parker described how he first helped a girl who had lost her legs in the blast, before helping the dying woman who had suffered serious leg and head injuries.
"Everyone was piling out, all happy and everything else. As people were coming out of the glass doors I heard a bang and within a split second I saw a white flash, then smoke and then I heard screaming," he said.
"It knocked me to the floor and then I got up and instead of running away my gut instinct was to run back and try and help.
"There was people lying on the floor everywhere.
A number of other funding pages have been set up for a second homeless "hero" named Steve, who was sleeping near the arena on the night of the attack.
He told broadcasters of how he pulled "nails out of children's faces" after rushing to the scene.
The rough sleeper has since been offered a roof over his head for six months by the co-chairman of West Ham United.
In a separate fundraising campaign, members of the public raised more than £750,000 for the victims of the attack in the space of just a few hours.
The crowdfunding page set up by the Manchester Evening News has received support from over 32,400 donors, and its target has since been raised to £1m after surpassing the initial target of £5,000 in just one hour.
Some 22 people were killed after the lone suicide bomber targeted music fans at the concert on Monday.
At least 59 other were injured, including several children.
Join our new commenting forum
Join thought-provoking conversations, follow other Independent readers and see their replies