Visually-impaired boy says Grealish signed shirt and letter has 'made my decade'
Ralph Mullineaux, 10, said he 'couldn't believe' he had received a signed shirt and a letter in braille from his football hero.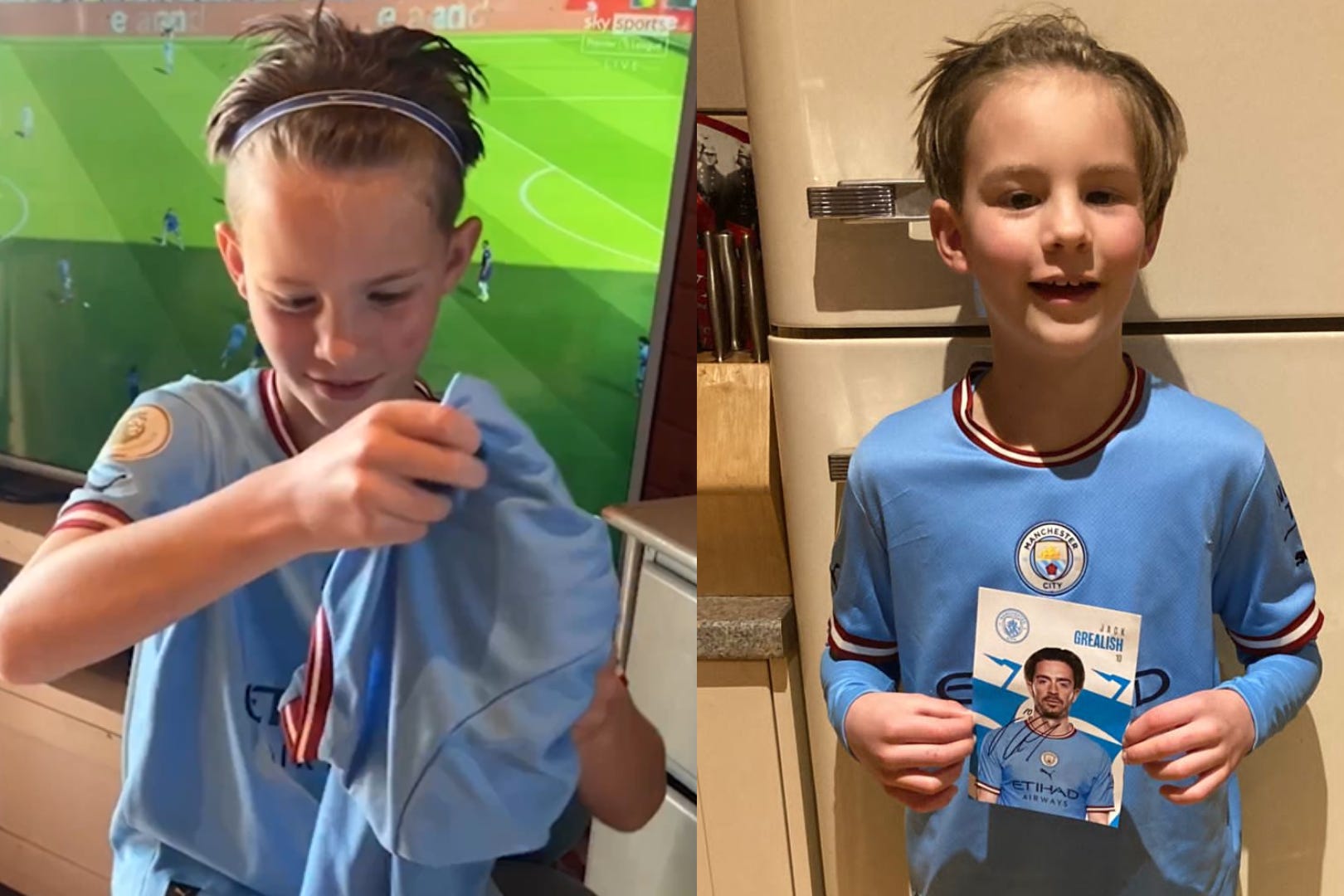 A young visually-impaired fan who received a signed shirt and a letter in braille from his football hero Jack Grealish said the surprise has "made my decade".
Ralph Mullineaux, 10, told the PA news agency he had sent the Manchester City footballer a letter in braille expressing his admiration for him and "couldn't believe" the gifts he received in return.
The year-six student has been a huge fan of Grealish for several years and wears the midfielder's signature hairstyle every day.
Ralph said when he opened the package from the footballer: "I felt really, really happy, really lucky, and then I felt kind of special because not a lot of kids have a signed shirt from their favourite football player."
Mother Georgina Mullineaux, 40, told the PA news agency: "I couldn't believe that he'd got that back.
"It's just so lovely to get such a lovely gesture from the club and from Grealish. I just hope they realise what an amazing thing that is."
Ralph wrote in his letter to the Manchester City midfielder: "Not only do I love watching him play football, I wrote that he's such a nice person.
"He's really funny and I like that he understands about children's disabilities because obviously he's got Hollie, his sister, who has cerebral palsy."
Grealish celebrated with his Manchester City team-mates last weekend when the team won the Champions League after securing a 1-0 victory over Inter Milan.
According to Ralph, who lives in the Cornwall village of Trispen, the letter said: "We're a football family. We're always going to be with you'."
He said the surprise has "made my decade".
Ralph has not let being visually impaired stop him from following in the footsteps of his biggest hero while inspiring other children with visual impairment.
He has been accepted into the England para football VI pathway programme and will soon be receiving his own personal development plan and a one-on-one trainer.
Ms Mullineaux said: "Obviously, trying to follow a football around a pitch when you've got really limited vision is tricky but now that Ralph has found a way of playing with people with a similar sort of disability, it's a really nice atmosphere."
The 10-year-old said football takes him to "a different world".
"When I'm sad, it's the right thing to do. If I feel down about something or if I don't feel very well, football will help."
Ralph's pursuit of his football dreams is documented on his Instagram, ralphmullineauxparafootball, and he recently starred in a television advertisement for the organisation Guide Dogs.
Ms Mullineaux attributes Guide Dogs with helping her son "grow his confidence a lot more, to think that he can overcome things that he thought would be tricky".
The organisation has given him a "massive confidence boost", she said.