More sightings of the false widow spider, as Britain's 'most venomous arachnid', with orange legs and white skull markings spotted in Essex
Sebastian Salek
Tuesday 24 September 2013 18:00 Comments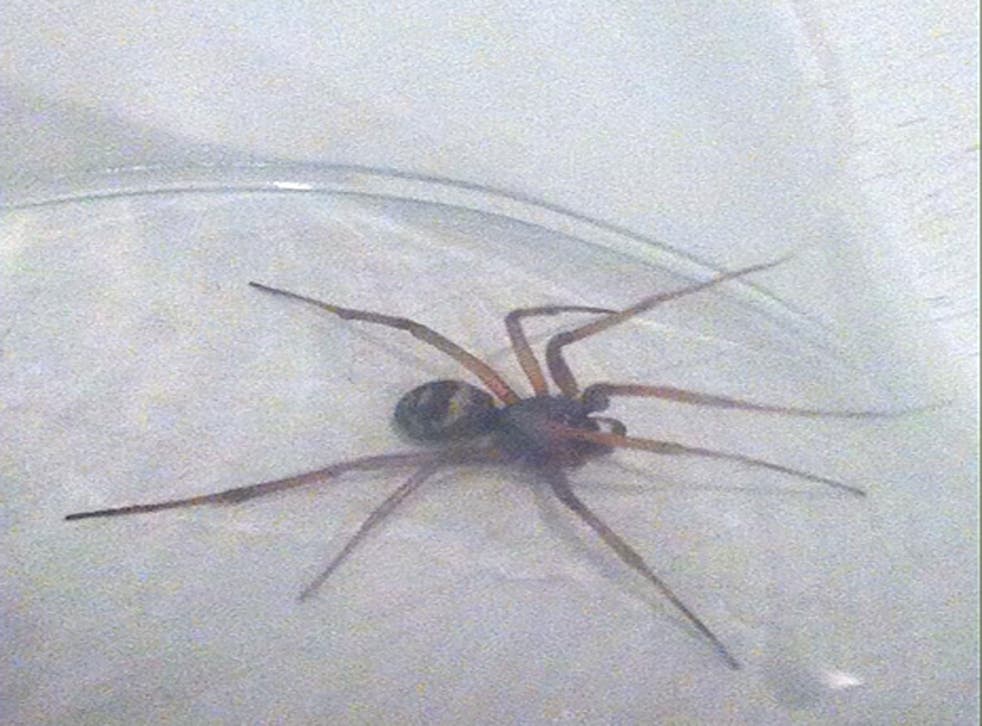 Further sightings of the false widow spider, Britain's most venomous arachnid, are raising fears following reports that the spider is heading north.
As dropping temperatures attract the spider into homes, mother of two Amanda Armitage told The Independent her five-year-old daughter had picked up the orange-legged arachnid which had 'white skull image on its back'
The 33-year-old from Essex said she had seen the Independent report and so her husband immediately knocked it out of her hands.
"He had seen the story about the false widow going around Facebook and when he saw what Emily was holding, there was a look of terror on his face and he whacked it out of Emily's hand."
After managing to catch the spider, Mrs Armitage took a photo and put in on Facebook, where friends commented that they had also seen the false widow in their homes.
The false widow has been spotted more than 50 times in parts of London and Kent over the last month, according to News Shopper.
Symptoms of a false widow bite may include swelling of the bite area, pins and needles and minor chest pains, according to Tony Wileman, a conservation ecologist at the London Wildlife Trust.
"It is recommended that if bitten by a spider thought to be a false widow spider then medical attention (a visit to the A&E department or your local GP) should be sought informing the medical staff that you think you have been bitten by a false widow spider," said Wileman.
Last year a woman was hospitalised and nearly lost her arm after suffering a bite.
Describing the spider, Mrs Armitage says she should have realised it was dangerous.
"It has orange legs and a white skull image on its back - I've never seen anything like it. It should have rung alarm bells. It actually looked dangerous," she said.
"I didn't expect anything like that to be around, especially not upstairs!"
False widow spiders are more likely to be found on the first floor of a building as they prefer to live higher up, according to Stuart Hine, manager of the Insect Identification Service at the Natural History Museum. They are more commonly spotted at night, as they tend to hide during the day.
Because of the heat, particularly attractive spots for the false widow to settle include the ceiling of a greenhouse or conservatory, where they can be found hanging upside down in their web.
The false widow is one of just three or four spiders in the UK that can survive in homes by catching enough food, according to Mr Hine Females outlive males, surviving for up to three years, and can reach sizes of over three centimetres.
The spider first arrived in the UK over 100 years ago in Devon from the Canary Islands. More recently the population has spread to southeast England but have been spotted further north in Ipswich, Norwich and Leicestershire.
Register for free to continue reading
Registration is a free and easy way to support our truly independent journalism
By registering, you will also enjoy limited access to Premium articles, exclusive newsletters, commenting, and virtual events with our leading journalists
Already have an account? sign in
Join our new commenting forum
Join thought-provoking conversations, follow other Independent readers and see their replies