Muslims, immigration and teenage pregnancy: British people are ignorant about almost everything
As a nation we hugely overestimate certain numbers - particularly when it comes to immigration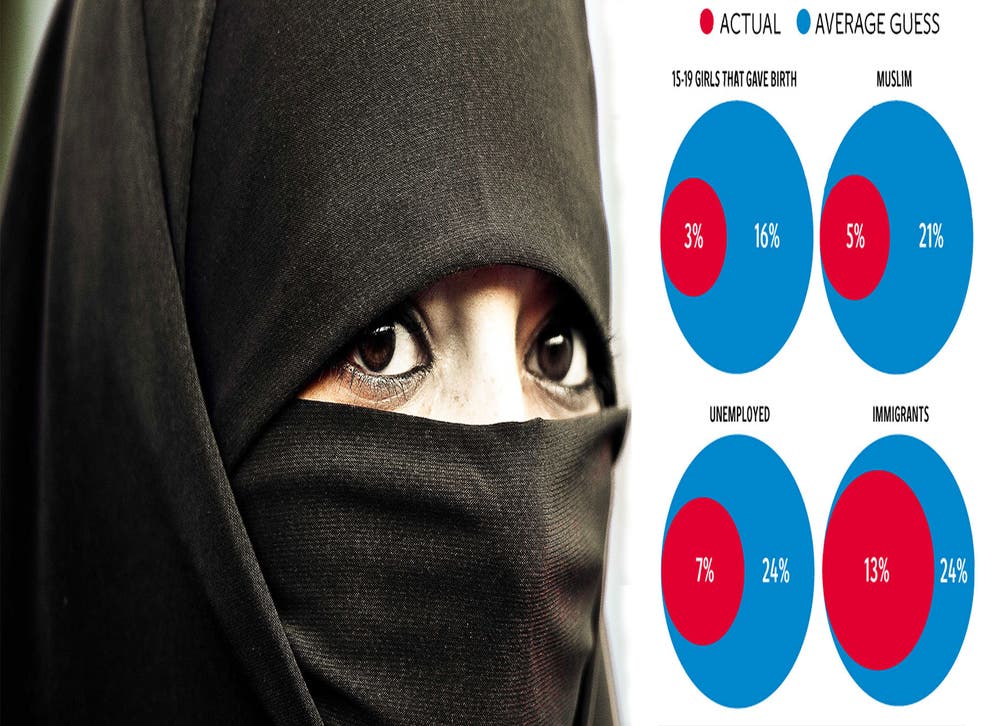 British people think that there are twice as many immigrants in the country than is really the case – and four times as many Muslims, according to a new survey by Ipsos Mori.
The research, carried out by an online survey of approximately 1,000 people aged 16 to 64, reveals that as a nation we hugely overestimate certain numbers, believing that one in five people in the UK are Muslims (21 per cent) when the actual figure is five per cent (one in twenty). By contrast, we underestimate the number of Christians in Britain – believing that just 39 per cent identify with the religion, when the real figure is 59 per cent.
And when it comes to immigration – which was overestimated by all of the 14 countries surveyed, to some degree – we think that immigrants make up 24.4 per cent of the population, when in fact it is actually 13 per cent.
But there is some light at the end of the data tunnel. Britain is the fifth least ignorant nation out of 14 surveyed, and we know more about ourselves than Australians, Canadians and the French. Yet we pale in comparison to Sweden, which has the best understanding of its population characteristics and social issues.
Americans and Italians, meanwhile, have the lowest self-awareness – particularly when it comes to immigration. The former guessed that 32 per cent of the population were immigrants, when the real figure was 13 per cent; and the latter assumed 30 per cent were immigrants, compared to real figures of just seven per cent.
These kinds of misconceptions present "clear issues for informed public debate and policy-making", said Bobby Duffy, managing director of Ipsos Mori social research institute, who pointed out that politicians are primed to react to voter perceptions, rather than actual data.
"Public priorities may well be different if we had a clearer view of the scale of immigration and the real incidence of teenage mothers," he said.
"People also underestimate 'positive' behaviours like voting, which may be important if people think it is more 'normal' not to vote than it actually is."
The research backs this up – according to the Perils of Perception survey, people in the UK believe that just 49 per cent of the electorate voted in the last general election, when the official turnout was in fact 66 per cent.
Misconceptions about teenage pregnancy are also rife, with Britons guessing that one in six (16 per cent) of girls aged between 15 and 19 give birth each year, when the real figure is just three per cent.
And it appears we're clueless about unemployment, too – believing that nearly 24 per cent of the working age population are unemployed, when the actual figure is much lower, at just seven per cent.
We also think that the British population is far older than it is, guessing that 37 per cent are over 65. In reality, the figure is just 17 per cent. We go on to overestimate our life expectancy by three years, yet we're one of the best informed countries when it comes to guessing murder rates – with 49 per cent of people guessing correctly that it is falling.
Register for free to continue reading
Registration is a free and easy way to support our truly independent journalism
By registering, you will also enjoy limited access to Premium articles, exclusive newsletters, commenting, and virtual events with our leading journalists
Already have an account? sign in
Register for free to continue reading
Registration is a free and easy way to support our truly independent journalism
By registering, you will also enjoy limited access to Premium articles, exclusive newsletters, commenting, and virtual events with our leading journalists
Already have an account? sign in
Join our new commenting forum
Join thought-provoking conversations, follow other Independent readers and see their replies