NHS spending on private ambulances rises by a fifth in two years to £80m
Ambulance trusts increasingly having to use private firms amid soaring demand and staff shortages, figures show
May Bulman
Tuesday 19 September 2017 00:06 Comments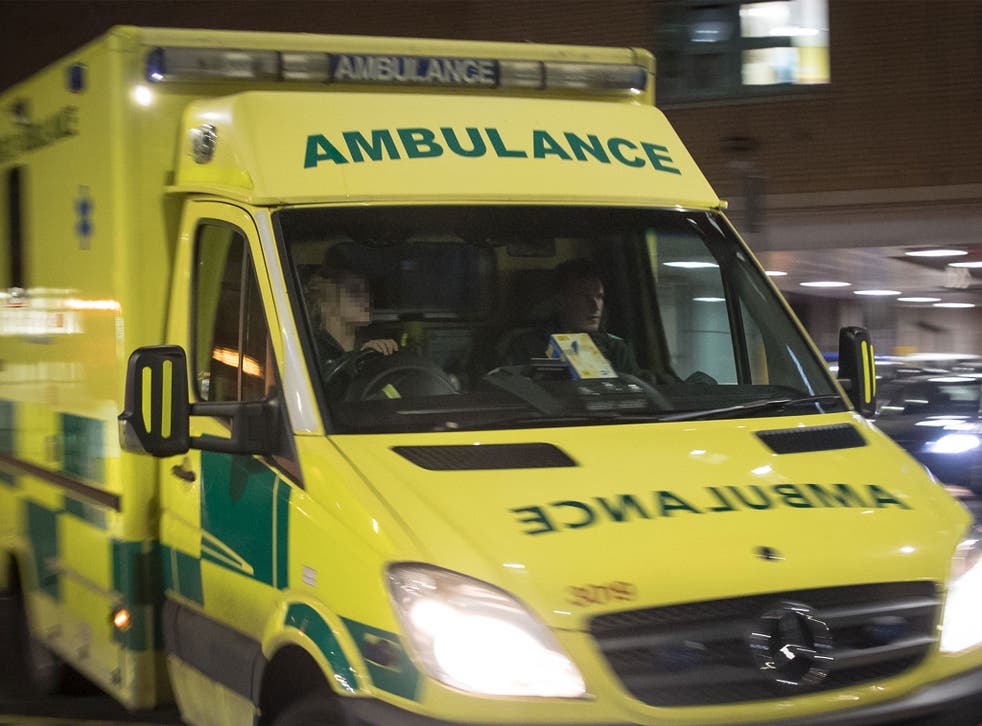 NHS spending on private ambulances has risen by more than a fifth in two years to reach over £78m, new figures show.
Ambulance trusts across the country are using private firms to help them answer 999 calls and transport people to hospital, as soaring demand and staff shortages have meant NHS ambulances cannot be freed up.
The data, obtained through FOI requests submitted by the Press Association from 10 ambulance trusts in England, revealed that in 2016/17, £78,359,087 was spent, compared with £64,201,770 in 2014/15 – marking an increase of 22 per cent.
The figures also showed that some trusts are having to spend more on certain groups of temporary staff, including emergency paramedics.
South Central Ambulance Service NHS Foundation Trust spent the most across the year, totalling £16,336,000 in 2016/17 – up from £13,610,000 the year before and £12,292,000 in 2014/15. The next biggest spender was by the East of England Ambulance Service NHS Trust, which spent £14,012,429 in the last year, but had a bill for less than half of that the previous year, at £6,639,335.
Private ambulances are hired from private firms as well as charities such as St John Ambulance and the Red Cross.
Responding to the figures, the Royal College of Emergency Medicine's president, Dr Taj Hassan, said the increased spending on private ambulances was "concerning".
"It is concerning that trusts are having to use part of their budget for private ambulances, and serves to highlight the current levels of demand emergency departments are facing," he said.
"Under-resourced departments are struggling with overcrowding and 'exit block', when patients cannot be moved in a timely manner to a ward. This means patients are waiting longer to be seen and ambulances cannot offload patients quickly, because there is simply no room for them.
"Ambulances then have to queue outside emergency departments for longer than should be necessary, delaying them from getting back out into the community, and creating a need for private ambulances."
Dr Hassan also expressed concern about the quality of training offered by private firms, adding: "The Care Quality Commission has previously highlighted that they may use less qualified staff or staff whose qualifications aren't regulated or restricted. They may be poorly equipped, have poor clinical governance, poor infection prevention, and a lack of or inappropriate equipment."
Jonathan Street, spokesman for the College of Paramedics, said NHS ambulance staff were "under heavy pressure due to growing numbers of 999 calls". He added: "These services are increasingly reliant on paramedics and other ambulance clinicians within the private sector to meet the demand, which involves considerable cost."
Mr Street said a high turnover of NHS staff was affected by levels of stress, increasing workloads and paramedics wishing to work in other areas.
FOI data was also collected on how much ambulance trusts spend on agency staff, showing a fall in overall spending in the last financial year, with some £31,718,252 spent in 2016/17 on agency staff — down from £49,369,601 the year before.
However, some trusts are having to spend more on certain groups of staff, such as emergency support workers, with more than £1.33m spent on agency paramedics by three trusts in 2016/17, around half of the amount spent the year before.
These trusts were South Central Ambulance Service NHS Foundation Trust (£835,000 in 2016/17), Yorkshire Ambulance Service (£176,693) and South Western (£317,905).
The East of England Ambulance Service NHS Trust also saw a rise in spending on emergency staff from agencies, including paramedics. It spent £2,301,377 on emergency staff in 2016/17, up from just £49,211 the year before and £1,608 in 2014/15.
Unison national ambulance officer Alan Lofthouse said: "The huge sums spent on private ambulance services expose the pressures on staff due to soaring demand. Experienced and highly trained employees are leaving because of the strain. Paying agency workers to fill the gaps is putting patient safety and the wellbeing of crews at risk.
"The money would be better spent training new staff and holding onto existing ones. The Government must start investing properly in the ambulance service and its workforce."
A spokesman for the Independent Ambulance Association said the main reasons for a rise in private ambulance use in the last two years are "staff shortages in NHS ambulance trusts combined with continued increases in demand".
He said there were several benefits of using independent firms, including flexibility and good value for money as "it's cheaper for the NHS than paying overtime".
Health news in pictures

Show all 40
He added that the standard of care was "no different" to that offered by the NHS, and all providers are registered with the Care Quality Commission and subject to the same inspection standard as NHS ambulance trusts.
A Department of Health spokesman said: "The ambulance service answers more than 10 million calls every year and the vast majority of patients get an excellent service.
"Occasionally, ambulance trusts use other providers including St John Ambulance to help with spikes in demand, and these providers are subject to the same rigorous safety and quality inspections as NHS ambulances."
PA contributed to this report
Register for free to continue reading
Registration is a free and easy way to support our truly independent journalism
By registering, you will also enjoy limited access to Premium articles, exclusive newsletters, commenting, and virtual events with our leading journalists
Already have an account? sign in
Join our new commenting forum
Join thought-provoking conversations, follow other Independent readers and see their replies