Switching to vapes 'could save NHS more than half a billion a year', study says
Researchers suggest the swap would also reduce smoking-related hospital admissions by 13%.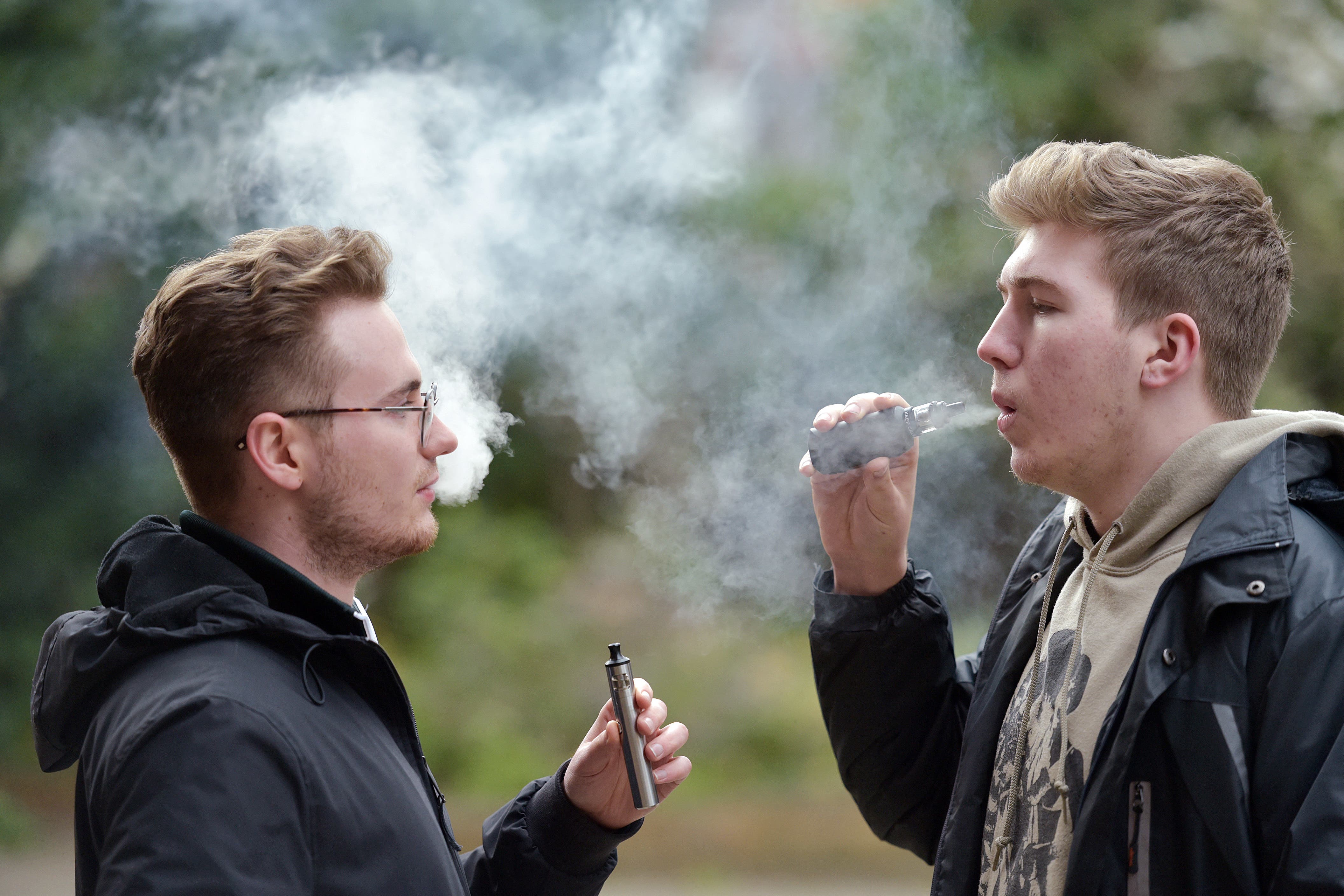 Half of England's adult smokers making a switch to e-cigarettes could save the NHS more than £500 million per year, a study has claimed.
Researchers at Brunel University London used data from NHS Digital, the Royal College of Physicians and the Office for National Statistics (ONS) to identify the prevalence of smoking in each region.
They found that between 2019 and 2021, 13.6% of people aged 18 and over in England smoked.
The lowest rate of smokers is in the South East (12.2%) compared to 14.1% in the Midlands, 14.6% in the North West and 15% in the North East and Yorkshire.
The study, published in the British Journal of Healthcare Management, suggests that if 50% of those people were to switch to e-cigarettes, hospital admissions would reduce by 13%, translating to savings of £518 million.
The figure was calculated by looking at data relating to smoking as a cause of death, as well as the risk of developing five diseases as a result of the habit – cancer, heart disease, stroke, chronic bronchitis and emphysema.
The research team calculated total health expenditure by multiplying average ward costs per bed day for a specific disease by the mean length of stay in hospital for that disease.
In the North East and Yorkshire alone, 50% of smokers switching to a vape could save £148 million, researchers said.
Professor Francesco Moscone, a business economics expert from Brunel University London, said: "Such illnesses put significant burdens on the NHS, which we know is already under increasing pressure."
He added that while the long-term impact of vapes are still unknown, previous research has shown they "result in a 90% reduction in the exposure to chemicals that are major contributors to health risks".
In 2019, the Government outlined its ambition to make England "smoke free" by 2030.
It also launched a "swap to stop" campaign in April, offering one millions smokers vapes to encourage them to quit cigarettes.
Prof Moscone said "embracing the transition" from cigarettes to vapes "would present a crucial opportunity for us to regain momentum and align with our ambitious 2030 plan".
Deborah Arnott, chief executive of charity Action on Smoking and Health (Ash), said: "This study provides further evidence that by providing one million vapes to smokers to help them quit, the Government's 'swap to stop' campaign would help reduce pressure on our overstretched NHS.
"However, although smoking costs the NHS well over £2 billion a year, the biggest benefit to public finances from reductions in smoking won't be to the NHS, but in reductions in spending on social security and social care due to smoking, which together amount to more than double the cost of smoking to the NHS."
A poll of 12,271 adults, carried out by YouGov for charity Action on Smoking and Health (Ash), found 43% of people think vaping is as dangerous or more dangerous than smoking cigarettes.
Ms Arnott said "inaccurate beliefs about the harms" of vaping are a "barrier to smokers" and "must be urgently addressed".
Ash estimates 9.1% (4.7 million) of adults in Britain vape. Of those, 2.7 million are ex-smokers, 1.7 million are current smokers and 320,000 have never smoked.
It comes amid concerns from a number of organisations about the trend of young people and children using e-cigarettes, with calls mounting for tighter regulations on their marketing and packaging.
The Department for Health and Social Care (DHSC) said while vaping is a "preferable alternative to smoking for adults", they do have concerns "about the rise in youth vaping".