NHS staff are working unpaid to help avert a winter A&E crisis
Coming in early and leaving late is a way of life for hospital staff, MPs told
Charlie Cooper
Wednesday 14 January 2015 20:52 Comments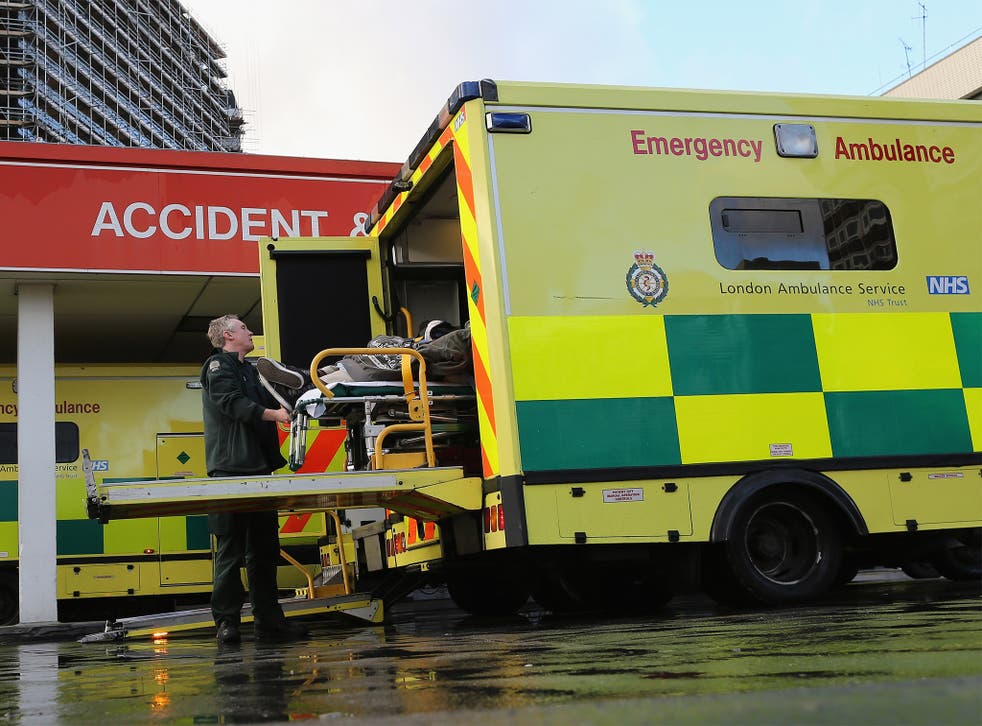 NHS staff have been coming into work voluntarily and unpaid to help their hospitals cope with extreme winter pressures, MPs were told today, as the country's top emergency doctor warned over a dramatic increase in A&E visits.
Dr Clifford Mann, president of the College of Emergency Medicine, said that the additional patients coming to A&E this year could fill "eight or nine extra emergency departments". MPs on the Health Select Committee were taking evidence yesterday on accident and emergency services in England, in response to a string of major incidents declared at hospitals throughout the country last week, as A&E waiting times rose to their highest levels in a decade.
Official figures show that there were 14.6 million A&E attendances in England in 2014, an increase of 446,049 on 2013. The demand placed on hospitals has been such that doctors, nurses and managers have worked overtime and even come into work voluntarily and without pay to support colleagues.
Jim Mackey, chief executive of Northumbria Healthcare NHS Foundation Trust, told MPs that spikes in pressure which would normally last a few days had persisted for several weeks. "The system had to work really, really hard to manage to get on top of that… We had some absolutely heroic shifts from clinicians and managers working round the clock, often coming in unpaid to do what they needed to do," he said.
The Labour MP and Health Committee member Valerie Vaz said she that she was concerned staff were "working in the NHS for nothing".
"Basically they're volunteering and that's what's partly bringing the spikes [in pressure] down," she said. "I hope the Department [of Health] will take that back."
The increasing strain on NHS resources

Show all 4
The Royal College of Nursing said that coming to work early and leaving late had become "a daily reality" for many hospital staff, while the doctors' union the British Medical Association said "taking advantage of the goodwill of already overstretched staff to meet rising demand" was "unfair and unsustainable".
Warnings over staffing pressures came as NHS England faced further questions over the role the 111 helpline has played in managing pressures on A&E. Dr Mann told MPs it would be "absurd" to blame patients for the pressures because they were being advised to go to A&E by the phone line.
He said 220,000 had been advised by 111 to go to A&E this year, and 220,000 had an ambulance despatched. "If you put those figures together you have more than 95 per cent of the rise in type 1 [major A&E] attendances," he said.
However, Professor Keith Willett, NHS England's director of acute care, said that 111 was doing an "excellent" job, receiving 12 million calls last year.
A spokeswoman for Northumbria Healthcare NHS Foundation Trust said that in recent weeks there were "occasions when members of staff, both clinical and managerial, voluntarily came into work in order to ensure our patients were treated as quickly as possible and in the appropriate setting". A Department of Health spokesperson said: "Hospital staff are doing an amazing job and we're supporting them with 700 more doctors and 5,000 more nurses this winter."
Case study: Nine-hour wait that may have cost a life
Andrew Logan, from Clydebank, West Dunbartonshire, died after waiting nine hours for an ambulance
Andrew Logan, 58, called NHS 24 at 4.49pm on 17 September 2011, after he felt sharp pains in his groin area.
Less than two hours later an out-of-hours doctor said Mr Logan's symptoms suggested he had an obstructive hernia and told him an ambulance had been requested with a four-hour response time, an inquiry has heard.
The deadline passed and Mr Logan's health deteriorated. His wife Eileen, 61, phoned 999 at 1.16am the next day.
Paramedics arrived soon after and tried in vain to save Mr Logan, who was taken to the Western Infirmary in Glasgow, where he was pronounced dead at 2.50am.
A post-mortem examination revealed Mr Logan had died of a ruptured aneurysm.
Mr Logan's brother-in-law, Iain McKay, 57, who works for the Scottish Ambulance Service, told Dumbarton Sheriff Court that when he went to work the next day, a colleague who had been on duty the night before told him he had not received a call from the control room to attend Mr Logan.
Mr McKay said: "He explained to me he didn't know why the ambulance hadn't been there because he hadn't left the ambulance station between about 9pm and 10.30pm on the Saturday night."
He added: "Control hadn't contacted him at all. He just assumed it was quiet – very unusual for a Saturday night, but it does happen."
The inquiry continues.
Register for free to continue reading
Registration is a free and easy way to support our truly independent journalism
By registering, you will also enjoy limited access to Premium articles, exclusive newsletters, commenting, and virtual events with our leading journalists
Already have an account? sign in
Join our new commenting forum
Join thought-provoking conversations, follow other Independent readers and see their replies