More than 60,000 sign petition calling for vote of no confidence in Health Secretary Jeremy Hunt
If it reaches 100,000 it will be considered for a debate in Parliament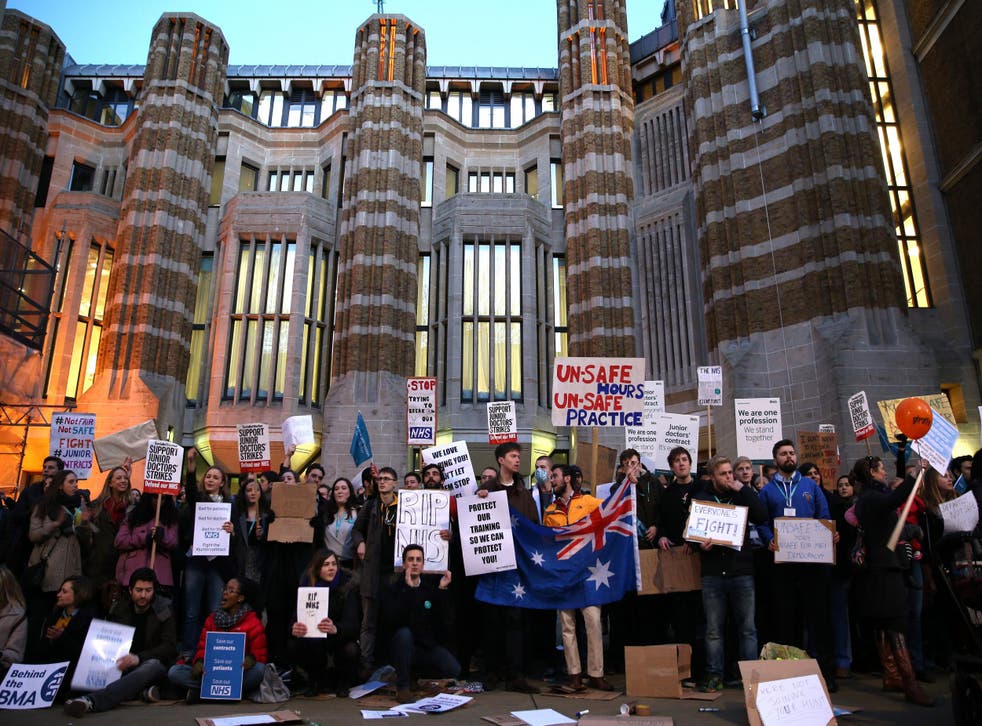 More than 60,000 people in less than 24 hours have signed a petition calling for the government to debate a vote of no confidence in Jeremy Hunt, amid an intense row over junior doctors' contracts.
The growing backlash from the public follows the Health Secretary's controversial decision to impose the new junior doctor contract without further negotiations with the medical profession. The British Medical Association said that it would consider "all options open to us" and a full walk-out from accident and emergency departments will be back on the table.
The petition, which is gathering momentum on social media, says: "Mr Hunt recently gave totally inappropriate advice to Google conditions before seeking medical opinion.
It adds: "He referred to Paramedics as Ambulance Drivers and has caused the first Doctors strike in years of the NHS. Mr Hunt is destroying all staff morale in the NHS & will cause recruitment issues."
The government is obliged to respond to petitions submitted to its website that reach 10,000. If it reaches 100,000 it will be considered by a committee made up of 11 MPs and has the potential to end up as a debate in the Commons.
Meanwhile, a second petition also gathering momentum has been launched, calling on the Health Secretary to resume meaningful contract negotiations with the BMA. At the time of writing, it had over 45,000 signatures.
The petition says: "J. Hunt is to impose a new contract. As incoming junior doctors, with GMC registration, starting work as an FY1 in August 2016 and junior doctors working within the NHS we will refuse to sign the imposed contract and will continue strike action on behalf of the medical profession and greater public."
In pictures: Junior doctors protests in UK

Show all 10
Yesterday, the Health Secretary announced that NHS junior doctors will be forced to accept a controversial new contract without agreement or further negotiation. He added that imposing the contract unilaterally would end "uncertainty" in the health service.
Doctors have been on strike over the new contract, which they say will put patient safety at risk and leave medics working the longest hours worse off.
The new terms of employment re-define anti-social hours and make it cheaper for hospitals to roster doctors on weekends and evenings. In retaliation, up to 300 junior doctors and other campaigners protested outside Mr Hunt's department and called on him to resign.
Register for free to continue reading
Registration is a free and easy way to support our truly independent journalism
By registering, you will also enjoy limited access to Premium articles, exclusive newsletters, commenting, and virtual events with our leading journalists
Already have an account? sign in
Register for free to continue reading
Registration is a free and easy way to support our truly independent journalism
By registering, you will also enjoy limited access to Premium articles, exclusive newsletters, commenting, and virtual events with our leading journalists
Already have an account? sign in
Join our new commenting forum
Join thought-provoking conversations, follow other Independent readers and see their replies