Police officer describes moment dog fought to protect him despite being stabbed with '10-inch knife'
'Finn's Law' campaign is fighting for greater legal protection for service animals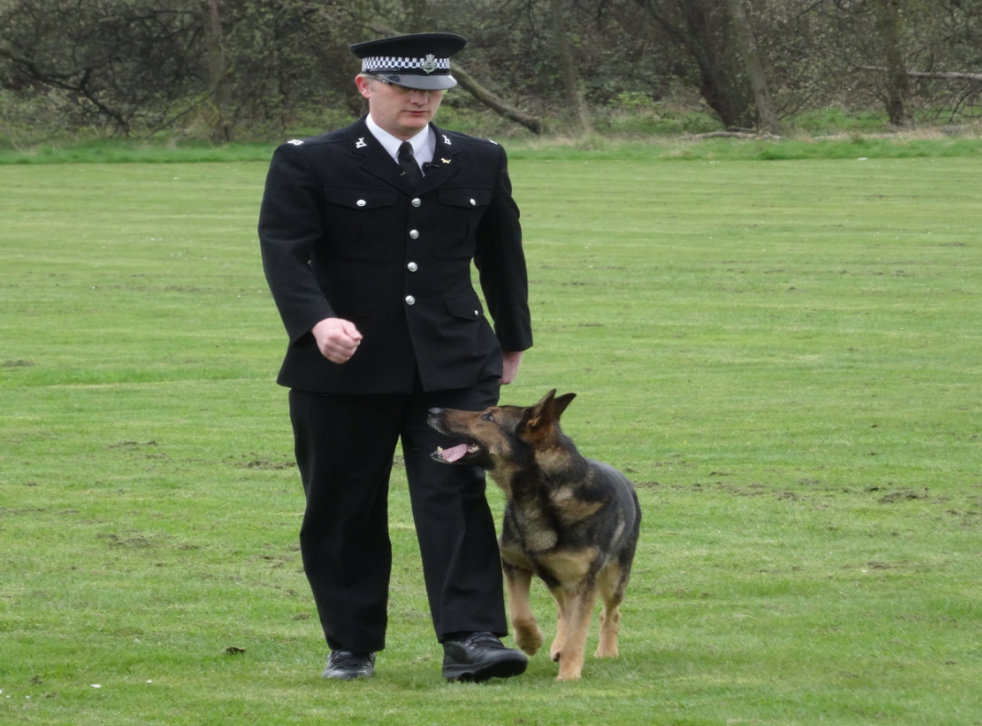 A police officer has described the moment his dog was stabbed with a 10-inch knife but still "refused to let go" of the suspect, helping to protect his handler and leading to an arrest and subsequent conviction.
In a new book about the 2016 incident, PC Dave Wardell speaks warmly about the way his canine partner Finn protected him from an armed attacker during a police chase.
The loyal actions of Finn, a German shepherd from the Bedfordshire, Cambridgeshire and Hertfordshire dog unit, were widely praised at the time and inspired PC Wardell to write Fabulous Finn, recalling the moments leading up to the 16-year-old suspect's arrest.
PC Wardell writes how he was chasing a suspect in Stevenage in October 2016 when the teenager "ignored" his warnings to stop, so he sent the dog after him.
"I let Finn go. As the man tried to scramble over a fence, Finn took hold of his lower leg in his mouth and pulled until the suspect was face down on the grass," he writes, in an extract published by the Mail on Sunday.
"Suddenly, something caught my eye. It was a massive piece of dark metal which he appeared to be pulling from Finn's chest. It was covered in blood. It was a knife – as thick as a ruler. It was ridiculously huge, like a hunting knife – the blade alone must have been 10in long."
PC Wardell, who was 32 at the time, recalled: "The vision of the knife, that flash of metal as it slid out of Finn's chest. Then another flash as the suspect lunged a second time, aiming for my upper body, and Finn moving to protect me and blocking the weapon with his head."
He said the suspect also managed to "slice open Finn's head, and as my hand was close by, he sliced that open too". But PC Wardell said the dog held on until back-up arrived.
Finn was left covered in blood with a huge wound across his chest, struggling to breathe with "air being sucked into his body through a hole that shouldn't be there". He recalled the 20-minute drive to the care centre where his life could be saved, "which felt like a lifetime" as he was "expecting Finn to die."
UK news in pictures

Show all 50
But miraculously the dog survived, after hours of lifesaving surgery. The blade had missed Finn's heart, but he was left with "enormous surgical wounds".
Eventually, Finn was able to return to work just before Christmas in 2016 and continued until his retirement last March.
Finn's attacker, who was 16 at the time, was found guilty of "criminal damage" against the dog. PC Wardell spoke of his despair that in the eyes of the law attacking a service animal while they are at work was "of no more consequence than [damaging] a piece of inanimate property". He was also convicted of actual bodily harm against PC Wardell.
Finn's plight and the lack of legal protection for service animals garnered much attention on social media after pictures of the injured animal were widely shared. A campaign for "Finn's Law" is urging for legislation be changed to offer greater protection for service animals.
In October 2017, Finn was crowned Animal of the Year at the Animal Action Awards hosted by the International Fund for Animal Welfare.
Fabulous Finn: The Brave Police Dog Who Was Stabbed And Came Back From The Brink, by Dave Wardell with Lynne Barrett-Lee, published by Quercus, is out on 8 February.
Register for free to continue reading
Registration is a free and easy way to support our truly independent journalism
By registering, you will also enjoy limited access to Premium articles, exclusive newsletters, commenting, and virtual events with our leading journalists
Already have an account? sign in
Register for free to continue reading
Registration is a free and easy way to support our truly independent journalism
By registering, you will also enjoy limited access to Premium articles, exclusive newsletters, commenting, and virtual events with our leading journalists
Already have an account? sign in
Join our new commenting forum
Join thought-provoking conversations, follow other Independent readers and see their replies