Thousands of women go on strike in Ireland in protest at abortion ban
Protesters wear black and are encouraged to take the day off work in action to coincide with International Women's Day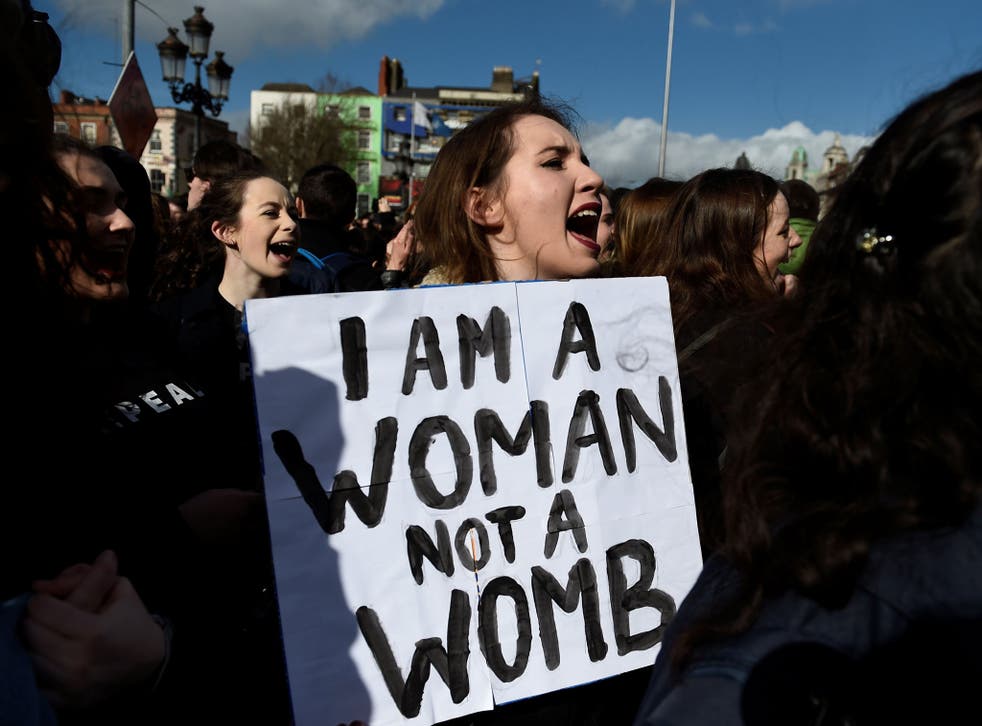 Thousands of women have gone on strike in towns and cities across Northern Ireland and the Republic to protest the countries' abortion bans, as part of a day of action organised to coincide with International Women's Day.
Women wore all black and were encouraged to take the day off work as well as refraining from performing emotional labour, unpaid gendered expectations placed on women.
The largest march was held in Dublin, where protesters blocked off O'Connell Bridge, baring banners urging legal reform and chanting.
The rally culminated outside Leinster House, the Irish parliament building. The crowd shouted "Get your rosaries off my ovaries", in reference to the influence of the Catholic Church on local legislation, as well "Not the church, not the state, women must decide their fate".
Coalitions representing Irish artists, midwives, trade unions and students unions were among those who marched in the strike.
Members of the public brought home made signs including hand painted images of wombs dipped in glitter and feminist slogans.
Outside Leinster house, anti-abortion protesters confronted them, holding large images of aborted foetuses and shouting that the women had not realised they were dealing with real children's lives.
The UK's own abortion ban, explained in 3 minutes
An attending police officer said they were unable to provide an estimate as to crowd figures.
Ruth Coppinger, a member of the Irish parliament for the Anti-Austerity Alliance, addressed the crowds to call for urgent reform of the laws.
She later told The Independent: "It's been a hugely important day. It was very important and necessary that young people in particular turned out.
"This is a new generation, they're not going to be told to wait and the whole concept of bodily autonomy for young people is very different even from my generation. The church doesn't have power."
Danielle Roberts, from the Belfast Feminist Network which also marched in the rally to represent Northern Ireland, told The Independent: "Reproductive rights are human rights and without bodily autonomy nobody can really be free.
Thousands march in Dublin for Irish abortion rights

Show all 5
"It's very important that we change the laws North and South. Were here in solidarity- a lot of our struggles are the same."
In the Republic of Ireland, abortion is a criminal offence, carrying a 14 year prison sentence. This is due to a clause in the constitution which grants unborn foetuses the same citizenship rights and legal protections as women.
In order for this clause, known as the eighth amendment, to be removed, a country wide referendum would need to be held.
The government has set up a Citizens Assembly to poll Irish people's views on whether to repeal the eighth amendment but critics say progress is not happening soon enough.
In Northern Ireland, abortion is illegal despite being part of the UK and women face life in prison for having terminations as they are legally considered murder.
A November 2016 court ruling saw a judge declare the abortion ban to be a breach of international human rights law.
However, the Northern Irish parliament voted to keep the ban in place, due to a high prevalence of evangelical Christian and Roman Catholic members of parliament.
Under international law, the UK is the state actor responsible for ensuring the ban is overturned, but Prime Minister Theresa May has thus far declined to comment on or act in relation to the issue.
A woman in Belfast is currently awaiting trial accused of "committing" an abortion by helping her 15-year-old daughter access abortion pills after she had an unplanned pregnancy.
International Women's Day also saw strikes, rallies and actions take place around the world in response to local issues of gender inequality.
Join our new commenting forum
Join thought-provoking conversations, follow other Independent readers and see their replies