Acid attacks: Theresa May hints at change in law after 'horrific' rampage in London
Asked about the assaults, the Prime Minister's spokeswoman said Ms May viewed the acid attacks in the capital as 'horrific'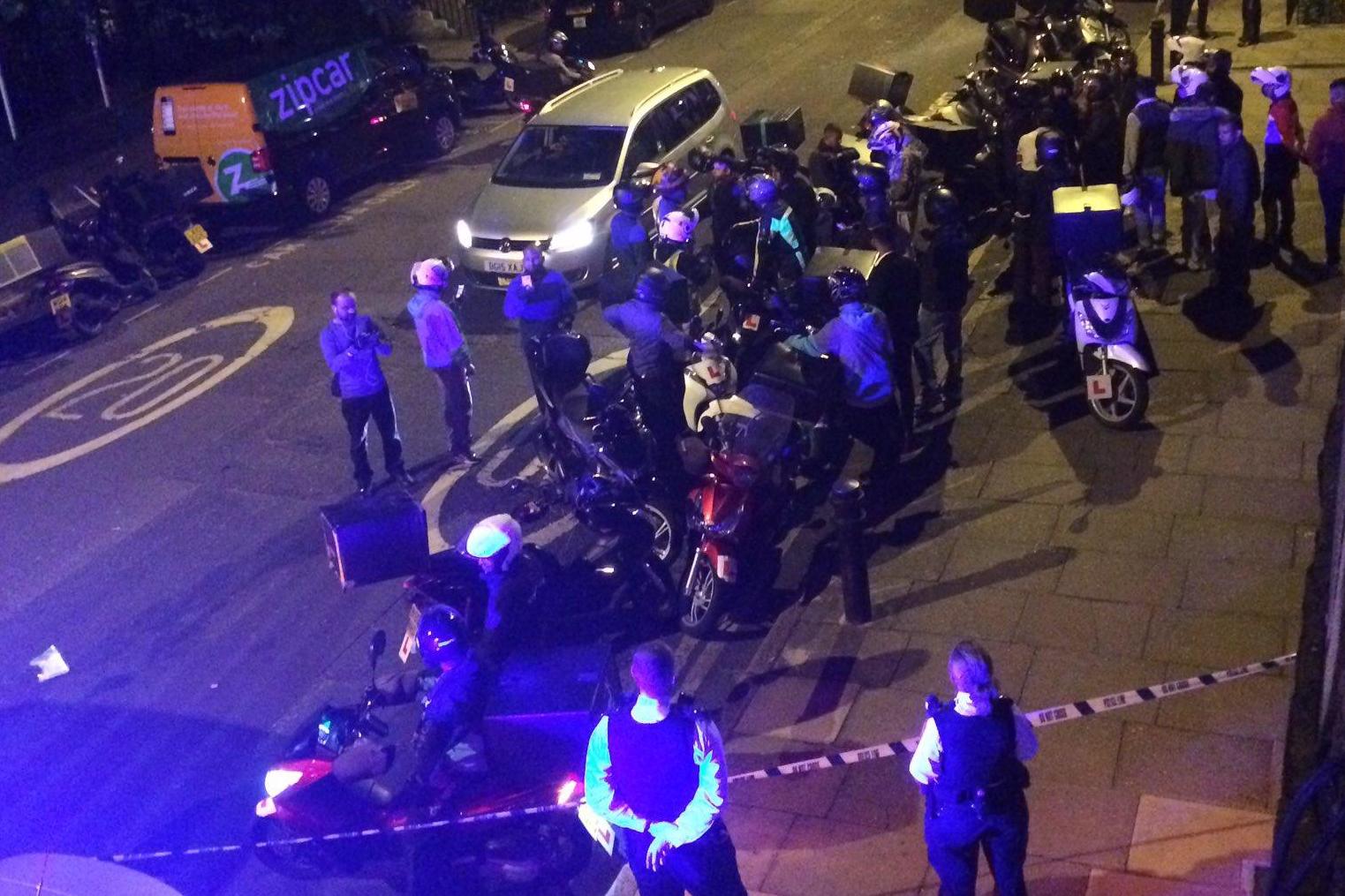 Theresa May and the Home Office hinted at the introduction of new legislation to combat a spate of acid attacks on Thursday after a "horrific" rampage in London left five people injured.
Two men on mopeds carried out five acid attacks during a spree across the capital late on Thursday, which lasted less than 90 minutes, according to the Metropolitan Police.
Asked about the assaults and whether a change in sentencing guidelines was needed, the Prime Minister's spokeswoman said Ms May viewed the acid attack as "horrific".
"It is already an offence to carry acid or a corrosive substance with intent to cause harm. And anyone using it can be prosecuted for pretty serious offences including ABH and GBH. We are working with the police to see what more we could do."
Home Office ministers are reported to be considering measures that would see corrosive substances treated in the same way as other weapons, such as knives, which would also restrict their sale to those aged 18 or over.
Cressida Dick, the London police chief, also said that her officers were concerned by the increase in the "completely barbaric" attacks in he capital.
She told LBC radio: "We will arrest people, we will enforce the law as we can, and we are working very closely with the [Government] to try to see if there is any changes in the law required."
Following the attack, two teenage boys were arrested on suspicion of grievous bodily harm and robbery, and have been taken to a north London police station.
Stephen Timms, the Labour MP for East Ham, has called on the Government to make carrying acid a crime, and will argue in a parliamentary debate on the topic on Monday that regulations surrounding aside should be overhauled "very quickly".
"Carrying acid should in itself be an offence, in the same way that carrying a knife was made an offence several years ago," he told the BBC Radio 4's Today programme, following the assault in his constituency on Thursday evening.
"I think that's been a pretty effective change, and I think the same change should be made for acid."
Under the current law, if police stop someone carrying acid they have to prove intent to cause harm.
When asked whether the law would punish people using the corrosives for harmless purposes, Mr Timms said: "Many people do use sulphuric acid for DIY for drain clearing – purposes of that kind – but just as it's perfectly lawful to buy a knife for use in your kitchen at home... and for it to be wrapped up and safe to carry, that's fine.
"We can certainly come up with arrangements that would allow people to use sulphuric acid in the normal way."
The comments by Mr Timms were also echoed by Jaf Shah, the executive director of the Acid Survivors Trust, who said that gang members see acid attacks as a "safer" form of crime, and called for possession to be criminalised.
Mr Shah also suggested the Government could go further and regulate the sale of concentrated acid, including an age restriction or ban on the cash sales of the fluid, which can be bought in DIY stores for as little as £7 a litre.
Acid attacks: Bangladesh's hidden victims
Show all 5
"In a way, it's almost like a safer crime to commit, especially for gang members perhaps lower down the hierarchy," he said.
Tim Farron, the outgoing Liberal Democrat leader, said that more needed to be done to tackle the "horrific" rise of acid attacks across the country. "Acid is a potentially deadly weapon that can cause life-changing injures; it must be treated as such," he said.
"We need to look at how best to restrict the availability of acid and ensure those committing these horrific attacks are brought to justice.
"That should include increasing funding for community policing to gather intelligence, prevent crime and make our streets safer."
In 2016, there were 455 crimes in London where a corrosive was used, or used as a threat, suggesting the use of acid in assaults is becoming more widespread. While Ms May's intervention is markedly non-committal, it does suggest the Prime Minister is looking at taking action following the recent attacks in the capital.
Join our commenting forum
Join thought-provoking conversations, follow other Independent readers and see their replies