Carrying acid in public without 'good reason' to be banned, Home Secretary Amber Rudd announces
Ms Rudd also pledges to ban sales of corrosive substances to under-18s, in the wake of dramatic increase in acid attacks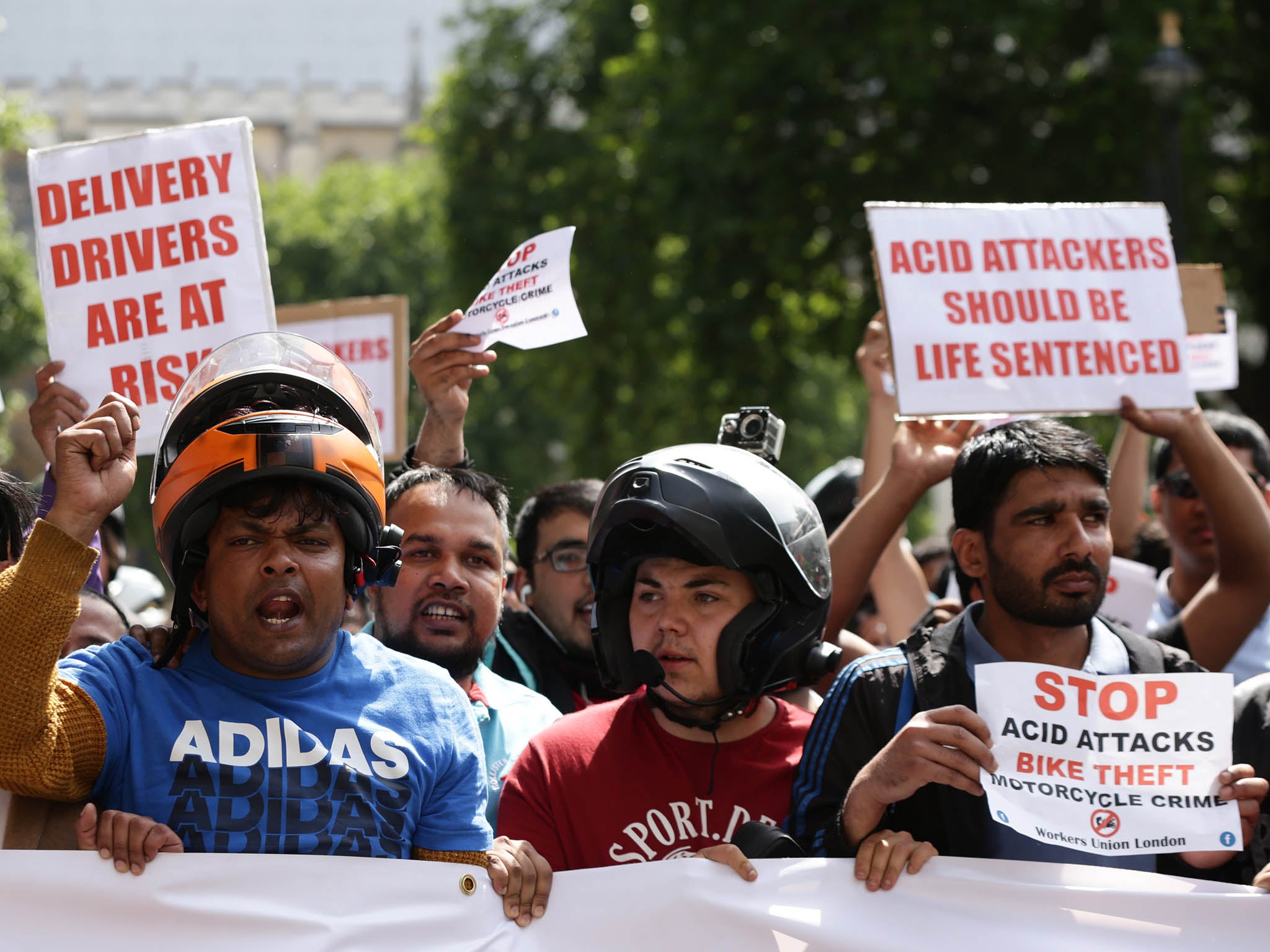 Carrying acid in public without "good reason" will be outlawed, and sales to under-18s banned, following a series of horrific attacks.
Home Secretary Amber Rudd announced the crackdown, as she also vowed to cut the number of knife attacks by preventing children buying knives online.
"We are going to stop people carrying acid in public if they don't have a good reason," she told the Conservative party conference.
"Acid attacks are absolutely revolting. You have all seen the pictures of victims that never fully recover. Endless surgeries. Lives ruined.
"So today, I am also announcing a new offence to prevent the sale of acids to under-18s."
Ms Rudd also vowed to "drastically limit the public sale of sulphuric acid", because it is used to help produce so-called "mother of Satan" homemade explosives.
"This is how we will help make our communities safer as crime changes," the Home Secretary added.
Her conference speech included a raft of other policy announcements, including:
Up to 15 years in prison for people who repeatedly view extremist material online
New technology to track down indecent images of children online and remove them at an unprecedented rate
Banning certain types of weapons – such as flick knives and zombie knives – at home
Ms Rudd also told party activists in Manchester that security services had foiled seven terrorist plots this year.
And she warned of "an exponential surge in the volume of child sexual abuse referrals", pledging a £600,000 investment in new software that trawls the web for images of child sexual abuse.
The technology would get the images taken down "at an unprecedented rate", she said, urging internet companies to "start using it as soon as they can".
"Our question to them will be 'if not, why not'. And I will demand very clear answers," she threatened.
Ms Rudd also called on Facebook, Google, Twitter and Microsoft to "honour your moral obligations" and build on their progress in countering terrorism online.
"I call on you with urgency, to bring forward technology solutions to rid your platforms of this vile terrorist material that plays such a key role in radicalisation," she said.
The Home Secretary also challenged critics of the counter-terror Prevent programme to work with the Government, saying it was not "some Big Brother monolithic beast".
On immigration curbs, Ms Rudd promised there would be no cliff edge for businesses when a new system is brought in after Brexit.
"I'm committed to working with businesses, both large and small, to make sure we don't impose unnecessary burdens, or create damaging labour shortages," she said.
But the pro-EU Open Britain group seized on her failure to repeat Theresa May's much-ridiculed pledge to cut immigration to the "tens of thousands".
Labour MP Stella Creasy, a supporter of the group, said: "The Government's policy of cutting net migration to the tens of thousands is in tatters.
"When the Home Secretary won't even mention the target in her keynote conference speech, it's clear the policy has lost all credibility and Cabinet support."
Join our commenting forum
Join thought-provoking conversations, follow other Independent readers and see their replies