Some Afghans who helped UK troops during war will be left behind, defence minister admits
MPs say people who 'clearly qualify' for assistance scheme and who are at risk being left to Taliban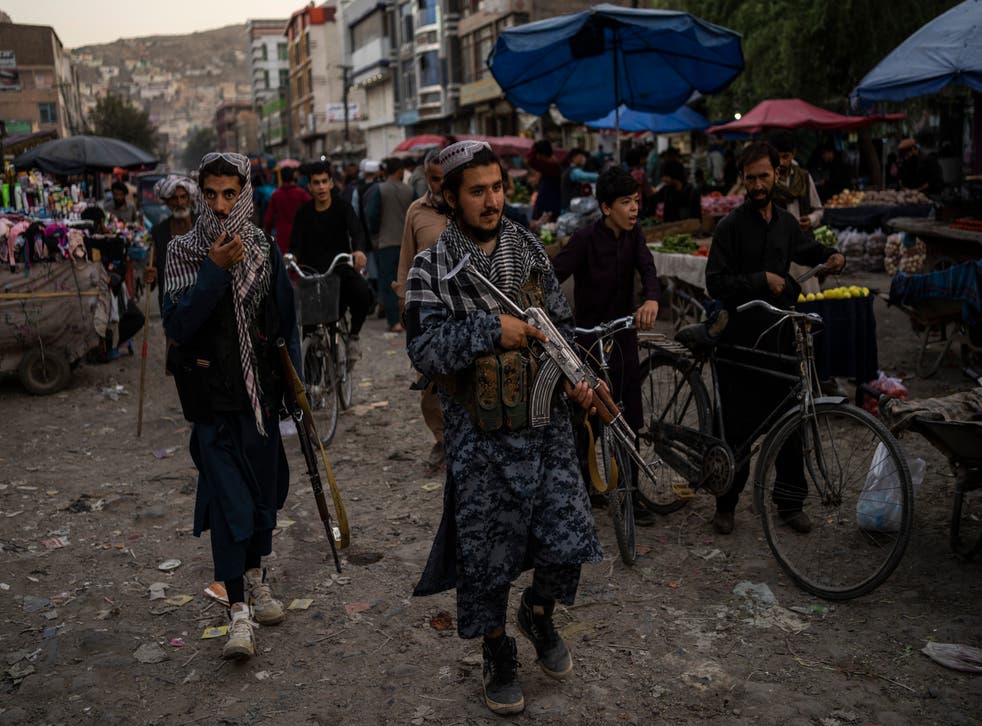 Not everybody who helped the British armed forces in Afghanistan will be repaid by being allowed to flee to the UK, ministers have admitted.
In a parliamentary exchange Defence minister James Heappey told MPs it was "not possible" for everyone MPs considered to be at risk to be granted assistance under the Afghan Relocations and Assistance Policy (Arap).
Labour MP Clive Efford said he and other parliamentarians knew of people who had "assisted in our operations in Afghanistan" and who "clearly qualified" who were being refused under the scheme.
"Surely the minister accepts that these people are at severe risk, and surely under Category One of Arap they should qualify? Yet they've been refused," he said.
Boris Johnson said earlier this month during the Kabul airlift that Britain would help "Afghan friends of this country who guided, translated and served with our soldiers and officials, proving their courage and loyalty beyond doubt, sometimes in the heat of battle".
But defence minister Mr Heappey, responding on Monday for the government said: "I know that's a disappointment to many members of the House who are working hard to support people who are in Afghanistan, and who they consider to be at risk.
"But it's not possible for us to bring out everybody who's had a connection with the UK armed forces under the Arap scheme. That's why the terms were sent out as tightly as they were."
He said 15,000 people had been brought out under the airlift from Kabul.
The at minimum hundreds of Afghans accepted under the assistance policy but who could not be airlifted out have been told they will be allowed to come to the UK by other means
But MPs have previously warned that the number of people approved for the scheme is likely a significant underestimate of those who should be eligible.
Europe is bracing itself for an increase in the number of people travelling from Afghanistan as refugees in light of the Taliban takeover of the country, which came as US and other Nato forces completed their withdrawal from 20 years of occupation.
The Home Secretary Priti Patel has in recent months pushed for harsher treatment of people trying to flee for asylum to the UK, including ordering dangerous "pushbacks" of small boats in the channel and increasing criminal penalties for people arriving by small boat.
The government says it will allow 20,000 Afghan refugees to come to the UK over the next five years and "start a new life in safety" in addition to those allowed to come to Britain under Arap – but those making journeys in irregular circumstances are set to face the same hostile reception as others on small boats.
Defence minister Mr Heappey added: "311 was the number of people who had been called forward, so they have successfully applied and been cleared by UKBI for travel, but we were unable to get them onto a plane
World news in pictures

Show all 50
"That is different from the number of people who had applications in process at the time and haven't been called forward for travel.
"I'm sure that - in fact I know – from all of my engagements with colleagues across the house, they will understand that those two and a half weeks in Kabul were somewhat hectic.
"It will take some time for the dust to settle on exactly who is out and who we have yet to bring out, but we are still working very hard to do so. The security situation is dynamic, our partnerships in the region are being developed, but we have every confidence, we'll be able to help those that need help."
Join our new commenting forum
Join thought-provoking conversations, follow other Independent readers and see their replies