Toxic air pollution is not an 'emergency' despite mass early deaths, says Environment Secretary Andrea Leadsom
Minister accused of trying to 'stitch up judges and cajole them into submission' in order to delay air quality plan because of general election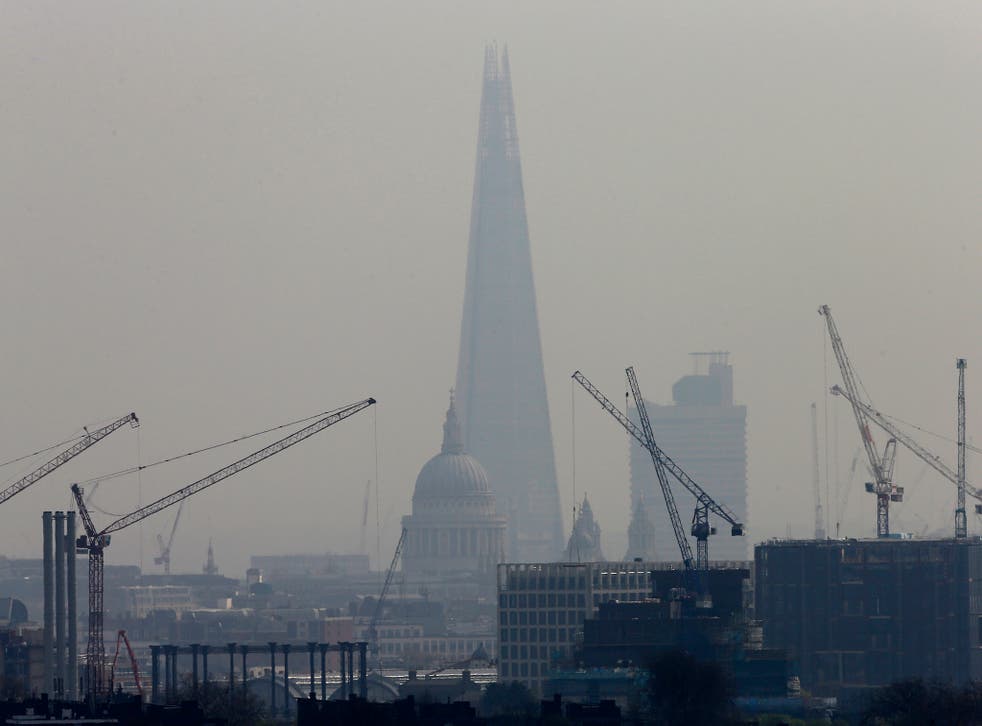 A Government minister insisted deaths from toxic air are not an "emergency", as anger grew over a bid to delay a long-awaited improvement plan.
Environment Secretary Andrea Leadsom was dragged to the Commons chamber to defend her decision to use pre-election "purdah" rules to try to slam the brakes on the proposals.
The move drew widespread criticism, with one MP accusing Ms Leadsom of condemning more people to an early death from illegal levels of nitrogen dioxide, largely blamed on diesel emissions.
Labour insisted she was wrong to claim her hands were tied, because the purdah restrictions can be lifted in exceptional circumstances, including to protect public health.
In reply, Ms Leadsom acknowledged that "safeguarding public health" was set out in Cabinet Office guidelines as a possible exception to purdah rules.
But she insisted: "This would generally only apply if there was an unexpected public health emergency, such as for example contaminated food, which needed to be dealt with urgently. So this doesn't fall within that category for exception."
Ms Leadsom was then asked if that meant she did not consider toxic air to be an "emergency" – despite it being blamed for up to 40,000 early deaths every year.
In reply, the minister acknowledged only that it was a "very significant and urgent concern", refusing to use the word "emergency".
Fiona Mactaggart, Labour MP for Slough, said: "At the present rate, there will be seven more dead people in Slough by the time she publishes this air quality plan.
"Isn't this an urgent health issue and what is she going to say to the families of those seven people who will die before she even publishes?"
A court had given ministers until 4pm on Monday to set out draft measures to cut deaths from toxic air, which would probably require unpopular higher levies on diesel vehicles in cities.
But, very late last Friday, the Government lodged a fresh application with the High Court to postpone publication until after the June 8 election.
In the Commons, Ms Leadsom pointed to "pre-election sensitivity" as the reason for delay, but insisted there would be no hold up to implementation of the measures planned.
At one point, she claimed those plans were "ready to go", telling MPs: "Clean air is a top priority for this Government. We have been working on new proposals for the last five months."
The Government still intended to publish a draft plan by June 30 and a final plan by September 15, she said.
Lawyers for Sadiq Khan, the Labour mayor of London, and ClientEarth, a campaign group, are opposing the Government's application for delay, with a decision expected as early as Tuesday.
James Thornton, of Client-Earth, said: "This is a question of public health, not politics. The government has had five months to draft this plan and it should be published."
And Caroline Lucas MP, co-leader of the Green Party, said: "The Government has utterly failed to get a grip with the air pollution crisis and is now attempting to stitch up judges and cajole them into submission. Such blatant bullying is simply unacceptable."
Join our new commenting forum
Join thought-provoking conversations, follow other Independent readers and see their replies