Alan Milburn and Gillian Shephard: 'The Government must be judged by its actions, not words. Our job is to judge the actions'
Alan Milburn and Gillian Shephard make an  unlikely team – but, they tell Andrew Grice, they both want ministers to do more on child poverty
Andrew Grice
Sunday 21 April 2013 22:14 Comments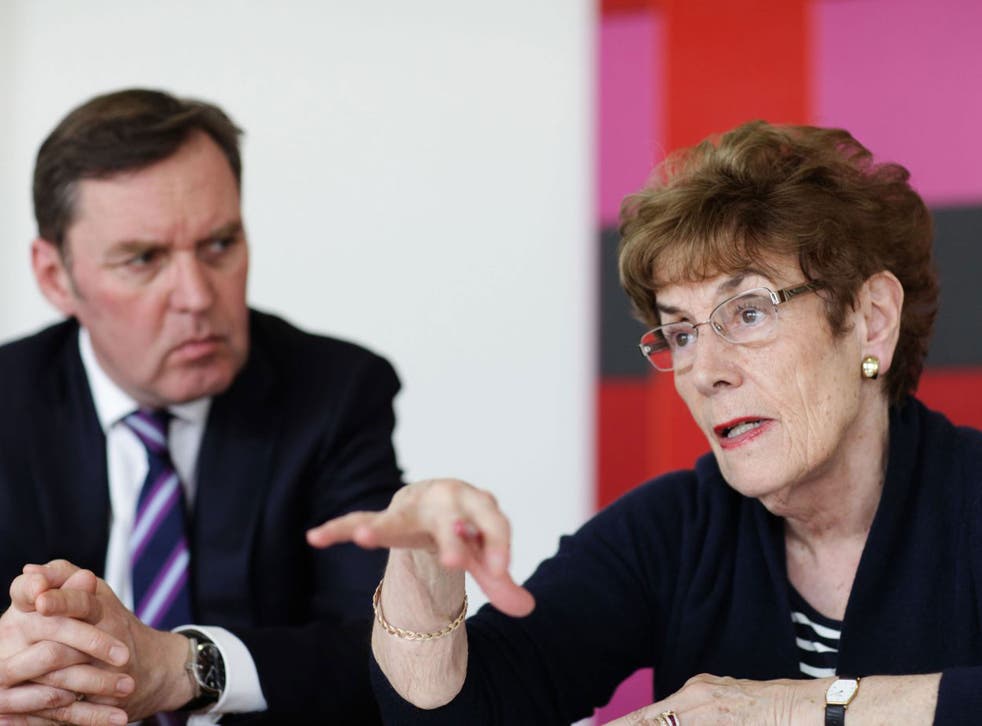 When Alan Milburn took charge of the Coalition's new watchdog on social mobility and child poverty, Nick Clegg told him: "I want you to hold the Government's feet to the fire." Mr Milburn replied: "How hot do you want to have it?" The Deputy Prime Minister laughed.
Now the Commission on Social Mobility and Child Poverty is turning up the heat. "I don't think there is a cat in hell's chance that the 2020 [child poverty] target will be hit," said Mr Milburn, its chairman, who previously advised the Coalition on social mobility as a one-man band but has now formed an unlikely team with Conservative Baroness [Gillian] Shephard as his deputy.
"Most people, even if they don't say it publicly, know that privately. What isn't acceptable is that they can have their cake and eat it, say they are committed to the target and then not put their money where their mouth is. They should either put their hand in their pocket or stop pretending."
In their joint interview, the Labour and Tory politicians sometimes finish each other's sentences. Mr Milburn believed Lady Shephard would prove a feisty critic of the Tory-led Coalition. But she was rather more willing than Mr Milburn to give the current government the benefit of the doubt, arguing that reforms such as the £26,000 annual cap on benefit claims for a family are seen as fair by the public. The commission will not comment on individual welfare measures but will judge their overall impact in its first annual report this autumn.
"The best way to help people climb out of poverty is to enable as many as possible to work," said Lady Shephard. "That means a financial incentive to work and removing barriers like child care."
The Institute for Fiscal Studies has estimated it would cost £19bn to achieve the all-party goal to end child poverty by 2020. It seems the target will be missed rather than formally abandoned, as scrapping it would be controversial.
Mr Milburn said: "It is hard enough to get anything done in government. It is doubly hard when you have the economic headwinds this Government has got. It is three times as hard if you are not absolutely focused and clear about what you are trying to do.
"We [the commission] are trying to make these issues of poverty and mobility a core purpose of the Government. To do that, it must move beyond declarations. The Government must be judged by its actions, not words. Our job is to judge the actions."
Mr Milburn will meet George Osborne shortly to urge him to hand the Office for Budget Responsibility (OBR) a role in monitoring social mobility and child poverty, so no Chancellor can argue he is unaware of the consequences of his Budgets.
"It is great to have ambitions in government. But you have got to will the ends as well as the means. Otherwise there is a danger that social mobility becomes a noble ambition but there isn't a clear process," said Mr Milburn. "The OBR is one means by which social mobility could be embedded in government. Unless you are clear about embedding change, it won't happen. I take the Government's commitment at face value. But it must be about more than wishing for something. You must institutionalise change to make it happen."
The commission is urging Iain Duncan Smith, the Work and Pensions Secretary, to "think again" about his controversial plan to change the way poverty is measured, so the figures take account of factors such as family stability and education as well as income. Although he does not doubt Mr Duncan Smith's motives, Mr Miliburn said: "It conflates the causes of poverty with the consequences."
Mr Milburn, 55, who was brought up by a single mum in a council house and has not lost his Geordie accent, and Lady Shephard, 73, who become an MP in her native Norfolk in her late 40s and prospered under John Major, make an unlikely double act at first glance. But they forged a relationship when they worked together on a social mobility inquiry for Gordon Brown's government and share a passion for that issue and child poverty. They both welcome the Coalition's decision to raise the income tax threshold to £10,000 a year. As a cabinet minister, Mr Milburn tried to persuade the Labour government to increase it but was thwarted by Mr Brown.
"We both exercised power; now we don't have any. We do have the ability to put issues on the agenda," said Mr Milburn. "We will highlight what is good. Equally, we will not be afraid to highlight what is bad. It is a bully pulpit. Both of us will be in attendance at the pulpit. We will be vocal."
Lady Shephard's book about Margaret Thatcher, The Real Iron Lady, was published two weeks before she died. She said the former Prime Minister "personified" social mobility. But could her economic reforms have been introduced more sensitively? "You cannot have it all. With hindsight, they could have been accompanied by a bit more compassion but she had a mandate to sort out the country's problems," she said.
As the former MP for Darlington, Mr Milburn has a different take on the Thatcher era: "Child poverty doubled. The case for change was pretty obvious. The brutality with which it was enacted could have been avoided." But he added: "She was a politician who made the political weather. There are precious few big beasts in today's political world. She towers above them."
Register for free to continue reading
Registration is a free and easy way to support our truly independent journalism
By registering, you will also enjoy limited access to Premium articles, exclusive newsletters, commenting, and virtual events with our leading journalists
Already have an account? sign in
Join our new commenting forum
Join thought-provoking conversations, follow other Independent readers and see their replies