Alastair Campbell's guide to political success: never lie, but don't always tell the truth
Tony Blair's former spin doctor says MPs should study tactics of leading sports figures like Chelsea manager José Mourinho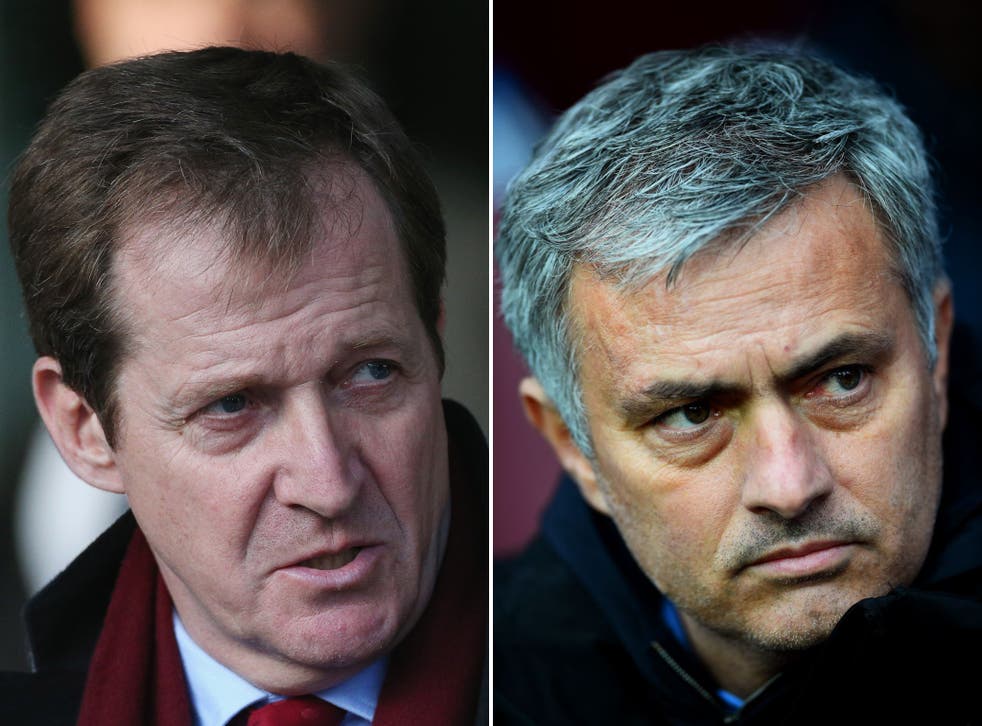 One of the UK's best-known spin doctors has offered his guide to political success: emulate Chelsea manager José Mourinho, never lie, but don't always tell the truth – and never think that you can control social media.
Alastair Campbell, loathed and feared in equal measure by political opponents during his tenure as director of communications in Tony Blair's government, offered a masterclass in realpolitik as he spoke about his new book, Winners and How They Succeed, at The Independent Bath Literature Festival on Friday. He had interviewed a number of leading sports figures, including Mourinho and the Formula 1 Mercedes team, for his book and said that politicians would do well to study their tactics.
"If you're in these positions of leadership, you have to manage upwards, downwards and sideways, with [Roman] Abramovich as your owner and the players who are multi-millionaires in their own right. The fans love him [Mourinho], as do the sponsors, and the media eat out of his hand. They are all skills that a politician might require," Mr Campbell said.
"Politicians feel they have to say they're passionate about sport. David Cameron pretends to be an Aston Villa fan and talks about Tim Sherwood, who he probably had to look up on Wikipedia."
He compared Mourinho to Ho Chi Minh, the Vietnamese leader from 1945 until his death in 1969, "because he is so pragmatic".
"Does José play the beautiful game? He can do, but he doesn't if he doesn't have to. He just wants to win," he said.
In his words - Jose Mourinho's best quotes

Show all 15
"Politicians could learn a lot by seeing how these sports professionals do what they do. They could make data a big part of how they drive innovation in a campaign, for example. I was blown away by what those engineering guys were doing in F1."
But aspiring politicians, flushed with the first brush of success, should not get too carried away, as the rise of social media and 24-hour news means they can all too easily find themselves in trouble.
"Powerful people are less powerful than they used to be," Mr Campbell told the audience. "You can't control things; you can just control what you do and what you say."
Perhaps predictably, he had an interesting take on the nature of truth. Mr Campbell said politicians could "not always tell the whole truth", but also "must never lie" – because "if you lie, you're finished".
Instead, he explained, our elected representatives should learn that "sometimes you have to be economical with the truth", adding: "We're all grown-ups."
In 1986, the then Cabinet Secretary Sir Robert Armstrong notoriously insisted he had not lied, even though he may not have been entirely truthful during the Spycatcher trial in Australia in 1986; the Government was attempting to block the publication of a book by former MI5 agent Peter Wright. Asked what the difference was between a "misleading impression and lie", Sir Robert replied: "A lie is a straight untruth... [a misleading impression] is perhaps being 'economical with the truth'."
The truth about Iraq's non-existent weapons of mass destruction and the "dodgy dossier" that helped make the case for Britain's involvement in the 2003 invasion of Iraq was perhaps the starting point for the public's disillusionment with New Labour.
But Mr Campbell instead blamed the fracturing of what had been a strong team.
"Yes, Iraq was unpopular but we didn't founder because of policy or the Conservatives had a better idea; in the end we fell apart," he said.
"There's something about politics that makes people think it's about the individual: it's not; we were a team, and then it fell apart."
On present-day politics, Mr Campbell noted an "unpleasant grunginess" among the public and said he was recently told people do not know who to vote for. Disillusionment with politics seemed to play on his mind, as he recalled a recent talk to the business community and students when he did not get a single question about the election.
"Maybe it'll be like the Scottish referendum, where it only really took off in the last few weeks," he said. "I hope that happens."
Register for free to continue reading
Registration is a free and easy way to support our truly independent journalism
By registering, you will also enjoy limited access to Premium articles, exclusive newsletters, commenting, and virtual events with our leading journalists
Already have an account? sign in
Register for free to continue reading
Registration is a free and easy way to support our truly independent journalism
By registering, you will also enjoy limited access to Premium articles, exclusive newsletters, commenting, and virtual events with our leading journalists
Already have an account? sign in
Join our new commenting forum
Join thought-provoking conversations, follow other Independent readers and see their replies