Alex Salmond: BBC bias was 'significant factor' in deciding Scottish independence referendum
Exclusive: Former First Minister renews attack a year on from historic vote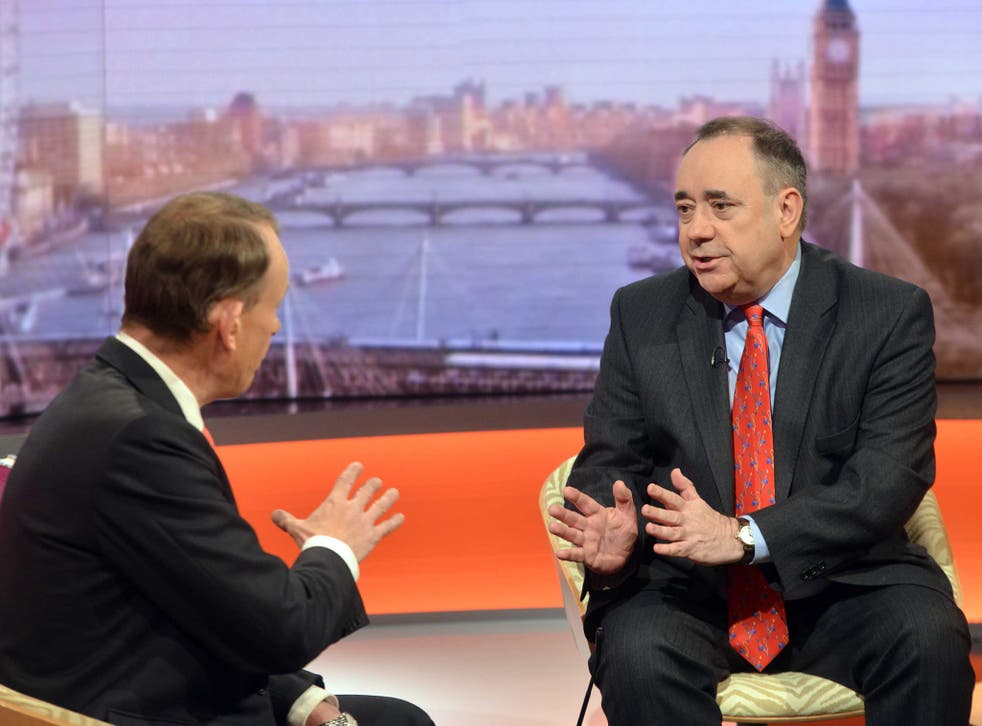 Biased reporting by the BBC in the lead up to Scotland's independence referendum last year was a "significant factor" in the country deciding to remain part of the Union, Alex Salmond has claimed.
In an interview with The Independent exactly a year on from the historic vote, Scotland's former First Minister renewed his attack on the BBC's coverage of the referendum, saying his "biggest regret" of the campaign was not foreseeing the extent of its "institutional bias".
Mr Salmond also launched an extraordinary broadside against the wider Scottish media, describing the country's right wing press as "prejudicial, short sighted lunatics" who "infect" social media with purposefully slanted articles.
"I think what decided the referendum was the renewed scaremongering campaign, and the BBC was one of the chosen instruments of that scaremongering," the former SNP leader said. "My biggest regret of the campaign is I didn't anticipate that the BBC would be as biased as they were."
On the prospect of a second referendum, Mr Salmond said the Yes side would win another vote if it were held tomorrow. He added that the BBC's influence would be lessened because the corporation had "managed to wreck the greatest broadcasting reputation in the world" and was now "in crisis in terms of its relationship with the people of Scotland".
Singling out the Scottish editions of the Daily Mail and Daily Telegraph for further criticism, Mr Salmond said some of the titles' journalists produced "not just right wing nonsense" but "mad right wing nonsense" which "bears as much resemblance to reality as a Daily Express weather report".
Join our new commenting forum
Join thought-provoking conversations, follow other Independent readers and see their replies