Alex Salmond refuses to apologise for saying Hilary Benn's dad Tony Benn would be 'birling in his grave' over Syria pro-bombing speech
Mr Salmond was criticised for the comments by Tony Benn's granddaughter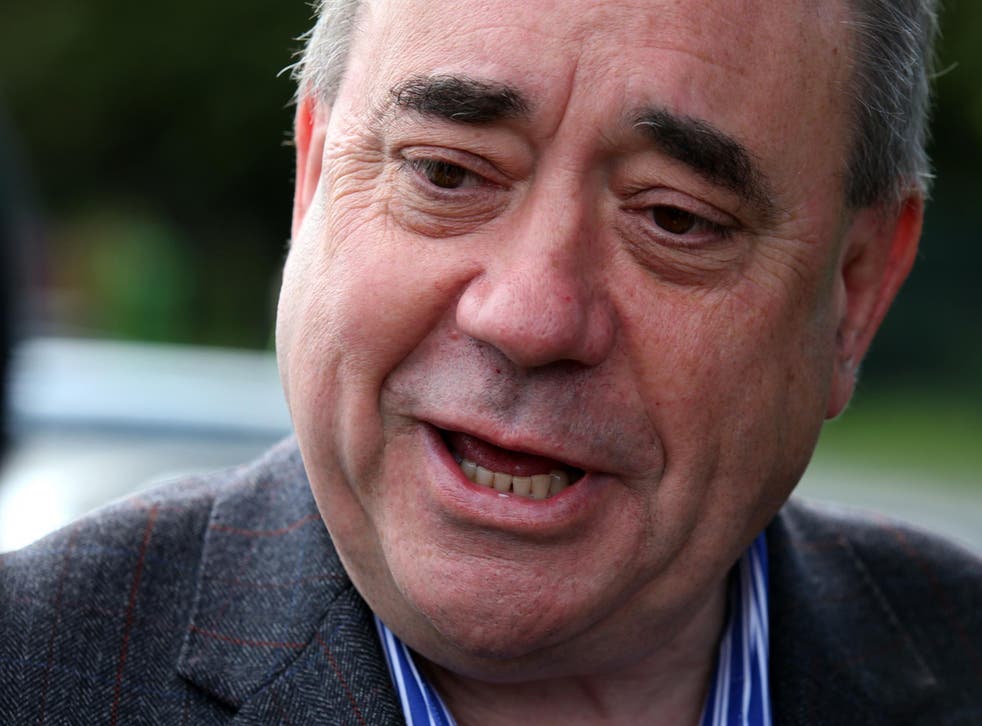 Alex Salmond has refused to apologise for saying Hilary Benn's father, Tony Benn, would be "birling in his grave" upon hearing his son argue for bombing Syria in the House of Commons.
Tony Benn's grandaugther had demanded an apology from the former Scottish First Minister, describing his comments as "deeply offensive and simply untrue".
Interviewed on LBC radio station, Mr Salmond argued that the late Mr Benn, a longstanding Labour MP and left-wing icon within the party, would have not been pleased to hear the shadow foreign secretary's speech.
"His father, whose speech I heard in the Iraq debate all these years ago, would be birling (spinning) in his grave hearing a speech in favour of a Tory prime minister wanting to take the country to war and that's just a reality," the former SNP leader told the station.
Questioned further on the comments by the programme's presenter, he added: "I think that is fair political comment to contrast the view of the father and the son."
"Birling" is a Scottish word meaning "spinning".
Mr Salmond later defended the remarks. "Birling in your grave' is a well-known Scottish idiom, which means a deceased person would be enormously surprised," he said.
"Tony Benn would have been astonished to hear his son make a pro-war speech in favour of a Tory PM's war plans.
"There was certainly no disrespect meant to Tony Benn, who I held on the highest regard."
He suggested Labour should focus their efforts on demanding an apology from the Prime Minister for describing those who opposed air strikes in Syria as "terrorist sympathisers".
Emily Benn, the granddaughter of Tony Benn, took to social media to demand Mr Salmond withdraws his remarks.
"Mr Salmond, Your comments are both deeply offensive and simply untrue. I hope you reflect and retract them," she tweeted.
Hilary Benn last night received applause from all sides of the House of Commons for a speech in which he labelled the Isis militant group fascists and a said Labour had a tradition of international military intervention.
Another speech given by Tony Benn in 1992 opposing the first Gulf War and highlighting the double-standards of UK intervention in the Middle East had previously been widely shared on social media ahead of the vote.
Watch the speech below.
Tony Benn 1992 Speech to Parliament on Arms Sales To Iraq
On Wednesday, MPs ultimately voted overwhelmingly to extend the air strikes, though most Labour MPs and members of the shadow cabinet voted against the deployment.
Hilary Benn's spokesperson had said he will be making no further comment on last night's speech.
Register for free to continue reading
Registration is a free and easy way to support our truly independent journalism
By registering, you will also enjoy limited access to Premium articles, exclusive newsletters, commenting, and virtual events with our leading journalists
Already have an account? sign in
Register for free to continue reading
Registration is a free and easy way to support our truly independent journalism
By registering, you will also enjoy limited access to Premium articles, exclusive newsletters, commenting, and virtual events with our leading journalists
Already have an account? sign in
Join our new commenting forum
Join thought-provoking conversations, follow other Independent readers and see their replies