Almost a quarter of Scottish households will pay more in council tax if SNP win Holyrood election, Nicola Sturgeon says
The changes will apply only to those who live in more expensive houses in the four highest council tax bands
Chris Green
Scotland Editor
Wednesday 02 March 2016 17:23 Comments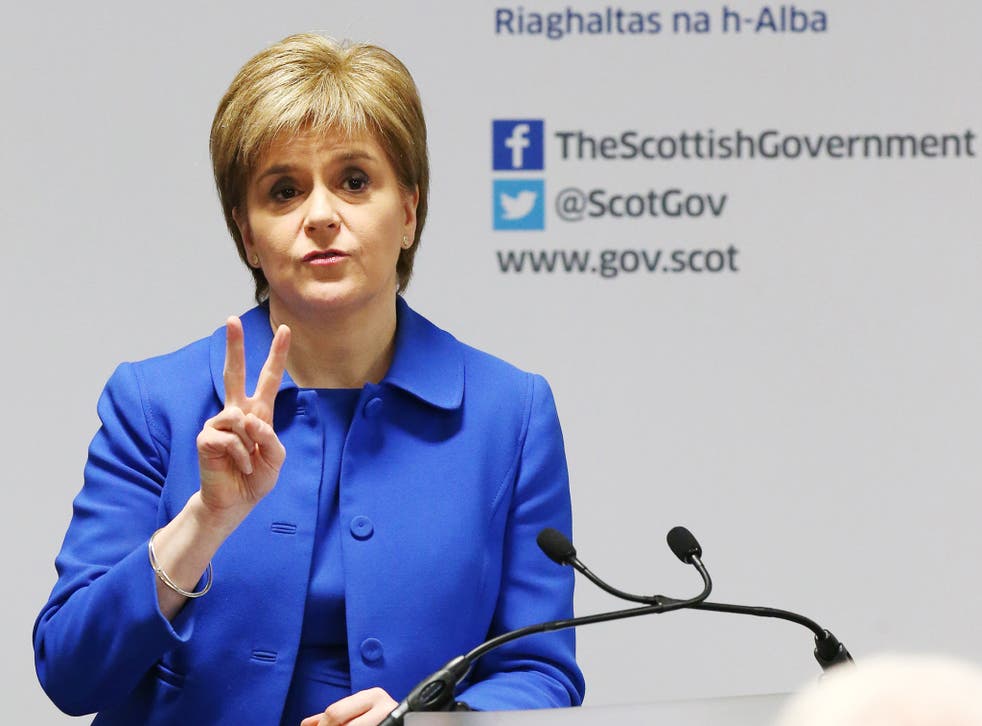 Almost a quarter of Scottish households will start paying higher rates of council tax from next year if the SNP is elected at Holyrood in May, under long-awaited plans unveiled by Nicola Sturgeon.
The changes, which will apply only to those who live in more expensive houses in the four highest council tax bands, will be brought in from April 2017. The nine-year freeze on council tax in Scotland will also end – but local authorities will only be able to raise their rates by up to 3 per cent.
The rate increase, which will affect more than 571,000 of Scotland's 2.4 million households, is designed to hit wealthiest people the hardest. The residents of the country's 13,000 most expensive band H properties will see their council tax bills rise by an average of £517 a year.
Ms Sturgeon said the changes would not affect the 75 per cent of Scottish households in bands A to D and would raise around £100 million annually, which would be invested in schools through council budgets.
"I'm asking people in the most expensive houses in the country, those in the top band, [to] pay a significantly increased portion in council tax," she said. "I think this is the right way forward, I think it's fair and it's balanced and I think it will meet with approval of people around the country."
5 tax avoiding companies in the UK

Show all 5
However, she was immediately accused of squandering an opportunity for proper reform, with political opponents pointing out that the SNP had promised to abolish the council tax in its 2007 and 2011 election manifestos.
Under the plans, an estimated 74,000 households in the four highest council tax bands whose residents are on lower incomes or are already eligible for reduced rates will be exempt from the higher charges. A consultation will also be held on whether a fixed proportion of Scottish income tax receipts should be distributed to councils – and on whether they should be able to levy a tax on vacant and derelict land.
Announcing the changes during a speech at a high school in Midlothian, the First Minister said local authorities would also be able to increase council tax by up to 3 per cent from next year, which she said would make them "more accountable" and could generate up to £70m.
But the Convention of Scottish Local Authorities (Cosla) described the First Minister's plans as a "damp squib", accusing the SNP of "putting self-interest ahead of real change", while Labour said the party had taken "a decade to deliver tinkering round the edges" rather than serious reform.
Cosla president David O'Neill, who served on the Commission on Local Tax Reform – which last year called for an end to the council tax and urged politicians to implement a more progressive and transparent levy to fund local services – said its recommendations had been "completely ignored".
Ruth Davidson, the leader of the Scottish Conservatives, warned that the changes could lead to Scotland gaining "a reputation as a high tax country", which she said would damage the wider economy. But Ms Sturgeon dismissed concerns that the reforms would make Scotland a less attractive place for wealthy people, pointing out that even after the changes, the average council tax across all bands would still be lower than in England.
Register for free to continue reading
Registration is a free and easy way to support our truly independent journalism
By registering, you will also enjoy limited access to Premium articles, exclusive newsletters, commenting, and virtual events with our leading journalists
Already have an account? sign in
Join our new commenting forum
Join thought-provoking conversations, follow other Independent readers and see their replies