Alternative to HS2 would see Britain suffer 14 years of rail misery, says Coalition
Nigel Morris
Monday 28 October 2013 01:00 Comments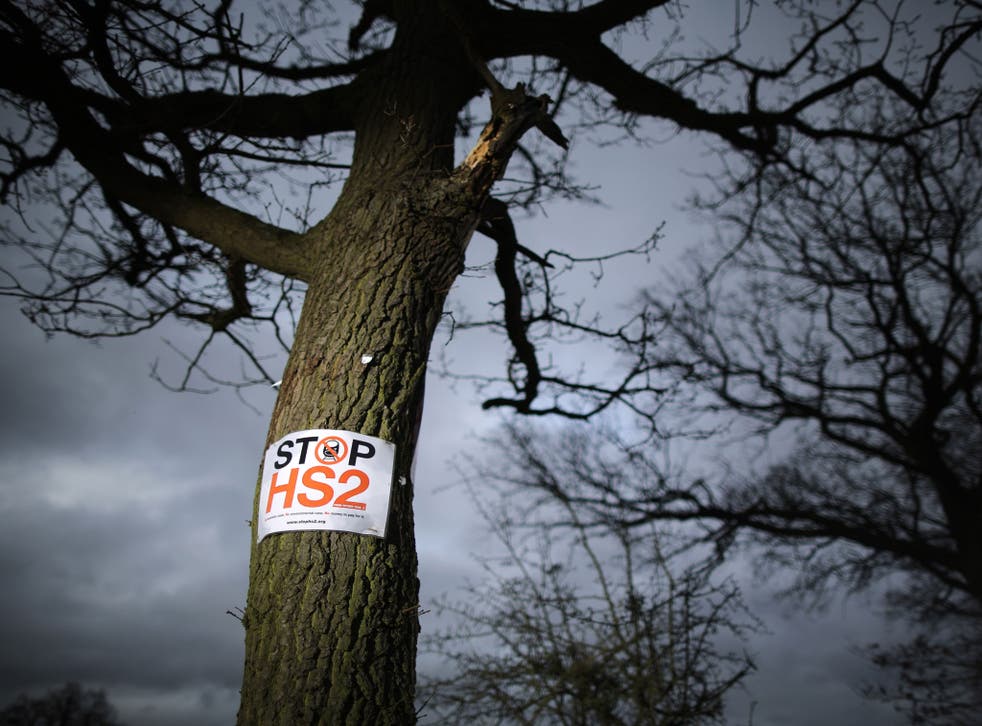 Scrapping the proposed High Speed 2 rail line and building a cheaper alternative would condemn passengers to 14 years of "hellish delays", the Government will argue this week as it launches a fresh attempt to make the case for the troubled scheme.
Ministers will try to get back on the front foot amid growing cross-party criticism of the £50bn project to connect London and Birmingham by 2026, with links to the North of England seven years later. The Coalition is braced for a Conservative rebellion against the scheme in a Commons vote on Thursday, while Labour hostility is hardening.
The Opposition is considering cheaper options for a new north-south connection, including boosting capacity on existing lines or even reopening a route closed nearly 50 years ago.
But a Government report, due to be published tomorrow, will claim that work to upgrade existing lines would lead to 14 years of weekend closures on the East Coast, West Coast and Midland Mainlines, crippling all three routes between London and the North. It will also say that the disruption could virtually double the time it takes to travel from London to Leeds at the weekend to four and a half hours.
A Government source said: "We need to do something because our railways are nearly full, but the alternative to HS2 is a patch-and-mend job that would cause 14 years of gridlock, hellish journeys and rail replacement buses."
The Government, whose report is based on an analysis by Network Rail and the engineering consultancy Atkins, will also argue that the upheaval would damage the economy and require the demolition of homes and businesses.
Danny Alexander, the Chief Secretary to the Treasury, insisted yesterday that HS2 would be completed within its budget, which is currently projected at £42.6bn plus £7.5bn for rolling stock. Last month the Commons Public Accounts Committee accused the Department for Transport of failing to present a "convincing strategic case" for HS2 as its assumptions were based on "fragile numbers [and] out-of-date data".
But Mr Alexander said: "I'm very confident that, as we work through the project and deliver it, we will not just deliver it within that budget but, like the Olympic Stadium project, under budget too."
Labour is showing increasing signs of abandoning support for the scheme, even though its origins date back to Gordon Brown's government. It is considering walking away from the initiative next spring ahead of a crucial parliamentary vote. Mary Creagh, the shadow Transport Secretary, refused to be drawn yesterday over whether support for HS2 would be in Labour's next general election manifesto. Tensions within Labour's ranks on the issue were underlined yesterday when the former Cabinet minister Jack Straw voiced his strong support for HS2.
David Cameron appeared to prepare the ground last week for blaming Labour if the scheme collapses by warning that such a large project could only proceed with cross-party backing.
Among the alternatives being considered by Labour is reopening the Grand Central line which ran between Sheffield, the East Midlands and London, nearly all of which was shut in the late 1960s. That scheme could cost between £10bn and £15bn.
MPs will vote on Thursday on a "paving bill" giving the Government the authority to continue preparatory work on HS2. It is guaranteed a majority as the Labour leadership will support the move, although it has issued only a one-line whip for its MPs to attend. As many as 30 Conservatives could rebel.
But the crunch will come in March or April when final legislation is expected to come before the Commons. If this is delayed, the timetable for the project to become "shovel ready" in 2017 would slip.
Video: David Cameron on immigration
Register for free to continue reading
Registration is a free and easy way to support our truly independent journalism
By registering, you will also enjoy limited access to Premium articles, exclusive newsletters, commenting, and virtual events with our leading journalists
Already have an account? sign in
Join our new commenting forum
Join thought-provoking conversations, follow other Independent readers and see their replies