Amber Rudd exposes Tory splits by claiming a no deal Brexit would be 'unthinkable'
Her comments came after David Davis told MPs that the maintenance of the option of no deal is for 'both negotiating reasons and sensible security'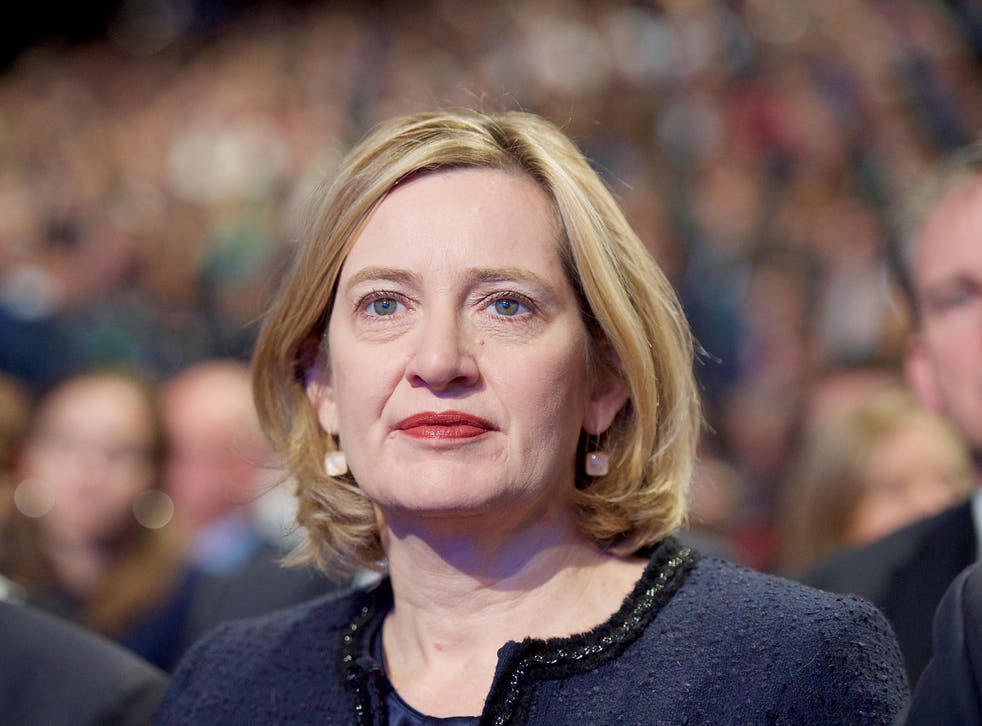 Amber Rudd has exposed a Cabinet level rift after claiming it would be "unthinkable" for the Brexit negotiations to end without a deal – appearing to dismiss Theresa May's view that "no deal is better than a bad deal".
Appearing in front of the influential Home Affairs Select Committee, the Home Secretary told MPs she believed it would be "highly unlikely" that Britain would crash out of the bloc but said her department was preparing contingency plans.
Asked by the senior Labour MP Yvette Cooper, who chairs the committee, whether Britain would be "as safe and secure" after Brexit with no deal in place, the Home Secretary replied: "I think it is unthinkable that there would be no deal.
"It is so much in their interests as well as ours – in their communities, families, tourists' interests to have something in place. We will make sure there is something between them and us to maintain our security."
Ms Rudd's comments will undoubtedly be interpreted as a direct challenge to some of her colleagues. Last week the Prime Minister for the first time set out detailed plans on how the Government is preparing for Britain crashing out of the block without a deal.
Ms May also vowed to spend taxpayers' cash immediately on preparing for a no deal, adding: "We are preparing for every eventuality. We are committing money to prepare for Brexit, including a no deal scenario."
Just hours before Ms Rudd's appearance David Davis, the Brexit Secretary, told MPs in the Commons that the maintenance of the option of no deal is for "both negotiating reasons and sensible security".
"Any Government doing its job properly will do that," he added.
Foreign Secretary Boris Johnson has also previously made the claim that Britain would be "perfectly OK" without a deal in place in March 2019 – the deadline for the negotiations in Brussels to conclude.
Referring to the Home Secretary's comments to the committee, James Duddridge, a Conservative MP, posted on Twitter minutes later: "Far from being unthinkable, a no deal would be my preferred to achieve a fast, clean and boring Brexit.
"The sooner we get on with it the better," he added.
Brexit: the deciders

Show all 8
After the Home Secretary's appearance a Downing Street spokesman said: "[Ms Rudd] is referring to the fact that a deal is in the best interests of both sides and that's something the PM agrees with."
During the two-hour session, the Home Secretary added that her department is expected to recruit an extra 1,200 staff by April in order to register the estimated three million EU nationals currently residing in Britain.
Despite repeatedly being unable to guarantee their status after Brexit in the event of a no deal, Ms Rudd said that she believed it would be "unthinkable" that EU citizens would be asked to leave Britain after March 2019.
She also insisted the Home Office was preparing "alternative plans" in case no security agreement was in place before Brexit.
"We are making alternative plans in case that isn't agreed with, but I must stress it is absolutely our intention to try and get this treaty and I am optimistic – I know that is often heard by ministers in government – but in this area particularly more than any other area, it really is the case that the EU is keen, European countries are keen for us to continue to support them in the same way they support us," she added
Register for free to continue reading
Registration is a free and easy way to support our truly independent journalism
By registering, you will also enjoy limited access to Premium articles, exclusive newsletters, commenting, and virtual events with our leading journalists
Already have an account? sign in
Register for free to continue reading
Registration is a free and easy way to support our truly independent journalism
By registering, you will also enjoy limited access to Premium articles, exclusive newsletters, commenting, and virtual events with our leading journalists
Already have an account? sign in
Join our new commenting forum
Join thought-provoking conversations, follow other Independent readers and see their replies