American-born Boris Johnson refuses to pay hefty US tax bill
'They're trying to hit me with some bill, can you believe it?' he tells US radio station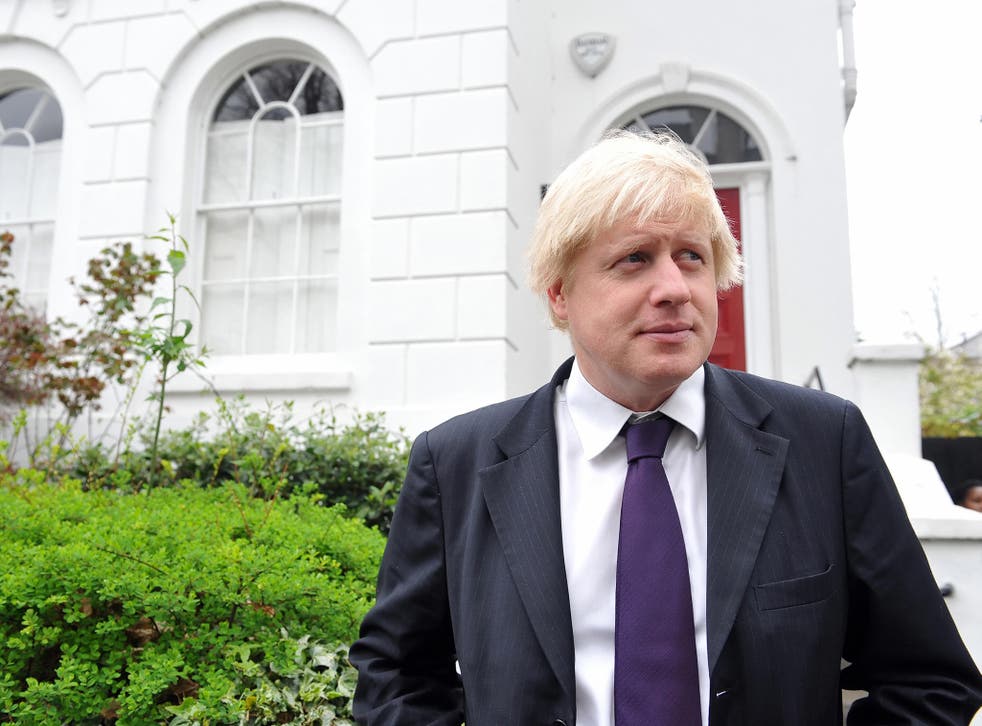 Boris Johnson is refusing to pay a large sum in capital gains tax to US officials after he revealed he is in dispute with American authorities.
The Mayor of London claims that he should not have to pay taxes in America because he has not lived there since early childhood – although he was born in New York and holds a US passport.
While many Britons might sympathise with the Mayor's point of view, it is unlikely to help him in a long-running dispute he has with the US embassy, who have persistently refused to pay London's congestion charge.
Mr Johnson argues that American diplomats in Britain are liable for the charge, but successive US ambassadors have argued that it is a tax, and have instructed their staff not to pay, though Transport for London continues to bill them. As a result, embassy staff have run up a bill of more than £7m.
Boris Johnson's defining moments

Show all 32
Mr Johnson has been caught by a rule that says all US citizens abroad, except the lowest paid, are liable for US taxes. His mayoral salary alone would be enough to put him in debt to the US Treasury, even without the larger amounts he earns from journalism. The way out for the Mayor could be to renounce his US citizenship, but he has complained that it not as easy as it sounds.
He revealed his dilemma during an interview on National Public Radio, in the US, after a listener said it was "very hard" to renounce US citizenship, and asked whether London's Mayor had done so.
Mr Johnson, who was in the US promoting his new biography of Winston Churchill, replied: "It is very hard… You may not believe this but if you're an American citizen, America exercises this incredible doctrine of global taxation, so that even though tax rates in the UK are far higher and I'm Mayor of London, I pay all my tax in the UK and so I pay a much higher proportion of my income in tax than I would if I lived in America. The United States comes after me, would you believe it, for capital gains tax on the sale of your first residence which is not taxable in Britain. They're trying to hit me with some bill, can you believe it?"
The Mayor was asked by the interviewer, Susan Page, whether he was going to pay, and at first tried to avoid answering by saying that the demand was "outrageous".
Asked again, he replied: "Well, no, is the answer. I think it's absolutely outrageous. Why should I?... You know, I haven't lived in the United States since I was five years old."
Asked whether he would have to renounce his US citizenship if he became Prime Minister, the Mayor replied: "I think the chances of that happening are vanishingly small… That's what we call a luxury problem to deal with. I think it unlikely to eventuate."
US citizens abroad also have to pay income tax if their income is above the current cut-off point of $97,600 (£62,000) per year. Mr Johnson's salary as mayor is £144,000 and he is paid £250,000 for the column he contributes to The Daily Telegraph.
Mr Johnson also dismissed all talk of him becoming Prime Minister as "wild speculation" and denied that he had written a book about Churchill because he thought he was his modern equivalent.
He said: "There's no vacancy for the office of Prime Minister and it's being discharged brilliantly by David Cameron. But I'm looking forward to going back into politics in Westminster." He added: "You know, I've got about as much really in common with Winston Churchill or as I have with... or I got more in common, I would say, with a, you know, a three-toed sloth or a, you know, some other, I don't know, oh, a one-eyed pterodactyl."
Register for free to continue reading
Registration is a free and easy way to support our truly independent journalism
By registering, you will also enjoy limited access to Premium articles, exclusive newsletters, commenting, and virtual events with our leading journalists
Already have an account? sign in
Register for free to continue reading
Registration is a free and easy way to support our truly independent journalism
By registering, you will also enjoy limited access to Premium articles, exclusive newsletters, commenting, and virtual events with our leading journalists
Already have an account? sign in
Join our new commenting forum
Join thought-provoking conversations, follow other Independent readers and see their replies