Analysis: George Osborne inspired the Tory faithful, but will he ever be leader?
The Chancellor will never be Mr Popular with the public, but in the party he's seen as the Tory's Gordon Brown
Andrew Grice
Tuesday 30 September 2014 10:13 Comments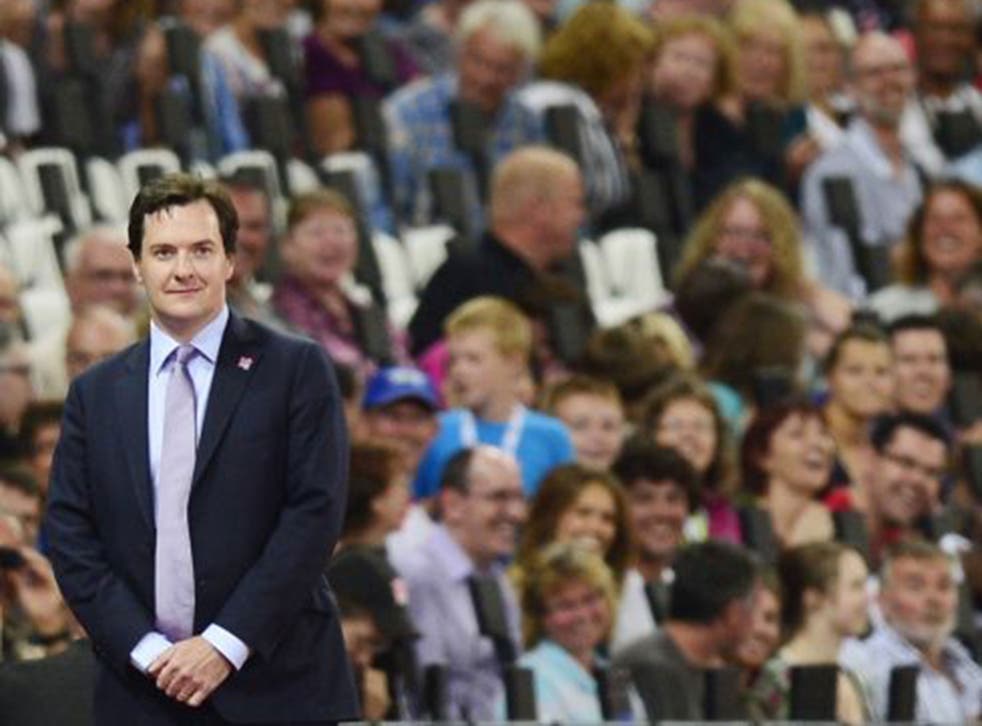 The enthusiastic response to George Osborne from the Conservative faithful was a reminder of his pivotal position inside the party. His landmark decision to freeze most working-age benefits for two years was a reminder that he is also one of the most powerful chancellors since the Second World War.
Among cabinet colleagues, he is now seen as on a par with Gordon Brown, who was at the Treasury for 10 years and was the overlord of all domestic policy under Tony Blair. Mr Osborne would never admit it, but yesterday's gambit was straight out of the Brown playbook, creating a dividing line for the general election and challenging Labour to say whether it would support his £3.2bn cut, or instead raise taxes or increase borrowing.
As David Cameron's closest political ally, Mr Osborne has similar reach to Mr Brown and, along with the Australian strategist Lynton Crosby, will call the shots in the Tories' election campaign.
Whether his controversial benefits freeze will play well in the real world remains to be seen. The Chancellor believes it will. It had been road-tested in advance with small groups of voters and was popular.
Aides point to 60 per cent-plus levels of support for the Coalition's cuts and its attack on the deficit. But the absence of balancing measures to hit those at the top in his speech could undermine his "we're all in it together" mantra, which he repeated yesterday.
Mr Osborne is certainly a man on manoeuvres in the future Tory leadership stakes. He has bounced back remarkably well from his annus horribilis in 2012, when his "omnishambles Budget" unravelled within hours and he was booed at the Paralympics.
After that embarrassing incident, the Chancellor realised he had to get out of his Treasury bubble more.
He is now normally seen on TV news bulletins at a building site, wearing a hard hat, to emphasise the recovering economy. He had a new, more modern haircut and lost two stone on the 5:2 diet.
Interviewed on the eve of the conference, Mr Osborne sought to play down his "posh boy" image as the heir to his father's Osborne & Little wallpaper firm. He told the Mail on Sunday about his family holiday in a camper van in the Peak District this summer.
At Westminster, Mr Osborne is dubbed "the octopus" because his tentacles reach into all parts of the Conservative parliamentary party. If you are a Tory MP, you are either a "FOG" – a Friend Of George – or you are not.
His acolytes have been promoted in Mr Cameron's reshuffles. Michael Gove, who would be his running mate and campaign manager in a leadership election, is handily placed for Mr Osborne in his new job as Conservative Chief Whip.
Mr Osborne's wooing of Tory backbenchers is seen as evidence that he will be a contender when the party leadership next falls vacant. The other likely runners are Boris Johnson, set to return to the Commons after being chosen to fight Uxbridge and South Ruislip, and Theresa May, the Home Secretary.
As the architect of the Coalition's austerity programme, Mr Osborne's prospects are tied to his party's in next May's election.
If the Tories lose power next May, then Mr Osborne's chances of becoming party leader would look remote, as he is such an integral part of the Cameron project. Tory MPs would then clamour for a leader prepared to lead Britain out of the European Union. Mr Osborne shares Mr Cameron's view that the best course is to seek a better deal within it.
But if the Tories can persuade voters not to take a chance on Labour and to allow them to "finish the job" on the deficit, the Chancellor, almost five years younger than Mr Cameron, could be a contender to take over if the Prime Minister stood down three or four years into the next parliament.
That would be another unwanted parallel with Mr Osborne's auld enemy George Brown, even though he enjoys a much more harmonious relationship with Mr Cameron than Mr Brown did with Tony Blair. The instincts of the Chancellor and the Prime Minister are normally the same. If they are not, any differences are resolved behind closed doors, and their aides never brief against each other. "We have learnt a lot of lessons from Blair and Brown," said one Tory insider.
Although wielding the axe was never going to make him Mr Popular with the public, close allies believe it is not impossible for Mr Osborne to inherit the Tory crown. "He has had to take some unpopular decisions in the national interest, but people are now giving him some credit for it," said one.
Register for free to continue reading
Registration is a free and easy way to support our truly independent journalism
By registering, you will also enjoy limited access to Premium articles, exclusive newsletters, commenting, and virtual events with our leading journalists
Already have an account? sign in
Join our new commenting forum
Join thought-provoking conversations, follow other Independent readers and see their replies