Andrea Leadsom 'disgusted' over Times article on Theresa May and motherhood
'I want to be crystal clear that everyone has an equal stake in our society'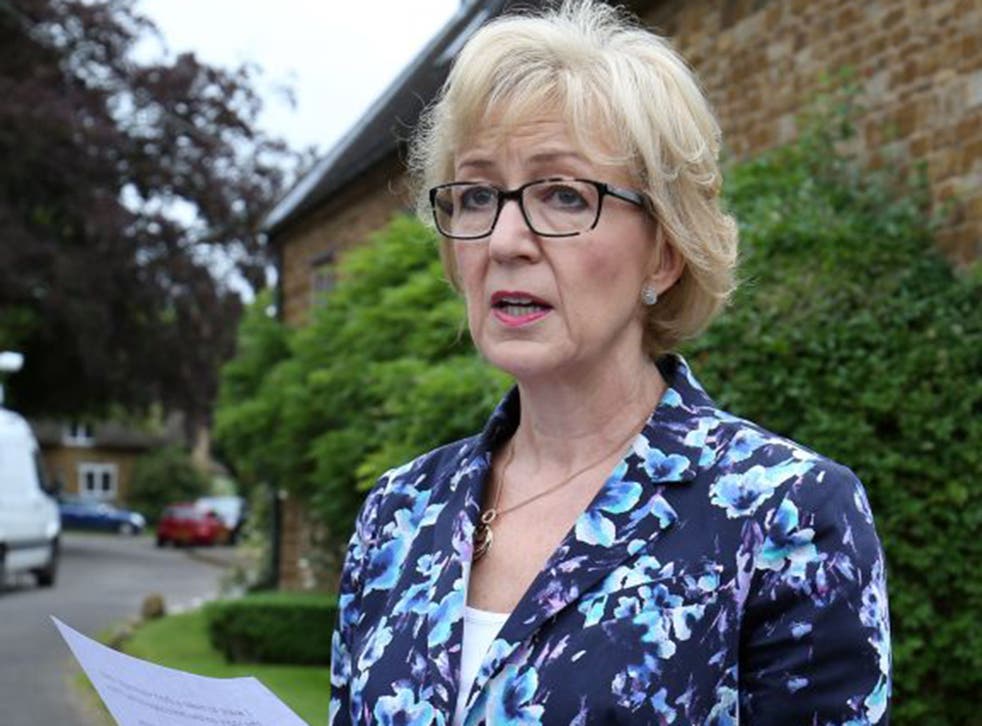 Andrea Leadsom has insisted that her views were misrepresented and is "disgusted" with the presentation of a report that claimed she was a better candidate for prime minister because she had children and Theresa May did not.
Ms Leadsom, a junior energy minister who is competing with the Home Secretary for the keys to Downing Street, went on the defensive after The Times ran a front page story with the headline: "Being a mother gives me edge on May – Leadsom" on Saturday.
Speaking outside her home in Northamptonshire, Ms Leadsom, reading from a statement, said: "In the course of a lengthy interview yesterday I was repeatedly asked about my children and I repeatedly made it clear that I did not want this to be, in any way, a feature of the campaign. I am disgusted at the way this has been presented.
"I want to be crystal clear that everyone has an equal stake in our society and in the future of our country, that is what I believe. It is what I've always believed.
"I have repeated my instructions to my campaign team that this campaign must be principled and honourable."
The Times, however, released both a transcript and an audio recording of the interview with Ms Leadsom, which verify the newspaper's quotes.
The comments also drew criticism from senior Conservative politicians. Ruth Davidson tweeted: "I am childless. I have nieces and nephews. I believe I – like everyone else – have a very real stake in our country."
In the interview, Ms Leadsom, who has two sons and a daughter, was asked whether she felt "like a mum in politics". She responded: "Yes. I am sure Theresa will be really sad she doesn't have children so I don't want this to be 'Andrea has children, Theresa hasn't' because I think that would be really horrible, but genuinely I feel that being a mum means you have a very real stake in the future of our country, a tangible stake," she said.
But Penny Mordaunt, the Armed Forces minister who is one of Ms Leadsom's most high-profile backers, said the report was an attempt to "smear" the leadership contender.
Ms Mordaunt told BBC Radio 4's Today programme: "I'm afraid this is an attempt, I think, by a paper that has declared for the other candidate to smear Andrea.
"We have had a pretty unedifying contest so far, including people trying to prevent Andrea getting on the ballot paper. From my understanding of the interview, you could not have come away from that interview with the impression that The Times have clearly decided to write a headline on, which is something that she did not say."
Rachel Sylvester, the journalist who wrote the article, told the BBC the report was "fairly written up" and she was "baffled" by Ms Leadsom's "rather aggressive reaction".
"I asked her a very straightforward question... She raised Theresa May," she said. "I asked her directly, 'what are the differences between you and Theresa May?'. She said, 'economic competence and family'... she clearly thinks that is a big selling point with her."
Ms Sylvester added that she thought Mrs Leadsom was "naïve to make that comparison and not think it would become an issue".
Register for free to continue reading
Registration is a free and easy way to support our truly independent journalism
By registering, you will also enjoy limited access to Premium articles, exclusive newsletters, commenting, and virtual events with our leading journalists
Already have an account? sign in
Register for free to continue reading
Registration is a free and easy way to support our truly independent journalism
By registering, you will also enjoy limited access to Premium articles, exclusive newsletters, commenting, and virtual events with our leading journalists
Already have an account? sign in
Join our new commenting forum
Join thought-provoking conversations, follow other Independent readers and see their replies