Andy Burnham and Yvette Cooper fight to be the 'next best thing' to Jeremy Corbyn supporters
Some Cooper allies are privately worried that the surprise surge by the left-wing Mr Corbyn could benefit Mr Burnham
Andrew Grice
Friday 24 July 2015 11:25 Comments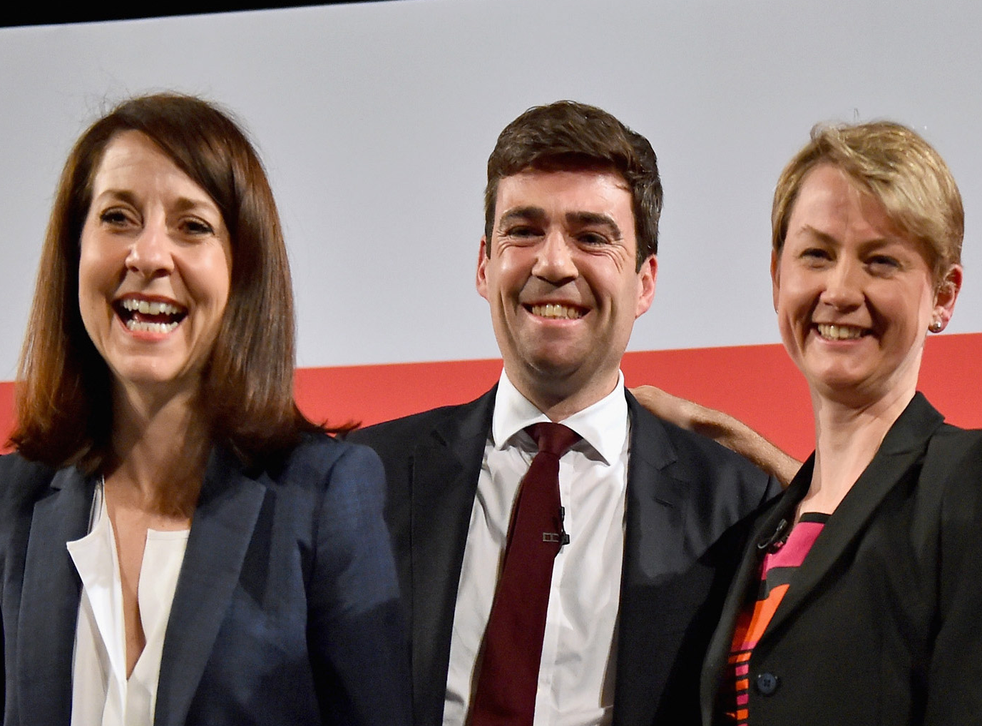 Yvette Cooper has launched a campaign against the Government's welfare cuts as she tried to prevent Andy Burnham emerging as the "stop Jeremy Corbyn candidate" in Labour's fractious leadership contest.
Some Cooper allies are privately worried that the surprise surge by the left-wing Mr Corbyn could benefit Mr Burnham. "If people draw back from backing Corbyn, they will see Andy as the next best thing," one Labour MP said.
Ms Cooper, the shadow Home Secretary and centrist candidate, sought to broaden her appeal by attacking the Government's controversial plan to limit tax credits to the first two children in a family. "It will stretch working families to breaking point and push more children into poverty," she said. "Labour must stand up and oppose this children's tax. That's what I will be doing throughout this leadership contest and beyond."
Allies of Mr Burnham believe he will benefit from an anti-Corbyn backlash as Labour members recoil from electing the veteran left-winger. They claimed Mr Burnham could win the contest in the first round by securing more than 50 per cent of the votes. However, the first poll of Labour members this week showed Mr Corbyn on 43 per cent and Mr Burnham on 26 per cent, with Ms Cooper on 20 per cent and Liz Kendall on 11 per cent.
The Burnham camp dismissed Ms Cooper's campaign on the cuts, claiming she was in league with Harriet Harman, Labour's acting leader, who sparked a revolt by suggesting that Labour should not oppose the Welfare Bill. "This is a two-horse race and Yvette is not one of them," said one Burnham supporter.
But Cooper allies insist Mr Burnham has lost support because "he did a U-turn on a U-turn" by abstaining in the Commons vote on the Bill and later vowing to oppose if it he wins the leadership.
Ms Kendall, the Blairite standard-bearer, dismissed suggestions she should stand down to boost the other candidates' prospects of defeating Mr Corbyn. But Ms Kendall will now come under pressure to urge her supporters to make Ms Cooper their second preference. If no one wins more than 50 per cent of the votes, the bottom candidate drops out and the second preference votes of his or her supporters are reallocated.
Kendall aides rounded on Mr Burnham and Ms Cooper. One said: "Both Andy and Yvette have seen their numbers fall this week following the flip flop over welfare and that's what is making these campaigns try and make Liz somehow the problem to distract from their own issues."
Ms Kendall, who insisted she had always been the outsider, said: "I'll be fighting for what I believe in until the very end. I have an alternative argument to make so we can change the country for the better. I will carry on making that until the last moment."
The turmoil following Labour's disastrous election defeat in May continued as Lord (John) Prescott attacked Tony Blair, under whom he served as Deputy Prime Minister, for saying that Labour members whose hearts were with Mr Corbyn should "get a transplant."
Lord Prescott told BBC Radio 4: "I found that absolutely staggering. To use that kind of language is just abuse." He said Mr Blair's decision to join the US invasion of Iraq had undermined public support for Labour and denied that a Corbyn victory would be a "disaster" for the party. He also criticised Ms Harman's stance on welfare, saying that she had exceeded her authority.
An Ipsos MORI survey for the London Evening Standard found that Mr Burnham was seen as having "what it takes to be a good prime minister" by 27 per cent of the public, with Ms Cooper on 22 per cent, Mr Corbyn 17 per cent and Ms Kendall 16 per cent.
Register for free to continue reading
Registration is a free and easy way to support our truly independent journalism
By registering, you will also enjoy limited access to Premium articles, exclusive newsletters, commenting, and virtual events with our leading journalists
Already have an account? sign in
Join our new commenting forum
Join thought-provoking conversations, follow other Independent readers and see their replies