Andy Burnham destabilised after Jeremy Corbyn squeezes onto the Labour leadership ballot
The left-winger was nominated by several MPs who won't vote for him
Andrew Grice
Monday 15 June 2015 21:16 Comments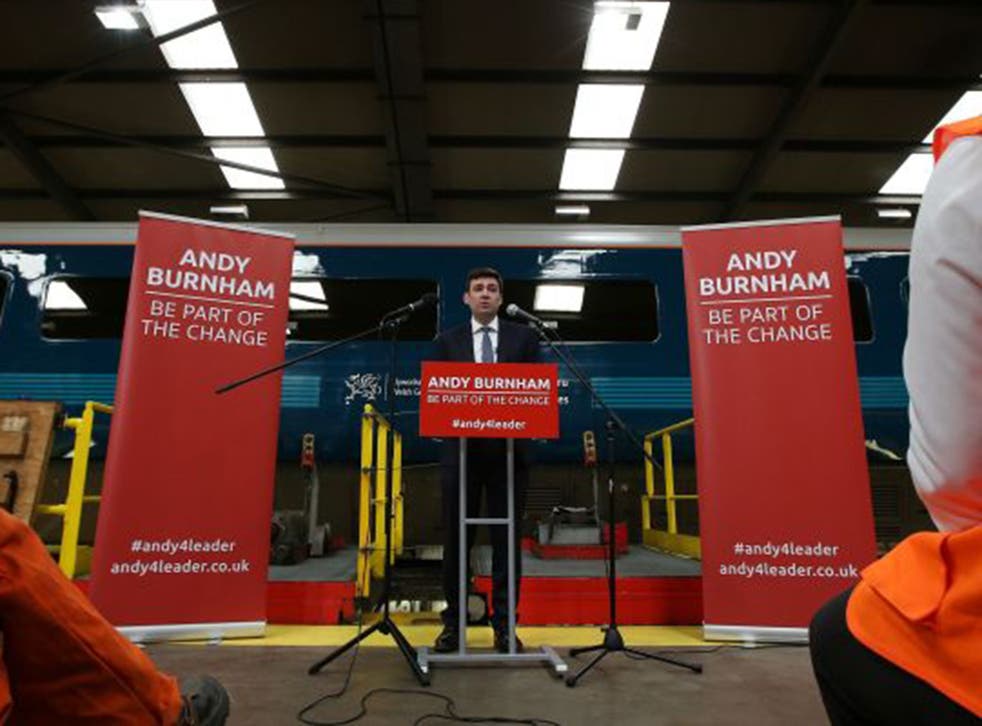 The race for the Labour leadership election has taken a left turn after Jeremy Corbyn won a place on the shortlist after he was nominated by several MPs who will not vote for him.
Allies of Andy Burnham, the early front-runner, said the unexpected entry of the left-winger Mr Corbyn would help their candidate escape his "caricature" as the standard-bearer of the left and the trade unions.
But rival camps believe Mr Corbyn's presence will make it harder for Mr Burnham to pick up votes as the "darling of the left". One opponent claimed: "Andy is all over the place. One minute he lurches to the left and the next he tacks to the centre. This will destabilise him."
Some moderates expressed dismay that Mr Corbyn's high profile over the next three months would send a damaging signal to voters. John Mann, an MP who is backing Yvette Cooper, said: "So to demonstrate our desire never to win again, Islington's Jeremy Corbyn is now a Labour leadership candidate."
He tweeted: "Quite a number of Corbyn supporters saying to me that principled opposition is better than seeking an electoral majority. The elite speak."
Jonathan Reynolds, a shadow energy minister who is supporting the Blairite candidate Liz Kendall, said people were "deluding themselves" if they thought Mr Corbyn would win a parliamentary majority. He added: "If Jeremy was leader the Tories would win a majority of at least 100, and possibly more," saying his candidacy could "pervert the centre of gravity even further from where the public are".
Mr Corbyn won the required 35 nominations from MPs just as the deadline passed at noon. He admitted that some MPs had nominated him to ensure a wider choice and made clear they would not vote for him. "I fully recognise that those colleagues who nominated me may not necessarily agree with me on the pitch I'm taking," he said.
But John McDonnell MP, Mr Corbyn's agent, insisted: "We're in it to win it and I think we can get that support. I think you'll be surprised, if not shocked, at the scale of support that we have."
Ed Miliband's successor will be chosen in a "one member, one vote" ballot of Labour's 242,000 members, registered supporters and affiliated supporters in the unions.
So far only about 4,000 people have paid £3 to become registered supporters but Labour officials hope the eventual number of people taking part could approach 500,000. The result will be announced on 12 September. In a speech, Ms Cooper took a sideswipe at Ms Kendall, saying: "We won't deliver a Labour government by swallowing the Tory manifesto, Tory plans, or Tory myths. In the end, the Tories don't have the right values or answers for our country. Nor will we win just by trying to splice together a shopping list of retail policies targeted at different slices of the electorate. We need to have confidence in our values but to apply them afresh to new times."
But allies of Ms Cooper and Mr Burnham denied reports that they had labelled Ms Kendall the "Taliban New Labour" candidate as the contest threatened to turn nasty. John Woodcock, a Kendall supporter, replied: "Andy [Burnham] and Yvette [Cooper]'s attack on Liz is old-machine politics Labour must leave behind. If living within our means is 'Taliban', we will lose again."
Register for free to continue reading
Registration is a free and easy way to support our truly independent journalism
By registering, you will also enjoy limited access to Premium articles, exclusive newsletters, commenting, and virtual events with our leading journalists
Already have an account? sign in
Join our new commenting forum
Join thought-provoking conversations, follow other Independent readers and see their replies