Andy Burnham criticises Labour for excluding northern mayors from conference
Mayor of Greater Manchester lays out skeleton of alternative policy platform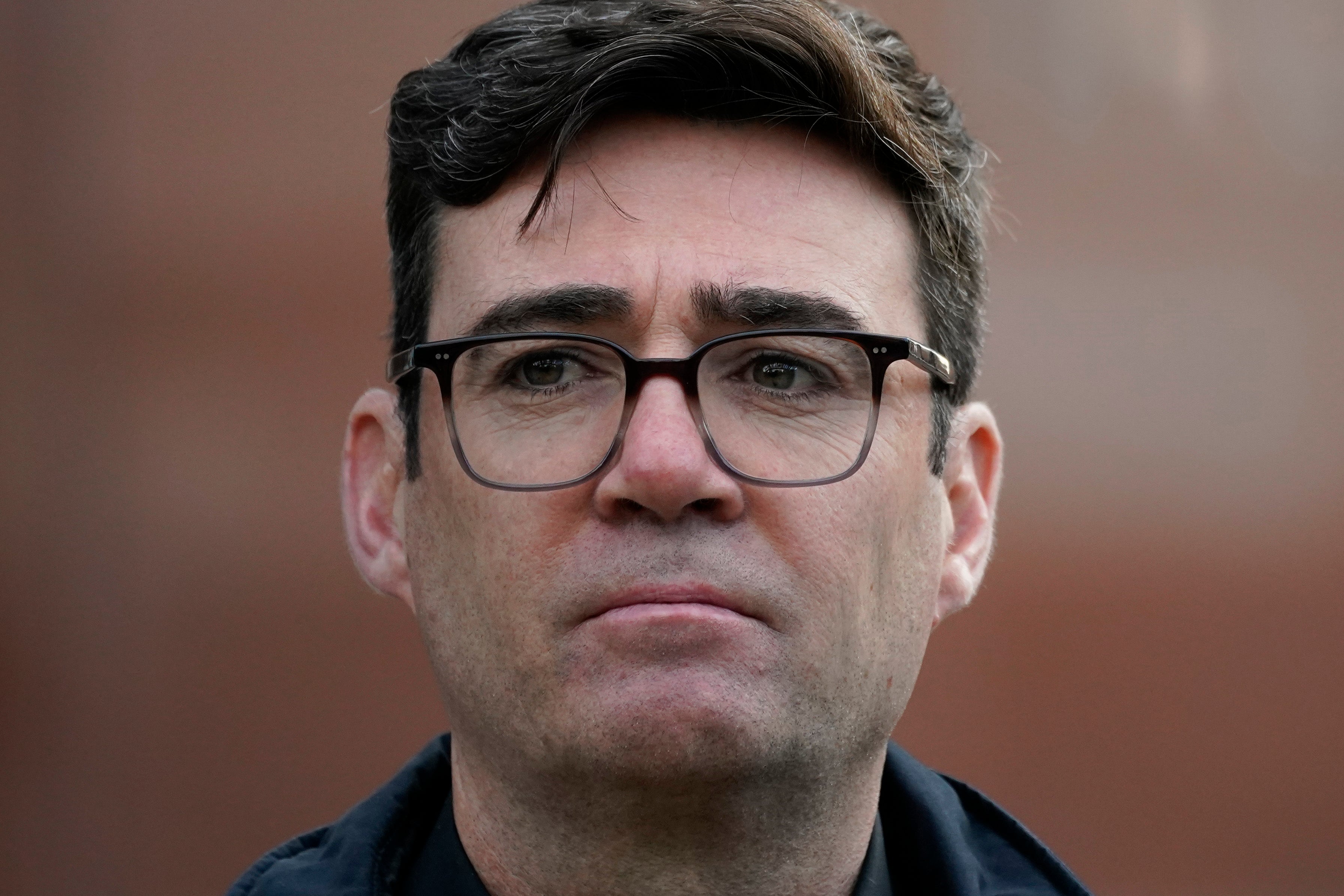 Labour's northern mayors should not have been left off the agenda at the party's annual conference in Brighton, Andy Burnham has said.
The Mayor of Greater Manchester said it was "regrettable" that no mayor except London's Sadiq Khan had been invited to address the party's annual gathering with a speech.
Speaking at a packed event on the fringes of the conference Mr Burnham, who is seen as a potential future leader, said the lack of voices representing the region suggested the party wasn't "serious about winning back the North of England".
Mr Burnham also used his appearance to spell out the skeleton of an alternative national policy platform, calling for a universal basic income, guaranteed housing, and more affordable public transport in the regions.
Labour leader Keir Starmer, who Mr Burnham implicitly criticised as struggling to land blows on the government, has been criticised for not having a clear enough policy vision for the country.
"It is, I think regrettable that no Labour metro mayor outside of London has been asked to address this conference from the platform," he told the fringe event hosted by the Progressive Economy Forum.
"I think Sadiq [Khan] should have a conference speech from the platform: he's mayor of our capital city, and he's doing a damn fine job for being mayor of our capital city.
"But if this party is serious about winning back the North of England why is Steve Rotheram not standing up there, why is Tracy Brabin our first woman metro mayor not addressing this conference from the platform?"
Mr Burnham appeared to indirectly criticise Labour's top team in Westminster for not pushing the government enough on its planned cuts to Universal Credit.
"Rather than cutting Universal Credit, we should be expanding it further now, so that everyone has got enough to live on and nobody has to worry about feeding their kids," he said.
"Why in this particular moment, did it take a footballer from Manchester to say that with clarity directly to the government? Thank God he did, and he spoke for thousands of people not just in our region but across the country."
Mr Burnham is the most high-profile metro mayor not to have been given a speech at conference despite his outspoken national role during the Covid-19 pandemic.
Spelling out a broad policy platform, he said: "The market has not provided a good home for everybody, the market has not provided affordable transport for everybody.
"So let's start changing the way we think building up from the bottom and first principles close to home for everybody. But I would also go further and say a universal basic income."
Under a universal basic income workers would get a guaranteed payment no matter whether they were in or out of work.
Mr Burnham said the current benefits system was "set up to failure" and caused insecurity, which led to anxiety and mental health problems.
An exclusive Savanta ComRes poll for The Independent published on Sunday found that Andy Burnham is the preferred choice as Labour leader, not only of voters in general but also among the party's own supporters.
The findings – and Mr Burnham's comments at the fringe event – will intensify pressure on Sir Keir this week to show he can make a breakthrough with the electorate in time for a general election, which is expected in 2023.
He has previously criticised Labour for not giving enough airtime to metro mayors, in 2017 branding the party's annual conference "Londoncentric".
Join our commenting forum
Join thought-provoking conversations, follow other Independent readers and see their replies