Andy Burnham has a 'different view' to Jeremy Corbyn on the causes of terrorism
'There's a tendency to blame ourselves at times and I don't think we should', Manchester mayor says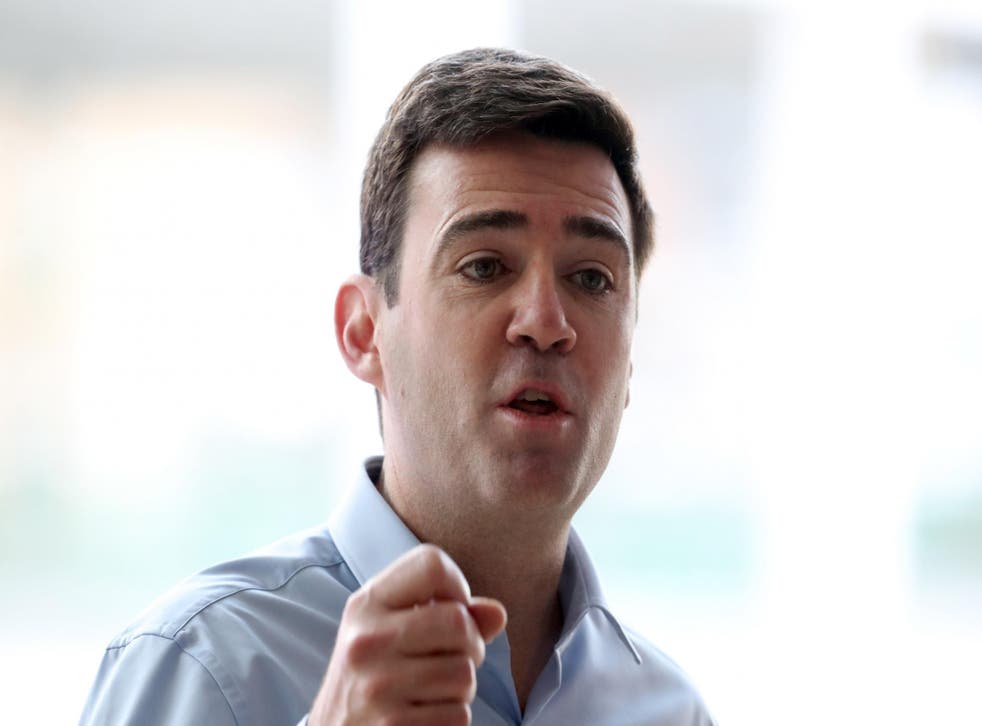 Andy Burnham, the Labour Mayor of Greater Manchester, has said he disagrees with party leader Jeremy Corbyn's view that British intervention in foreign wars could have fuelled the rise of terrorism.
Mr Corbyn said in a speech earlier the UK's approach to fighting terror was not working and that Britain's foreign policy might have "unintended consequences", such as producing extremists.
Before hearing the speech - although having an idea of its content - Mr Burnham, who lost the Labour leadership contest to Mr Corbyn in 2015, told Paul Ross on Talk Radio: "I have a different view to Jeremy on this.
"It (radical Islam) has used things to add to its cause. But it was there, we didn't create it. [There's] a tendency to blame ourselves for everything sometimes, and I don't think we should.
"Obviously, the actions of governments can then contribute and help the terrorists to add to their cause, but let's remember that the appalling atrocity of 9/11 happened before interventions anywhere.
"We've got to deal with what this is – a twisted ideology that has no connection to being representative of the Muslim religion. The Muslim faith is a peaceful religion, and we've got to deal with it on that basis.
"The people who committed this appalling act are responsible for it, 100 per cent."
Manchester explosion in pictures

Show all 37
The latest opinion poll from The Times/YouGov shows a surge towards Labour, who now trail the Conservatives by just five points after previously lagging behind by as many as 24.
But Mr Burnham, who stepped down as an MP to run for Manchester's mayorship, would not give a confident "yes" when asked whether Mr Corbyn could confound predictions and become Prime Minister.
He praised Mr Corbyn for being "sensitive" to this week's Manchester atrocity, which killed 22 people and left dozens injured, and suggested that his policies are "resonating" with people.
Mr Corbyn's speech drew criticism from the Conservatives, including Theresa May and Defence Secretary Michael Fallon, although the Labour leader made clear his belief that terrorists are entirely to blame for the choices they make.
"Many experts, including professionals in our intelligence and security services, have pointed to the connections between wars our government has supported or fought in other countries and terrorism here at home," he said, speaking in Westminster.
"No rationale based on the actions of any government can remotely excuse, or even adequately explain, outrages like this week's massacre.
"But we must be brave enough to admit the war on terror is simply not working. We need a smarter way to reduce the threat from countries that nurture terrorists and generate terrorism."
He pledged that a Labour government would ensure that "our foreign policy reduces rather than increases the threat to this country."
Mr Corbyn added that seeing army personnel deployed on the streets of London is "a stark reminder that the current approach has failed."
Mr Fallon appeared on both BBC and Sky news to claim that Mr Corbyn was "implying the attack might be our fault, might be Britain's fault as a result of our foreign policy".
Liberal Democrat leader Tim Farron was also critical of Mr Corbyn's speech, made as parties resumed general election campaigning following a three day break because of the atrocity, saying: "I don't agree with what he says, but I disagree even more that now is the time to say it. That's not leadership, it's putting politics before people at a time of tragedy."
But Mr Corbyn found support from the Green Party, with co-leader Jonathan Bartley saying it was "right to point to failed Western intervention as a cause of instability. Indeed, when you look at the Libyan intervention you see failure at almost every level."
Mr Corbyn was one of just 13 MPs to oppose then Prime Minister David Cameron and vote against the UK joining in with NATO-led Libyan bombings in March 2011.
The Islamist terrorist responsible for the Manchester bombing was Salman Abedi, who was born in the UK to Libyan parents.
Register for free to continue reading
Registration is a free and easy way to support our truly independent journalism
By registering, you will also enjoy limited access to Premium articles, exclusive newsletters, commenting, and virtual events with our leading journalists
Already have an account? sign in
Register for free to continue reading
Registration is a free and easy way to support our truly independent journalism
By registering, you will also enjoy limited access to Premium articles, exclusive newsletters, commenting, and virtual events with our leading journalists
Already have an account? sign in
Join our new commenting forum
Join thought-provoking conversations, follow other Independent readers and see their replies