Andy Burnham's Labour leadership prospects boosted after 15 election candidates in crucial seats show support
Exclusive: 'Andy has what so many leaders lack – he's authentic, he's real and people instantly warm to him….'
Andrew Grice
Saturday 25 July 2015 10:05 Comments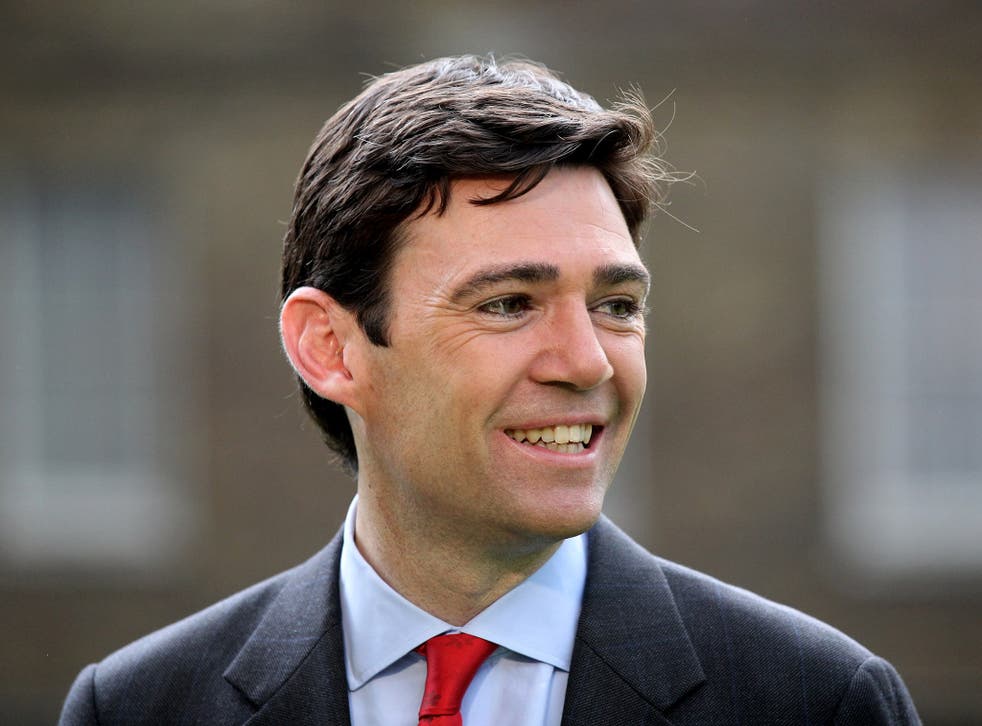 Andy Burnham's prospects in the Labour leadership race have been boosted by an endorsement from 15 candidates who stood at the May general election in seats the party needs to win next time to regain power.
The candidates, who include the former minister Mike O'Brien, said in an open letter to Labour members: "Andy has what so many leaders lack – he's authentic, he's real and people instantly warm to him….he is the leader the public want Labour to have and the leader best placed to win the public's support. Andy will speak most clearly to the millions of voters who wanted change but didn't trust Labour with their vote this time."
The Burnham camp claims their candidate as the only one who can beat Jeremy Corbyn, the left-wing contender.
Mr Burnham said: "This week, Labour hit a crossroads about its future. We must not be fooled into thinking the choice is either to be true to our principles or ditch them all to win elections. I will always be true to Labour values but I will make them relevant to the public again. It gives me great pride to know that candidates who faced those unconvinced voters across the country have placed their faith in me. I will develop a Labour vision to win back our lost voters and provide something in very short supply in this country right now - hope."
The candidates backing him are Jamie Hanley (Pudsey); Jon Wheale (Burton); Uma Kumaran (Harrow East); Mike Le-Surf (South Basildon & East Thurrock); Jacky Crawford (Brigg & Goole); Darren Jones (Bristol North West); Veronica Bennett (South Ribble); Peter Lowe (Stourbridge); Jo McCarron (Kingswood); Mark Dempsey (North Swindon); Calum Higgins (Carmarthen East & Dinefwr); Lee Sherriff (Carlisle); Alun Pugh (Arfon); Natasha Millward (Dudley South) and Mr O'Brien (North Warwickshire).
They argued that Labour needs to rebuild an "emotional connection" with the British people. "We believe that Andy's incredible passion for our NHS, which he will translate to meet the great challenges facing our country, will help our party to reconnect with those voters who think Labour isn't on their side," they said.
On 24 July, the Burnham team was forced to deny claims it is "anti-women" after the rival candidates Liz Kendall and Yvette Cooper seized on comments by Lord (Charles) Falconer of Thoroton, the shadow Justice Secretary, who is backing Mr Burnham. He wrote in The Times that the two women candidates could not "steer the Labour Party through the challenging few years ahead of us."
Ms Kendall said: "It is depressing to see a senior man in the party dismiss the contribution of women so easily. For Charlie to say that women somehow aren't tough enough to lead the Labour Party is a gross insult and, as for standing up to Jeremy Corbyn, I'm the only candidate who has been saying he would be a disaster for our party and that I wouldn't serve in his shadow cabinet, unlike the candidate Charlie is supporting."
A Cooper ally said: "The real question many of our MPs are asking is: 'does Andy [Burnham] believe women aren't up to the job?' "
But a spokeswoman for Mr Burnham insisted the issue of gender was "categorically not what the piece is about". She said: "It is not about gender; it is misleading to suggest that there is any element of sexism in it from the Burnham campaign."
In an online survey of 5,400 people by the LabourList website, 73 per cent named Mr Corbyn as their first preference, with 10 per cent opting for Ms Kendall, 9 per cent for Ms Cooper and 7 per cent for Mr Burnham.
Register for free to continue reading
Registration is a free and easy way to support our truly independent journalism
By registering, you will also enjoy limited access to Premium articles, exclusive newsletters, commenting, and virtual events with our leading journalists
Already have an account? sign in
Join our new commenting forum
Join thought-provoking conversations, follow other Independent readers and see their replies