Andy McSmith's Diary: Why David Cameron's poppy makes Xi see red
Simple good manners might have told the PM to remove the poppy while he was with the Chinese President
Andy McSmith
Thursday 22 October 2015 22:16 Comments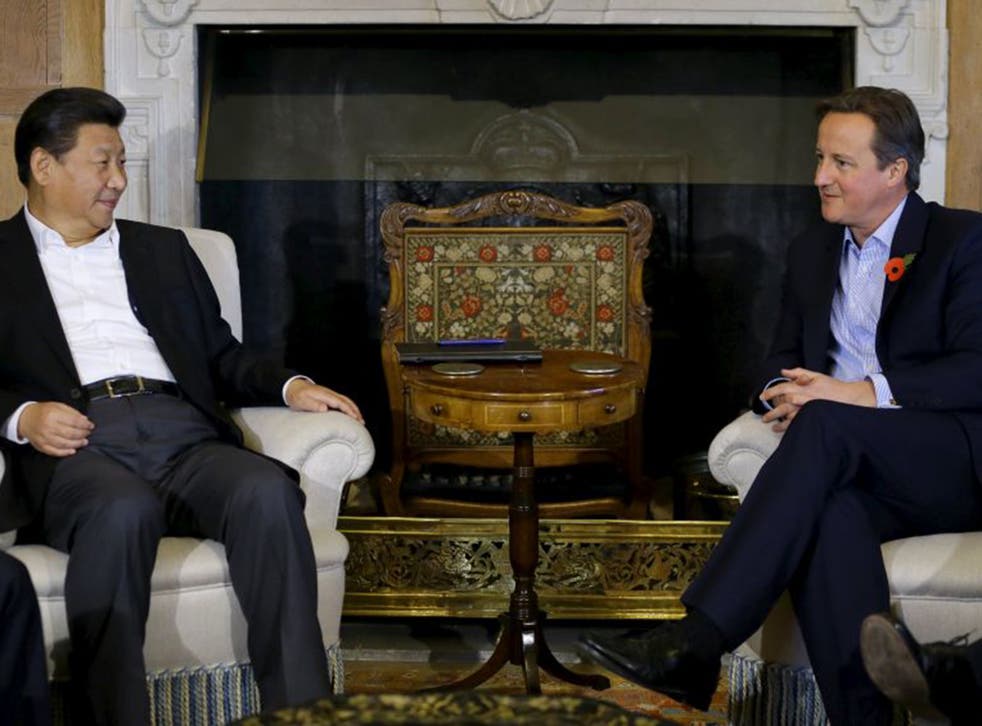 When China's President Xi Jinping met David Cameron at Chequers, I would guess that the visitor's gaze would have been momentarily directed at the Prime Minister's lapel, and he will not have liked what he saw there.
It was the first day of the Royal British Legion's annual poppy appeal, which opened with a "symbolic" poppy being transported from the legion's headquarters to Downing Street to be presented to the Prime Minister.
Five years ago, there was a ripple of diplomatic awkwardness when Cameron led a British delegation who arrived at the Great Hall of the People in Beijing with poppies in their lapels, having refused a request by the Chinese not to wear them.
For the Chinese, a Brit with a poppy stirs folk memories of a disgraceful and humiliating episode early in Victorian times, when British merchants bought vast quantities of tea and silk from China but could think of nothing to sell to the Chinese in return except opium, cultivated in India. In 1839, an incorruptible Chinese official named Lin Zexu tried to halt the trade, because of the misery opium addiction was causing. The British retaliated by invading. They fought two wars, until an enfeebled Chinese government agreed to make the sale of opium legal. There is a statue to Lin Zexu in New York, but not in the UK.
Simple good manners might have told Cameron to remove the poppy while he was with the Chinese President, but Downing Street was emphatic that he would wear it "in the usual way".
Tim who?
Tim Farron, leader of that half-forgotten political party, the Liberal Democrats, made a rare appearance in The Sun, with a piece he had written condemning fines imposed on parents who take their children out of school to go on holiday.
Bad luck that the piece was tagged as having been written by someone called "Tim Fallon". At least they got the "Tim" bit right.
Keep up at the back!
Tobias Ellwood will have been very busy since he was appointed the Foreign Office minister responsible for the quagmire that is the Middle East, so cannot be blamed if he has had trouble keeping up with home news.
Mr Ellwood published his reply to a written question about the destruction of cultural artefacts by Isis, and announced that there is to be a conference on this next Wednesday, which he will co-host. The other host, according to his written answer, will be "the Secretary of State for the department of Culture, Media and Sport, my Rt Hon Friend the Member for Bromsgrove (Mr Javid)."
Er, Mr Ellwood, cast your mind back to 11 May. The Conservatives won a general election. Remember? Sajid Javid changed jobs. He became the Business Secretary. Your co-host next week is more likely to be John Whittingdale, who has been Culture Secretary these past five months.
Something wicked ...
Four centuries ago, Datchet, near Slough, was the home village of a printer named Robert Barker, who caused a scandal by selling copies of the King James Bible from which the word "not" was omitted from the seventh commandment, so that it read "Thou shalt commit adultery". It was called the "Wicked Bible".
I doubt much else that is wicked has happened in Datchet since – until today when Medicines and Healthcare Products Regulatory Agency officers raided an address there and seized unlicensed erectile dysfunction drugs worth more than £1m. "Selling unlicensed medicines is illegal and poses a serious health hazard. Anyone thinking of committing this fraud should be under no illusions, we will come and find you," said the MHRA's head of operations, Danny Lee-Frost.
Register for free to continue reading
Registration is a free and easy way to support our truly independent journalism
By registering, you will also enjoy limited access to Premium articles, exclusive newsletters, commenting, and virtual events with our leading journalists
Already have an account? sign in
Join our new commenting forum
Join thought-provoking conversations, follow other Independent readers and see their replies