Angela Eagle 'not contemplating losing contest'
Angela Eagle 'not contemplating losing contest' against Jeremy Corbyn for Labour leadership
'I really think now the time is for him to consider his position,' Ms Eagle said
Angela Eagle has said she is "not contemplating losing" the Labour leadership contest against Jeremy Corbyn.
Ms Eagle, who recently resigned as Shadow Business Secretary, plans to formally announce her bid to become leader on Monday. Her announcement will trigger a vote by party members.
Discussing Mr Corbyn's leadership on ITV's Peston on Sunday, Ms Eagle said Mr Corbyn had lost the confidence of the Labour party.
She told the programme: "He's not a bad man, he's not a leader though. He doesn't connect with Labour voters.
"He doesn't connect enough to win an election and he doesn't reach out in any meaningful way to other parts of the party.
"He's lost the confidence of his parliamentary colleagues. And I really think now the time is for him to consider his position."
Dave Brown on Jeremy Corbyn

Show all 12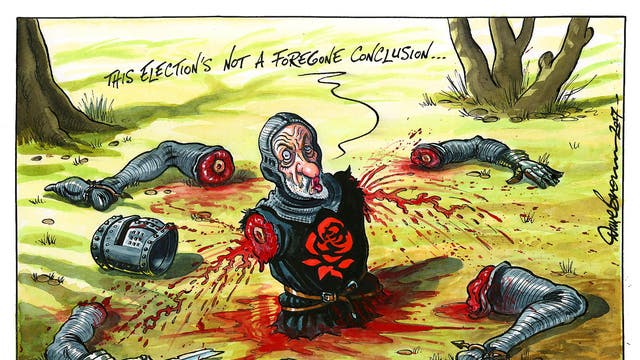 She added: "It's about effective leadership and whether we can return to government. We've all got Labour principles, Jeremy's got Labour principles.
"But to connect those principles, you have to be able to be elected and have Labour governments."
Mr Corbyn has struggled to fill all of his shadow cabinet posts, after dozens of MPs on his top team refused to work with him and resigned.
In a secret ballot, 176 MPs voted "no confidence" in Mr Corbyn, with just 40 backing him.
Mr Corbyn has refused to step down, citing his significant mandate from the party membership and trade unionists.
Eagle repeats Corbyn warning
Rebel Labour MPs are now thought to be split on whether or not Ms Eagle or former shadow work and pensions secretary Owen Smith should the candidate to take him on.
Ms Eagle said the leadership contest was a battle for the future of the Labour party: "I think this is a battle for a healed and a united Labour party and a strong opposition to make our democracy work.
"If you want to take part in that battle, join the Labour party now. It's never been more important."
Join our new commenting forum
Join thought-provoking conversations, follow other Independent readers and see their replies