Angela Merkel's coalition troubles are 'bad news for Britain' during Brexit talks, warns former German ambassador
Germany is 'looking inward and is self-absorbed' - making it harder for the country to lead the EU in striking a deal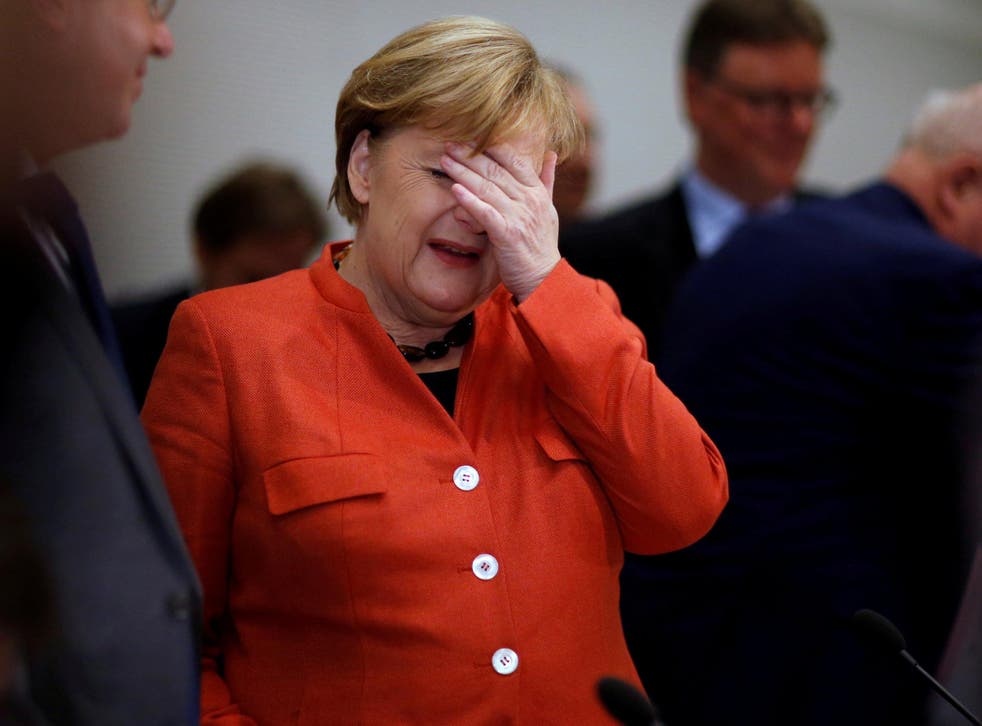 Angela Merkel's political turmoil is "bad news for Britain" as the Brexit negotiations reach a crunch point, a former German ambassador to the UK has warned.
Thomas Matussek said Germany was "looking inward and is self-absorbed", making it harder for the country to lead the EU in striking a deal to end the deadlock in the talks.
Some hard Brexit-backing Tory MPs are urging Theresa May to exploit the Chancellor's weakness to Britain's advantage – after coalition talks collapsed, threatening fresh elections in Berlin. The Prime Minister should suspend plans to offer up to €20bn more to the EU to speed up future trade talks, agreed by the inner Cabinet last night, they say.
But Mr Matussek said "I think the German instability is bad news for Britain, it's bad news for Europe but, most of all it is bad news for the Germans ... You have a normally loud and constructive voice which has been silenced. You have a country that is looking inward and is self-absorbed."
The crisis in Berlin would make "no operational difference" to the stance the EU would take on Brexit at next month's EU summit, the former ambassador argued. But he warned: "In the medium and long term, of course it would be very, very bad if the German input is missing."
Christian Schmidt, Germany's food and agriculture minister, dismissed suggestions that Ms Merkel's precarious position left her more in need of a Brexit deal – to avoid damage from a no-deal Brexit.
"My suggestion is just to think which kind of disaster this [a no-deal Brexit] would be for the United Kingdom's economy," he said. "This is not a game, winner and loser. This is a responsibility."
The comments come after Brexiteer Tories called for defiance following cabinet agreement for Britain to up its divorce bill offer before the European Council next month.
Former cabinet minister Iain Duncan Smith told The Times: "When you look at what is going on in Europe, the idea that out of that chaotic situation can come any sort of understanding is clearly not right, so we will have to sit tight."
And Jacob Rees-Mogg said: "Approving a higher divorce bill at this stage would be foolish. As for Germany, its domestic political concerns make it less likely that it would want to risk the damage that could be done to its industry from the UK imposing tariffs on its exports."
Germany was plunged into political instability at the weekend, after many weeks of talks to form a coalition collapsed. Ms Merkel has rejected leading a minority government and says she said that she was ready for a rerun of the September election – but could yet be forced out by her own party.
Meanwhile, in a boost for Ms May, she secured agreement from Boris Johnson, Michael Gove and other Leave-supporting cabinet heavyweights to up her financial offer to the EU. It is expected to double, to about €40bn, although No 10 refused to put a figure on it – and Ms May is not expected to do so when she meets Donald Tusk, the European Council president, on Friday.
The Government will continue to insist that the EU gives way on moving onto talks about future trade and a transitional period, in return for more money.
Register for free to continue reading
Registration is a free and easy way to support our truly independent journalism
By registering, you will also enjoy limited access to Premium articles, exclusive newsletters, commenting, and virtual events with our leading journalists
Already have an account? sign in
Register for free to continue reading
Registration is a free and easy way to support our truly independent journalism
By registering, you will also enjoy limited access to Premium articles, exclusive newsletters, commenting, and virtual events with our leading journalists
Already have an account? sign in
Join our new commenting forum
Join thought-provoking conversations, follow other Independent readers and see their replies