Angelina Jolie and William Hague launch international anti-rape summit
Jonathan Owen
Wednesday 11 June 2014 12:21 Comments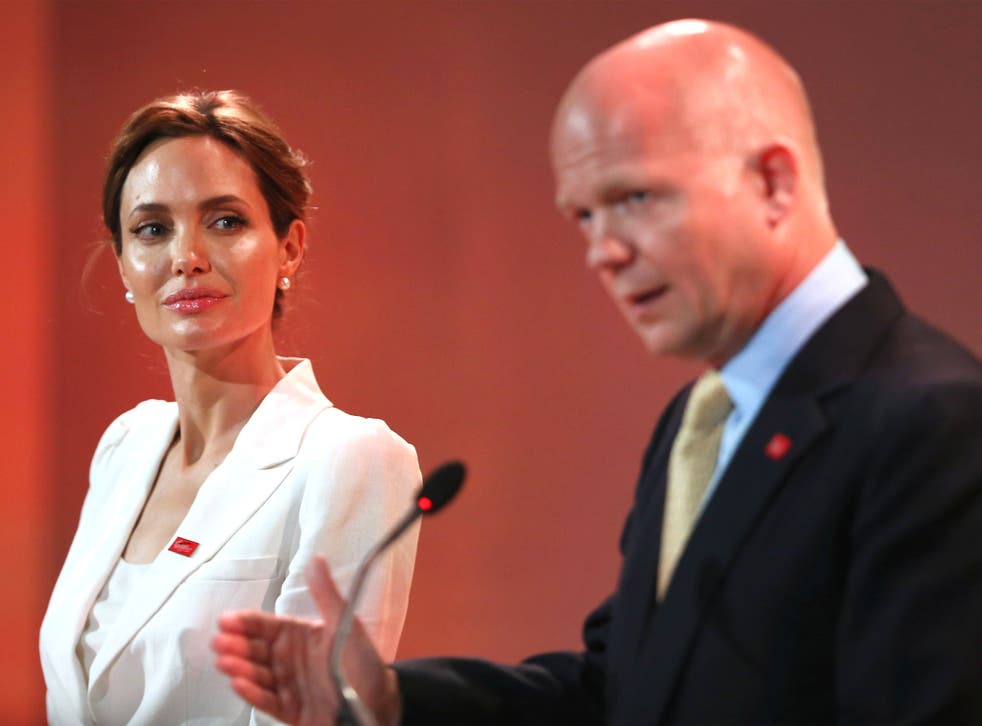 The worlds of Hollywood and Westminster collided today, as Angelina Jolie and William Hague launched a new offensive against sexual violence at the biggest ever summit to tackle the issue.
Britain is to spend an extra £6m to help support rape victims in war zones, the Foreign Secretary announced at the opening of a four-day Global Summit to End Sexual Violence in Conflict, at London's ExCel centre.
"The time has come to end the use of rape in war once and for all, and we believe it can be done," he declared. Hague appealed for international support, with government delegates from 117 countries arriving at the summit on Thursday. "There is power in numbers and if we unite behind this cause we can create an unstoppable momentum and consign this vile abuse to history."
He described the rape of people in war as "a moral issue for our generation", and added: "We want this summit to shatter the culture of impunity for sexual violence." There needs to be a "change in attitudes" so that the stigma is shifted away from the victims "onto the perpetrators of these crimes".
This week's summit marks an opportunity to "build the momentum needed to tip the world past that point of no return, so that through hard work and commitment over the coming years we can remove warzone rape from the world's arsenal of cruelty".
In pictures: Launch of international anti-rape summit

Show all 8
Hague's words were rewarded with applause and cheers, helped in no small part by the beaming Hollywood actress sharing the platform with him. There was a hushed silence as Angelina Jolie, the Special Envoy for the UN High Commissioner for Refugees, made an impassioned plea for action, punctuated by loud cheers and roars of approval.
Justice needs to become the "norm, not the exception, for these crimes", said Jolie, who added: "We need to treat this subject as a priority... and go after the worst perpetrators... we need all armies, peacekeeping troops and police forces to have prevention of sexual violence in conflict as part of their training."
The actress said: "This whole subject has been taboo for far too long. Warzone rape is a crime that thrives on silence and denial."
Survivors suffer under a stigma which "causes feelings of shame and worthlessness".
New protocols aimed at ensuring rapists are brought to justice will be announced, with governments to negotiate an international agreement on standards for documenting and investigating sexual violence in conflict zones.
Rapists "feel above the law, because the law rarely touches them and society tolerates them", said Jolie. "This evil will continue, ruing the lives of millions of people, unless we make this Summit a turning point. We must send a message around the world that there is no disgrace in being a survivor of sexual violence, that the shame is with the aggressor."
Register for free to continue reading
Registration is a free and easy way to support our truly independent journalism
By registering, you will also enjoy limited access to Premium articles, exclusive newsletters, commenting, and virtual events with our leading journalists
Already have an account? sign in
Join our new commenting forum
Join thought-provoking conversations, follow other Independent readers and see their replies