Ukip candidate who called Islam evil and founded Sharia Watch faces potential deselection
Ukip leader Paul Nuttall says Anne Marie Waters' comments are 'way above and beyond party policy' and some had made him feel 'a bit uncomfortable'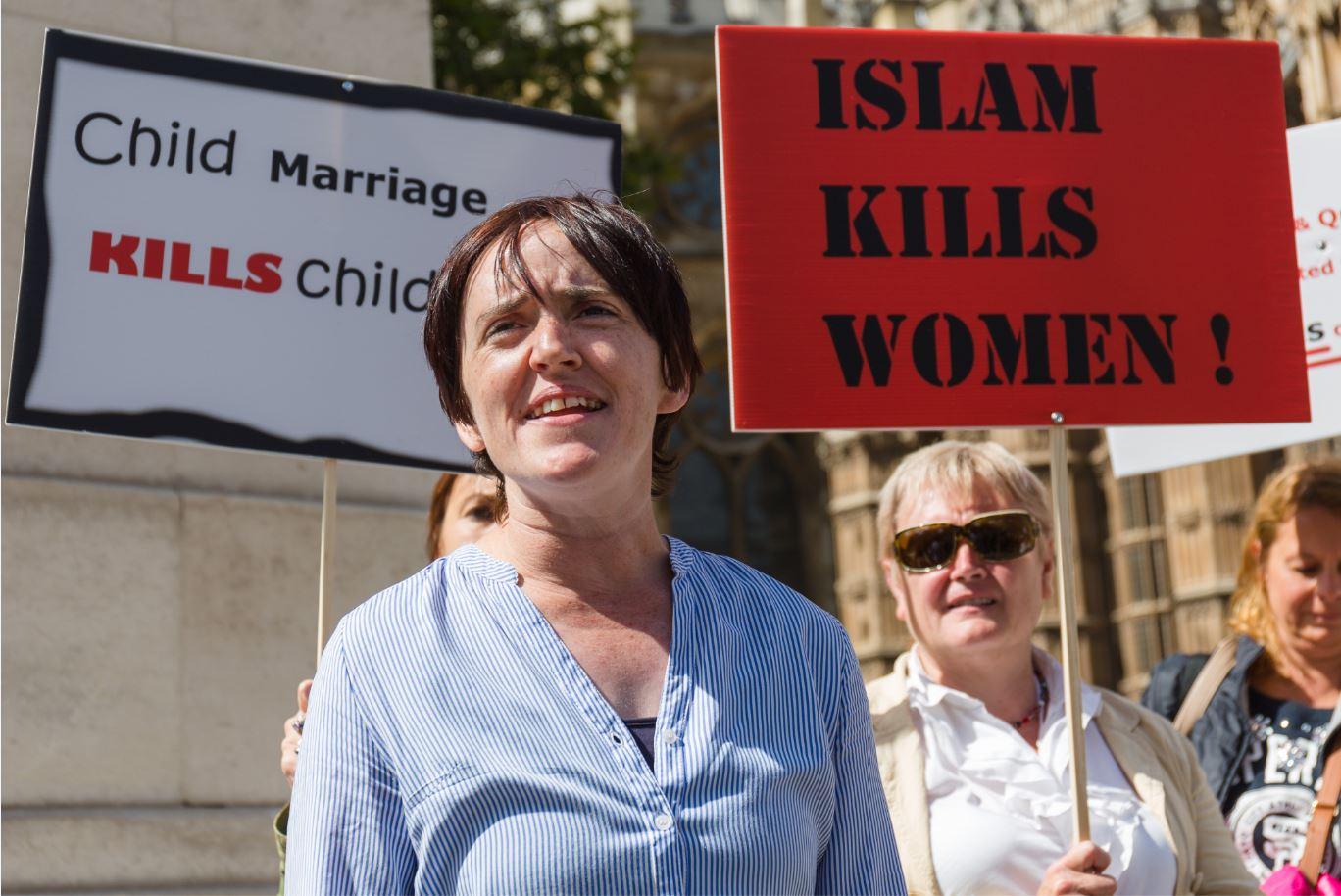 A Ukip candidate who has described Islam as "evil" is facing potential deselection for her opinions.
Anne Marie Waters, who is set to stand in Lewisham East in south London for the second year in a row, is the founder and director of Sharia Watch UK and a former member of the anti-Islam Pegida movement.
Ukip leader Paul Nuttall said the views espoused by Ms Waters, who appeared on far-right Swedish online platform Red Ice TV this month, made him feel "uncomfortable" and the party's national executive committee would be looking at her record later on Friday.
Mr Nuttall was pressed about the decision to select Ms Waters, who argued "Islamic culture does not fit with ours" in a recent election video on Twitter, during the Today programme on Radio Four on Friday morning.
The leader said the comments were "way above and beyond party policy" and some had made him feel "a bit uncomfortable" but he would look at the evidence in full.
But Ukip's press officer later insisted the national executive committee would simply be going through the complete list of candidates and no special attention was to be given to Ms Waters.
"No particular attention is to be given to her or her records, the NUC meeting simply involves going through the list of candidates. This is for the NEC to deal with," the spokesperson told The Independent. He declined to comment on Ms Waters' political history or the views she has put forward.
Ms Waters is the former deputy leader of the UK leg of Pegida, the German far-right and anti-Islam group partly set up by former English Defence league leader Tommy Robinson. Last year former Ukip leader Nigel Farage said party members should not associate with Pegida or take part in marches.
Nigel Farage joins 'Fishing for Leave' flotilla campaigning for Brexit
Show all 10
Ms Waters, who tried to run as a Labour candidate before joining Ukip, has a link to the articles she has written for Breitbart, a far-right, pro-Trump news site, in her Twitter bio. The page includes pieces praising Geert Wilders, a populist far-right Dutch politician who wants to close mosques in Holland, and another linking Muslim immigration to rapes and sexual assaults.
Joe Mulhall, senior researcher at Hope not Hate, told The Independent it was not clear whether Ms Waters would be dropped as a candidate or not.
"It could go one way or the other. If they don't get rid of her, nobody can be surprised. Look at the policies they've put out this week," he said.
Ukip pledged to ban the full-face veil and outlaw Sharia law in its general election manifesto this week. This marks a significant shift from its 2013 stance of not pursuing a blanket ban on face-covering veils. The party's decision to pursue an "integration agenda" has sparked some anger among senior individuals in the party.
"In one sense her policies and her beliefs fit in quite well with this anti-Muslim shift they've had in the last week, which is essentially a panic tactic to try and find some form of relevance in this crisis they are having," Mr Mulhall said. "It wouldn't be a huge surprise if she stayed.
"If they allow her to stand they are a party that is willing to be open to far-right activists even though they have spent many years telling everyone that is not the case," he continued. "If they allow her to stand we're talking about a party that is becoming openly and explicitly anti-Muslim in order to capture the populist vote."
The researcher, a former visiting lecturer at Royal Holloway University, claimed Waters was "this extreme" when the party last selected her to stand so they would not be able to feign ignorance about her views.
The uncertainty over Ms Waters' future with Ukip has been met with resistance on Twitter and a Save Anne Marie hashtag has gained increasing traction among her supporters.
"Lots of people on the far-right are seeing this as a litmus test for Ukip. If she stays then Ukip is possibly a home for then but if not they will leave," Mr Mulhall added.
"Anne Marie Water's views on Muslims, multiculturalism and generally on liberal democracy are deeply, deeply damaging. If she stands as a parliamentary candidate for a party that is as nationally recognised like Ukip, it is emblematic of a normalisation of the rhetoric around Islam and multiculturalism which has become deeply worrying."