Anonymous buyer purchased 'Conservatives 2017' website and rewrote manifesto
'Vote Conservative for broken promises and electoral corruption'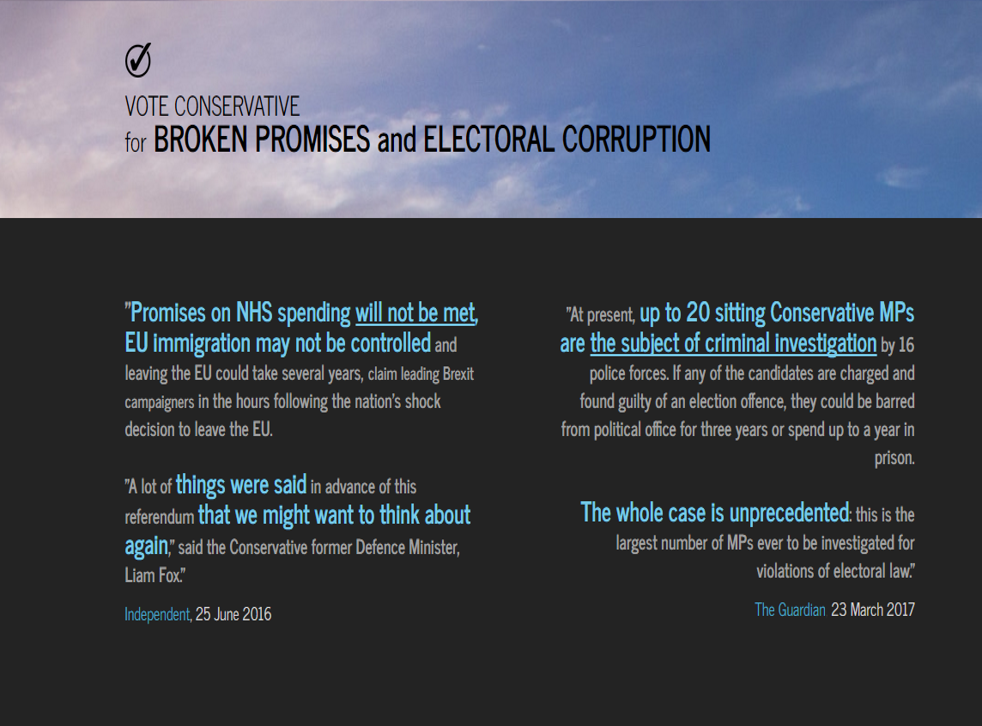 An anonymous buyer has purchased 'Conservatives 2017' web addresses and created a mock-up of the Conservative manifesto at www.conservatives2017.com.
The site urges people to 'vote Conservative for broken promises and electoral corruption', in a reference to allegations made by some MPs that Theresa May has called for a general election to bury the investigation into the Conservative election expenses.
It appears the domain names were registered on Tuesday, and initially redirected the user to the Labour.org website.
However, the web addresses now direct to a site which pledges: "Promises on NHS spending will not be met, EU immigration may not be controlled and leaving the EU could take several years".
The authors also dedicate a section to NHS policy under the heading 'Vote Conservative for the privatisation of the NHS', citing statistics from news reports on the crisis in the health service.
In a move that is possibly a response to the mock 'Conservatives 2017' site, another anonymous user has purchased the domain at www.labour2017.com, and redirected it to the Conservatives' official site.
The person or team behind the website remains anonymous at the moment.
However, the author stated: "This website is not affiliated with a political party and has been funded by an individual without links to any political party (although my friend's husband is a Labour councillor and my uncle works in the Green Party; possibly my aunt, too, but it's been a while since we spoke).
"I thought about joining the Labour Party last year, but I was a bit skint and decided against it, as I didn't support their stance against nuclear power."
The creator of the website is seeking Bitcoin donations to maintain the site during the course of the election campaign.
Join our new commenting forum
Join thought-provoking conversations, follow other Independent readers and see their replies