Another disastrous month - and George Osborne is forced to cut deeper
Public sector finances suffered from a 20 per cent fall in corporation tax receipts from business while public spending rose by 5 per cent, fuelled by higher benefit payments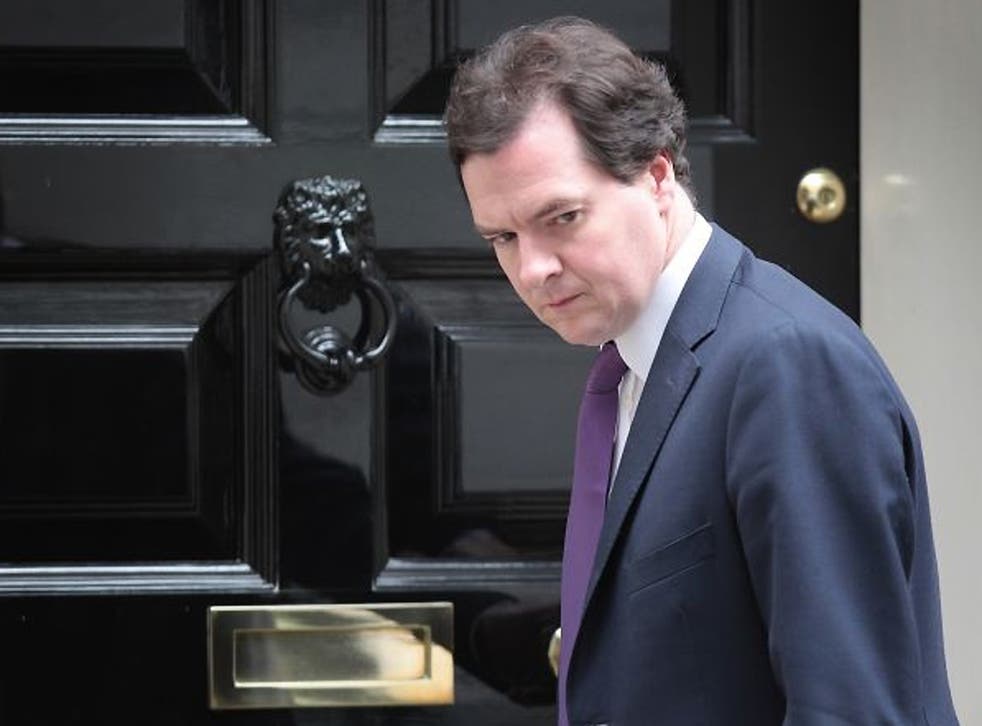 Spending departments across Government have been warned to brace themselves for further budget cuts in the autumn after new figures revealed that Britain's public finances are rapidly deteriorating.
Statistics released today by the Office for National Statistics showed that Government borrowing figures had exceeded official estimates for every month during the financial year so far.
The ONS said that in July the Government was required to find an extra £600m to plug the gap between spending and tax revenues, having registered a £2.8bn surplus in the same month in 2011.
In the four months since George Osborne's March Budget the Government has now borrowed £9.3bn more than it did over the same period last year.
Treasury officials are now warning that if the trend continues Mr Osborne could forced cut back still further of public sector expenditure in order to meet the Government's target of eliminating the structural deficit by 2017 when he makes his autumn statement in November.
As a result major Government spending departments have been privately warned by the Treasury to prepare for the possibility of a fresh round of cuts.
Key targets are likely to be welfare spending – which already accounts for the lion's share of Government outlay - and international development aid which has so far escaped unscathed by cut backs.
A Treasury source said: "The truth is what you see in the data is a pretty terrible four months which, for each one, since April has been worse than expected.
"We will have to see what happens over the next three months as we get more data. But obviously the Chancellor has the power to alter the spending allocations to take account of fiscal events."
The source said much would depend on whether the independent Office of Budget Responsibility – which is tasked with providing estimates on the health of the public finances – concludes that the borrowing overshoot can be offset in future years.
But with senior politicians increasingly pessimistic about avoiding a partial collapse in the eurozone many in the Treasury believe that the OBR will revise up its borrowing forecasts in its next report.
In that case Mr Osborne would be forced to either raise taxes, cut public sector spending still further or abandon his borrowing targets.
A senior civil servant said: "The ideas being kicked around are the kind of unmentionable economies that would make your eyes water.
"If it comes to it you will see the end of some big cross departmental projects. There simply isn't enough money coming in.
"This isn't Plan B. We already have a plan B and it isn't working. That was to get the banks lending and move on big infrastructure projects. It's not happening. Now we're into Plan C territory, which means more retrenchment."
Another source said: "There is clear concern in the Treasury and there are growing signs that the spending settlement is going to be re-opened."
The OBR forecast in March that total public borrowing for the 2012/13 financial year would be £119bn, an improvement on the £125bn the Government borrowed in 2011/12. But City analysts said yesterday that the total deficit for this year was now likely to come in much higher than this and warned that the outlook for public borrowing in future years was increasingly bleak too.
"At this rate, borrowing for 2012/13 overall will massively overshoot the OBR's forecast by over £35bn. And with the recovery falling well short of the OBR's expectations, we think that the Government will struggle to cut borrowing at all next year either" said Vicky Redwood of Capital Economics.
Public sector net debt now stands at above £1 trillion, compared to £940 billion a year ago, and represents 65.7 per cent of the UK's GDP, up from 61.8 per cent last year.
The dramatic deterioration in July's borrowing figures was largely attributable to the temporary shutdown of the Elgin gas field in the North Sea in the first half of the year, which hit energy production and caused a 20 per cent fall in corporation tax receipts on the same month last year. But even allowing for this distortion, the trend in public borrowing over the past four months has still been much weaker than ministers and the OBR expected.
Tax receipts are up 1.1 per cent on the same period last year and there was a 3.6 per cent increase in government spending. That contrasts with the OBR's March prediction that tax receipts over the full year would grow by 3.9 per cent and that government expenditure would increase by just 3.1 per cent. Social benefit payments have risen by 7 per cent, reflecting the fact that more people are on the dole than this time last year. Income tax and capital gains tax have also fallen, by 0.5 per cent and 10.4 per cent respectively.
The OBR admitted today that it was likely that its forecasts from March for growth in corporation tax receipts over the year would turn out to be incorrect, but it stressed that it was still "too early" to judge whether its overall public borrowing prediction for 2012-13 would turn out to be wrong.
A Treasury spokesman said that the Government remained committed to its deficit reduction plan and added that "today's numbers emphasise how risky it would be to deliberately increase borrowing".
However Labour's Shadow Chief Secretary to the Treasury, Rachel Reeves, said: "This is a damning indictment of a Chancellor who promised to secure the recovery and get the deficit down. His failed plan has delivered the exact opposite - a double dip recession which is leading to soaring borrowing. What more evidence does the Government need that their plan has failed and they need to change course?"
Register for free to continue reading
Registration is a free and easy way to support our truly independent journalism
By registering, you will also enjoy limited access to Premium articles, exclusive newsletters, commenting, and virtual events with our leading journalists
Already have an account? sign in
Register for free to continue reading
Registration is a free and easy way to support our truly independent journalism
By registering, you will also enjoy limited access to Premium articles, exclusive newsletters, commenting, and virtual events with our leading journalists
Already have an account? sign in
Join our new commenting forum
Join thought-provoking conversations, follow other Independent readers and see their replies