Anti-austerity protest: Ukip MP Douglas Carswell mobbed by demonstrators in London
'It was like a lynch mob, I have never seen such hatred'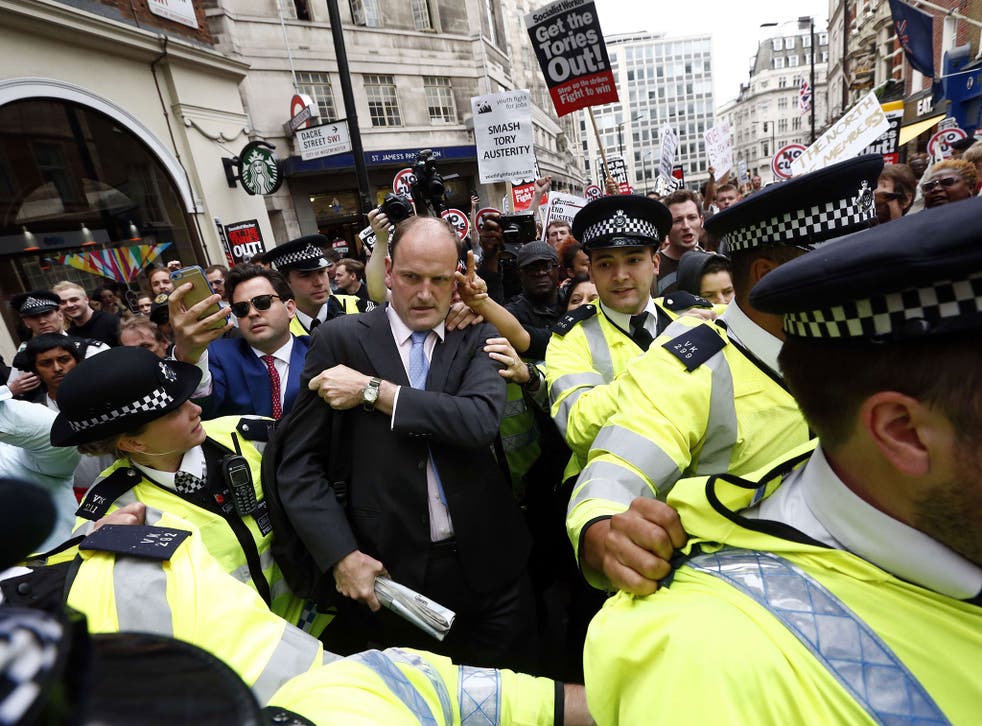 The Ukip MP Douglas Carswell has been mobbed by anti-austerity protesters and doused with water before being bundled to safety by police.
Mr Carswell, who was waiting for a bus near St James's Park Tube station in central London, said: "It got extremely nasty. Their intentions were pretty murderous and I needed a lot of police officers to prevent them from attacking me.
"I was stunned. I think MPs should be able to go about their business. It was incredibly intimidating.
"It was like a lynch mob. It got incredibly ugly. I am in a state of shock. I have never seen such hatred."
One protester – out of a crowd of about 200 people – described what happened.
"Douglas Carswell was in St James's Tube, someone spotted him and everyone rushed over," he said. "Everyone was chanting and he was stuck. The police had to push through the crowd and he got a bottle of water thrown over him. Then police put him in a van and he was driven away."
The demonstration began earlier in Trafalgar Square after the Queen's Speech.
Join our new commenting forum
Join thought-provoking conversations, follow other Independent readers and see their replies